In the Face of Climate Change: The Challenges of Sustainability Leadership
By Leon Kaye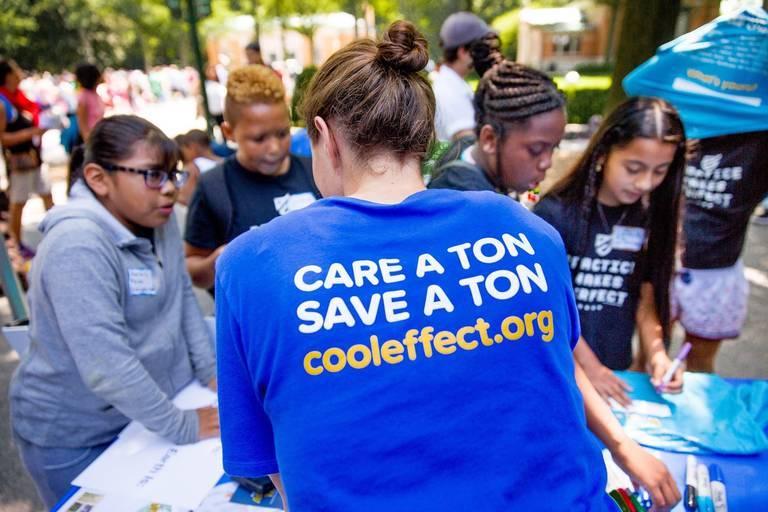 A Cool Effect event in August at the Bronx Zoo
Originally published on TriplePundit
Climate change affects everyone–every individual, business, city and nation. And the risks are even more acute in the world's poorest regions, compounding inequality worldwide.
Thankfully, many environmental leaders from multiple sectors have refused to be intimidated by the scale and complexities of climate change. The obstacles to taking on climate action are many, including communicating the risks to citizens in the first place. After all, many people understandably have a hard time wrapping their heads around this phenomenon.
"The challenge for organizations raising awareness about climate change is that we can't 'see' the problem," said Marisa de Belloy, CEO of Cool Effect, an NGO that uses crowdfunding to support what it says are the best possible carbon-reducing projects worldwide.
The journey to ensure equal access to clear air, water and energy is one de Belloy shares with other sustainability leaders in government, academia and the nonprofit space who gathered in San Francisco for the Idea Forum during Dreamforce 2017.
Technology is one way in which people can learn about carbon emissions by "seeing," as de Belloy explained during an interview with TriplePundit earlier this week. Cool Effect brought Flir thermal imaging infrared cameras to Dreamforce so attendees could have a visual of carbon entering the atmosphere – even from their breath as they exhaled.
"You can see the CO2 coming out tailpipes coming out of cars," said de Belloy, "And so you can see this carbon pollution, and when you can see something, you can actually fight it."
An embrace of such technology is one tactic by which Cool Effect can demonstrate the risks of climate change. Furthermore, such an approach can help the NGO communicate the benefits of purchasing what it describes as "high-quality" carbon offsets that can deliver results for local communities worldwide, from Madagascar to Peru.
In the meantime, Cool Effect also invests in technologies so that its staff can track progress and demonstrate results to donors and stakeholders. "Everyone can do their part to eliminate GHGs, but a trackable, verifiable system for this is critical," explained de Belloy at a panel during Dreamforce.
Joining de Belloy and Cool Effect in this fight is Water.org. Co-founded by Matt Damon and Gary White after they decided to merge their organizations almost a decade ago, this NGO seeks to expand access to clean water and sanitation by adopting market-based solutions. This strategy goes far beyond the traditional "dig a well" mantra that long defined how nonprofits operated in developing countries. Instead, the organization wants citizens to take action and control their destiny by financing access to a water main or building a toilet. Water.org also has a long history of partnering with companies, including Levi Strauss and PepsiCo, in order to accelerate impact.
"Safe water is critical for transforming lives, and affordable financing is the way to expand access worldwide," said Josh Gunkel, Water.org's director of technology.
Water.org has taken on several approaches when it comes to raising funds so that it can help enable families to secure safer water and sanitation. Of course, there is the conventional text-to-donate program, as in the NGO's current fundraising campaign promoting World Toilet Day on November 19. That program is trying to raise funds for micro-loans that can assist the 2.4 billion people currently living without a toilet.
And it when it comes to microfinance, Water.org is nimble about the types of projects it is willing to fund. The organization's greatest success story is its WaterCredit program, which is approaching half a billion dollars in small loans. That financing, says Water.org, has so far improved the lives of over 7 million citizens. Those who have benefited include many young children, who are now able to attend school rather than be condemned to either a life where most of the day is spent hauling water – or stuck at home sick due to poor sanitation and water-borne illnesses.
"Water is central to our lives, and it's definitely impacted by everything that's happening in the globe," Gunkel said. "It puts even more pressure on people to survive and gain access to water."
What was interesting about listening to these leaders during a technology conference was how in the end, they emphasized the importance of low-tech solutions to either improve the lives of the poorest citizens, or prevent climate change from becoming worse. Cool Effect seeks to scale the adoption of clean cookstoves or planting of forests. Water.org wants people to just be able to tap into water mains.
And in government, Deborah Rafael is trying to push San Francisco's sustainability agenda into overdrive by investing in carbon sinks for better soil management, or by eliminating organic waste from the city's waste streams. From Rafael's point of view, technology can help make the process seamless, but the end game has hardly changed.
"The antidote to apathy is taking action to motivate citizens to change their ways," Rafael told the audience while on stage with de Belloy and Gunkel.
The media by which these organizations seek to inspire citizens may have evolved rapidly in recent years, but the desired outcomes are still pretty much the same. "Communicating climate change is not just about sustainability, but also about how it can inspire social change," explained de Belloy in wrapping up Tuesday's discussion.
Image credit: Cool Effect/Facebook
Based in Fresno, California, Leon Kaye has written for TriplePundit since 2010. He has lived across the U.S., as well as in South Korea, Abu Dhabi and Uruguay. Some of Leon's work can also be found in The Guardian, Sustainable Brands and CleanTechnica. You can follow him on Twitter (@LeonKaye) and Instagram (GreenGoPost).