In Episode 3 of "Crop to Campus" Minidocumentary, College Students Explore How Cotton Is Spun Into Yarn Responsibly
In Episode 3 of "Crop to Campus" Minidocumentary, College Students Explore How Cotton Is Spun Into Yarn Responsibly
The seven-part documentary offers a behind-the-scenes, step-by-step exploration of HanesBrands' responsible T-shirt manufacturing and supply chain operations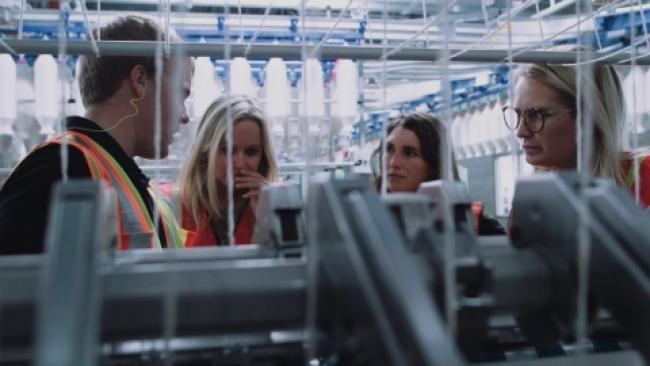 Friday, September 25, 2020 - 11:35am
WINSTON-SALEM, N.C., September 24, 2020 /3BL Media/ - In the third episode of filmmaker Rod Murphy's "Crop to Campus" minidocumentary, college students exploring environmentally responsible T-shirt manufacturing visit the U.S. operations of a low-waste yarn-spinning facility in Tennessee.
Episodes of the seven-part documentary commissioned by HanesBrands drop every Tuesday on www.CropToCampus.com and follow three North Carolina State University students as they witness key aspects of a responsibly made T-shirt from the HanesComfortWash apparel line.
In episode 3, the Wilson College of Textiles students visit the Mountain City, Tennessee, yarn spinning plant of Parkdale Mills, the world's leading manufacturer of spun yarns. The all-questions-answered journey takes the students through the step-by-step development of sustainable fibers and yarns, an important process at the forefront of responsible apparel production and technical textile trends.
Parkdale Mills uses energy-efficient technologies and nonconventional methods to achieve low-waste, sustainable and cost-efficient yarn production on behalf of HanesBrands, a socially responsible leading marketer of everyday basic apparel, including T-shirts. As a zero-waste facility, all cotton byproducts are recycled, reused or repurposed, including protein-rich cotton byproducts that can be used as cattle feed.
"HanesBrands is continually striving to expand its use of sustainable materials in its products, including cotton yarns made from spinning technologies that require less energy to manufacture," said Chris Fox, HanesBrands' vice president of corporate social responsibility. "Reducing our environmental impact by carefully managing raw materials and by recycling waste is critically important given the scale of our operations. One focus is capturing waste and efficiently recycling it back into other apparel and nonapparel products."
The company has more than a decade of experience in using recycled materials in its products and has fine-tuned manufacturing processes to incorporate recycled fibers without compromising on quality. Annually, Hanes products contain 6 million pounds of recycled materials.
Murphy, an award-winning filmmaker from Asheville, North Carolina, was commissioned by HanesBrands to make the documentary to assess how well the company's corporate social responsibility efforts resonate with the expectations of millennials and Generation-Z youth.
In previous episodes, the students – Mamie Trigg of Austin, Texas; Katy Powers of Charlotte, North Carolina; and Sydney Parker of Raleigh, North Carolina – have discussed what sustainability means to them and learned that responsible apparel manufacturing starts early in the production process when they visited the cotton fields of Grants Farm in Garysburg, North Carolina.
In future "Crop to Campus" episodes, the students travel to El Salvador to visit communities that rely on responsible fabric production, and T-shirt sewing operations.
The next episode release dates and topics are:
Sept. 29: "El Salvador Production: Stitch by Stitch"
Oct. 6: "Community: It's About the People"
Oct. 13: "Back to Campus: Tee Party"
Oct. 20: "Takeaways: How important is responsible manufacturing?"
Visit www.CropToCampus.com to learn more about the documentary series, or www.HanesForGood.com for more information about Hanes' responsible manufacturing practices.
HanesBrands
HanesBrands, based in Winston-Salem, N.C., is a socially responsible leading marketer of everyday basic innerwear and activewear apparel in the Americas, Europe, Australia and Asia-Pacific. The company sells its products under some of the world's strongest apparel brands, including Hanes, Champion, Bonds, DIM,Maidenform, Bali,Playtex, Lovable, Bras NThings, Nur Die/Nur Der, Alternative, L'eggs, JMS/Just My Size, Wonderbra, Berlei, and Gear for Sports. The company sells T-shirts, bras, panties, shapewear, underwear, socks, hosiery, and activewear produced in the company's low-cost global supply chain. A Fortune 500 company and member of the S&P 500 stock index (NYSE: HBI), Hanes has approximately 63,000 employees in more than 40 countries. For more information, visit the company's corporate website at www.Hanes.com/corporate and newsroom at https://newsroom.hanesbrands.com/. Connect with the company via social media: Twitter (@hanesbrands), Facebook (www.facebook.com/hanesbrandsinc), Instagram (@hanesbrands), and LinkedIn (@Hanesbrandsinc).
Matt Hall: (336) 251-3689 (M) or matt.hall@hanes.com