Empowering a New Generation of Farmers in Colombia
Fruandes Frutos de los Andes SAS joins the Business Call to Action, pledging to improve the lives of rural Colombians through fair trade organic farming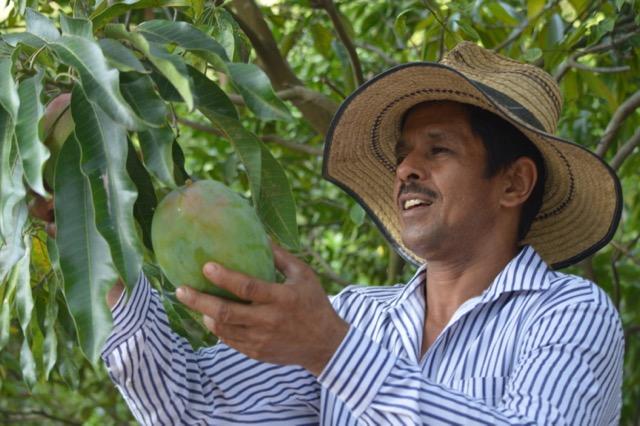 Colombia-based organic snack producer Fruandes Frutos de los Andes SAS has joined Business Call to Action (BctA) with a commitment to train and support 500 smallholder farmers in organic farming practices, and increase the incomes of 1,500 people working in agriculture by the end of 2020.  
Launched in 2008, the BCtA aims to accelerate progress towards the Sustainable Development Goals (SDGs) by challenging companies to develop inclusive business models that engage people with less than US$8 per day in purchasing power as consumers, producers, suppliers and distributors. It is supported by several international organizations and hosted by the United Nations Development Programme (UNDP). 
Colombia is one of the most bio-diverse nations in the world, but it also suffers from poverty and inequality. Although a large part of Colombia's population is involved in agriculture, many young people are moving away from this livelihood since they do not consider it to have a solid future. As a result, farmers' traditionally important role in Colombian society no longer commands the respect it once did. And while the country has an abundance of arable land and lush soil, indiscriminate use of chemicals is polluting the environment and reducing the quality of farmers' produce.  
At the same time, increasing global demand for high-quality, healthy foods is creating unprecedented opportunity for farmers in the country. Fruandes has seized this opportunity with an inclusive farmer-centered business model that connects small-scale farmers with health-conscious global markets, boosting livelihoods while supporting the production of pure, sourceable healthy food.  
The company has built its inclusive value chain on consumers' growing understanding that even the most nutritious foods can have negative health effects if they are chemically treated. Consumers' increasing knowledge and shifting preferences are changing the way food is produced: in 2015, the global market for organic food was US$104.7 billion. By providing fair prices for small farmers growing organic fruit for its healthy snacks, Fruandes is providing a decent and dignified living for families in Colombia's most remote and marginalized areas. 
"Direct fair trade means Fruandes' products have direct impacts on small farmers," said Javier Vásquez, CEO of Fruandes. "We make sure producers are trained, compensated well and treated with respect. This enables them to produce the highest-quality products while their families reap the benefits of their labour".  
The company is able to reach small-scale farmers by partnering with farmer associations. After informing the association leaders about its needed supply, Fruandes works with them to plan crop cycles and time cultivation so that production matches demand. It also provides farmers with critical technical support to grow the best-quality produce and maximize value for money. As a result of its responsible practices, farmers' profit margin averages 25 percent – significantly higher than most small-scale farmers in Colombia have earned before.  
"Fruandes is meeting an important market niche by delivering healthy, certified organic and fair trade fruit snacks to the world market," said Paula Peleaz, Programme Manager of the Business Call to Action." In doing so, it is supporting families along Colombia's organic fruit value chain and bringing a renewed sense of dignity to farmers – who we all depend upon for our food."    
As a result of its partnerships with small-scale farmer associations, Fruandes has seen significant growth over the past three years. In 2017 the company is opening a new plant, which multiplied by four its production capacity, and it aims to increase its organic certified growing area eightfold by 2020. As part of its BCtA commitment, the company is supporting the establishment of a new spin-off company in which farmers associations themselves are shareholders, further strengthening their position in the global market.  
For further information:  
Business Call to Action: Minja Nieminen at minja.nieminen@undp.org 
Fruandes Frutos de los Andes SAS: Jennifer González at jennifer@fruandes.co 
Membership in the Business Call to Action does not constitute a partnership with its funding and programme partners, UNDP or any UN agency. 
About Business Call to Action (BCtA): Launched at the United Nations in 2008, the Business Call to Action (BCtA) aims to accelerate progress towards the Sustainable Development Goals (SDGs) by challenging companies to develop inclusive business models that offer the potential for both commercial success and development impact. BCtA is a unique multilateral alliance between key donor governments including the Dutch Ministry of Foreign Affairs, Swedish International Development Cooperation Agency (Sida), UK Department for International Development, US Agency for International Development, and the Ministry of Foreign Affairs of the Government of Finland, and the United Nations Development Programme — which hosts the secretariat. For more information, please visit www.businesscalltoaction.org or on Twitter at @BCtAInitiative. 
About Fruandes: Colombian enterprise Fruandes Frutos de los Andes SAS produces and sells organic agricultural products including fruits, cacao nibs and granulated brown sugar (panela). Its product lines include White Label for international retail clients promoting fair trade and healthy lifestyles,, sold in local retail stores throughout Colombia and Chile, and bulk exports through international distributors. Fruandes' relationship with its suppliers, who are all small-scale farmers from Antioquia, Cundinamarca, Tolima, Huila, Cauca and Nariño Departments in Colombia, is based on mutual respect and fair working conditions. The company offers farmer associations training in business processes as well as advance payments to buy supplies and for organic certification. For more information, visit: www.fruandes.com.