eBay Teams Up With Yara Shahidi, PINTRILL and Bright Pink to Support Breast Cancer Awareness
The partnership features a collection of three exclusive PINTRILL pins, including one designed by actress Yara Shahidi. 100% of proceeds will benefit Bright Pink.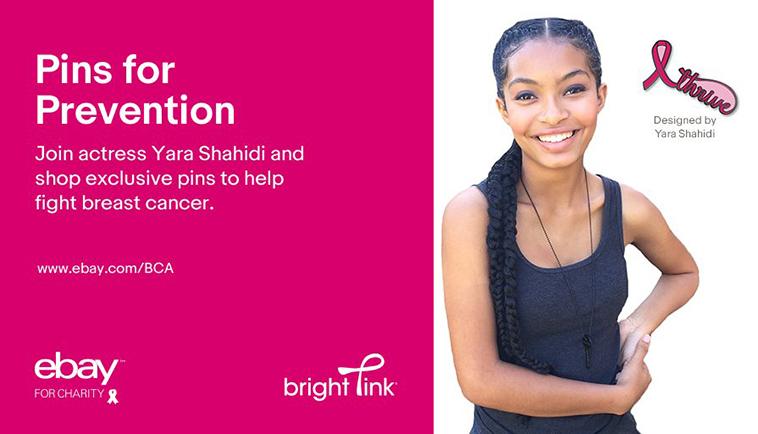 eBay for Charity has teamed up with fashion and accessory brand PINTRILL and "Black-ish" star Yara Shahidi for Breast Cancer Awareness Month.
A collection of three PINTRILL pins, designed specially to promote breast cancer awareness and prevention, is available exclusively at eBay.com/BCA. 100% of the proceeds will benefit Bright Pink, the only national non-profit organization dedicated to the prevention and early detection of breast and ovarian cancer in young women.
Yara Shahidi personally designed the "Thrive" pin, with the vision of re-thinking the traditional breast cancer ribbon. She credits her mother's best friend, who survived breast cancer twice, as her inspiration. Yara says that her ability not just to survive, but thrive, sparked her idea for the pin design.
Check out the hashtag #PinsforPrevention on social media to hear other inspiring stories.
Looking for other ways to support breast cancer prevention on eBay? Browse the eBay for Charity fashion and jewelry sale here, where a portion of proceeds benefit Bright Pink.