Driving a Culture of Responsibility: NortonLifeLock Releases 2022 ESG Report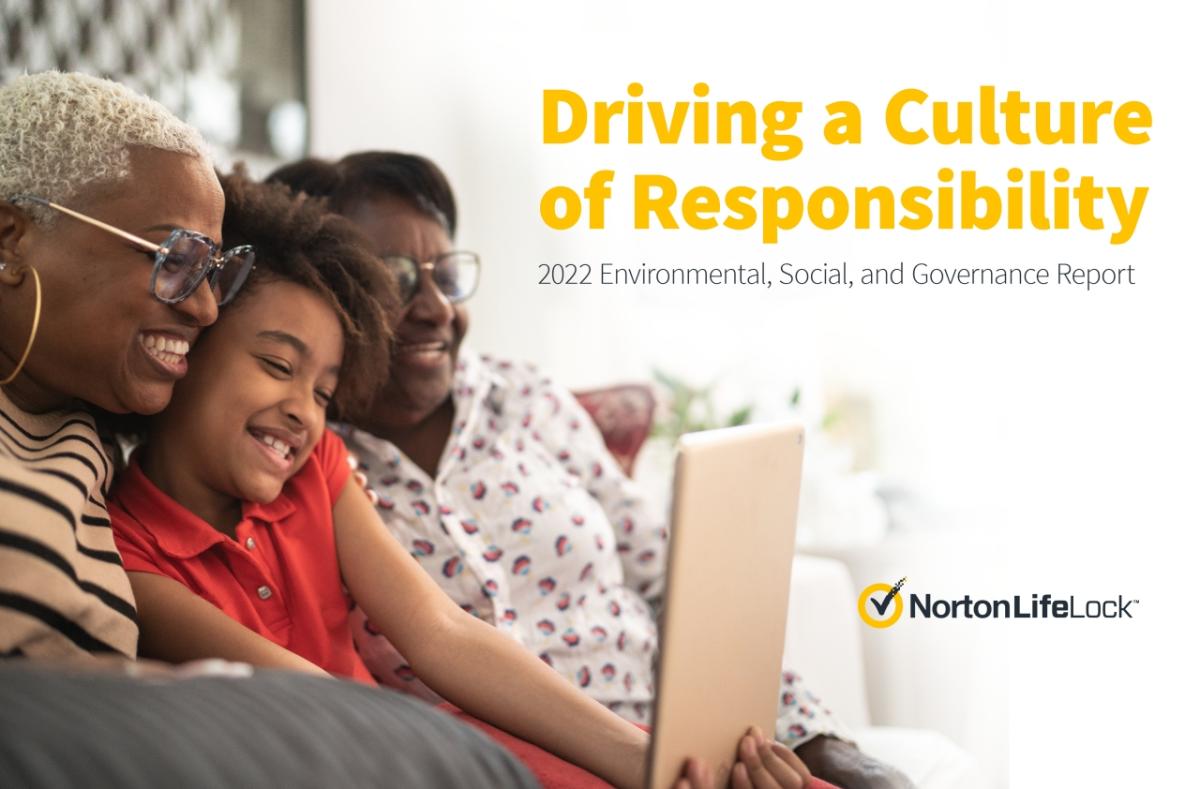 "Our world continues to change, as do the needs of our customers and employees. In response, we have built an ESG approach that is adaptable and forward-thinking. We directly involve our Company leaders, employees, nonprofit partners, and other stakeholders when setting our Corporate Responsibility strategy and implementing our programs. Both this engagement and our continued flexibility have played a key role in the authentic and real contributions we have provided to help protect our planet and support our communities this year." – Kim Allman, Head of Corporate Responsibility and Government Affairs, NortonLifeLock
Today, NortonLifeLock Inc. (NASDAQ: NLOK) releases its 2022 Environmental, Social, and Governance (ESG) Report. NortonLifeLock is a global leader in consumer Cyber Safety and the consumer's trusted ally in an increasingly complex and connected world.
Corporate Responsibility is central to NortonLifeLock's vision to protect and empower people to live their digital lives safely. The Company brings together its team, expertise, and technology to build a safe, inclusive, and sustainable future.
The latest report demonstrates the Company's commitment to embedding ESG into its business and making tangible positive impacts in communities around the world. In FY22, NortonLifeLock set quantitative targets to improve ESG performance and transparency, expanded its signature Cyber Safety programs and partnerships with nonprofits, and saw progress in many priority areas, including diversity, equity, and inclusion (DEI), and environmental stewardship.
Some of the FY22 highlights from the report include:
NortonLifeLock contributed $4.7M in charitable giving to high-impact nonprofits, including $1 million to expand the Surf Smart 2.0 program that teaches girls and young women to learn, have fun, and stay safe online.
The Company achieved a 39% Scope 1 and 2 greenhouse gas emissions reduction between FY21 and FY22. Main contributors to this reduction include the transition to more efficient data centers and moving away from physical office space.
Of the total electricity used by NortonLifeLock, 27% came from renewable sources.
NortonLifeLock donated products to more than 9,300 nonprofits.
The percentage of employees that self-identified as having underrepresented racial and ethnic backgrounds at the Company increased from 13% in FY21 to 17% in FY22. Globally, 33% of the Company's workforce self-identified as women.
In FY22, 98% of NortonLifeLock's products were delivered digitally and the Company completed its first product environmental lifecycle analysis.
To be authentic and hold ourselves accountable for making meaningful progress towards our diversity, equity and inclusion targets, we have made those targets part of our FY23 compensation program.
Being a responsible corporate citizen contributes to NortonLifeLock's goal to protect people's digital lives. Learn more about the Company's journey to create a Cyber Safe and better world in its 2022 ESG Report.
Media Contact
Jenna Torluemke
NortonLifeLock Inc.
Email: press@nortonlifelock.com