ON DEMAND WEBINAR: How to Accelerate and Scale Your Renewable Energy Plan
GM blueprint summarizes clean-energy strategies for companies of all sizes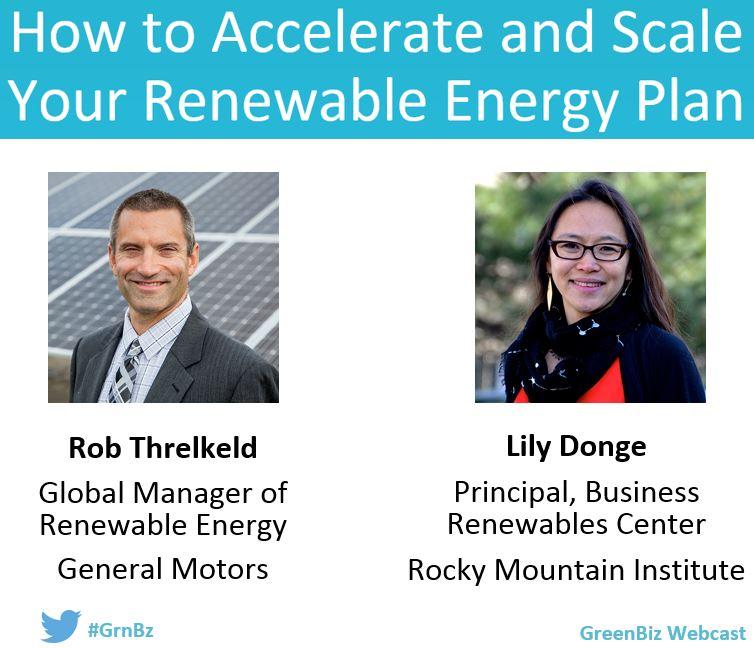 Are you interested in how companies are scaling their clean energy use?
General Motors' global manager of renewable energy, Rob Threlkeld, and Lily Donge, principal of the Rocky Mountain Institute's Business Renewable Center, led a GreenBiz webinar on the economic opportunity in addressing climate change. Together they shared best practices to help organizations of all sizes achieve quick wins toward their renewable energy goals and scale efforts across their enterprise.
Topics include:
Practical tactics to help gain companywide support
Tips to navigate external roadblocks and determine the best renewable energy mix, from large-scale power-purchase agreements to onsite installations
Best practices to scale efforts and reach goals faster
Resources for further learning
Trends and future outlook for corporate renewable energy use
You can register and watch the webinar. Once registered on the GreenBiz site, an email message will be sent with a direct link to the recorded webinar. You can download GM's renewable energy blueprint for additional insights.