General Motors Receives EPA Green Power Leadership Award
NATIONAL AWARDS HONOR LEADING GREEN POWER USERS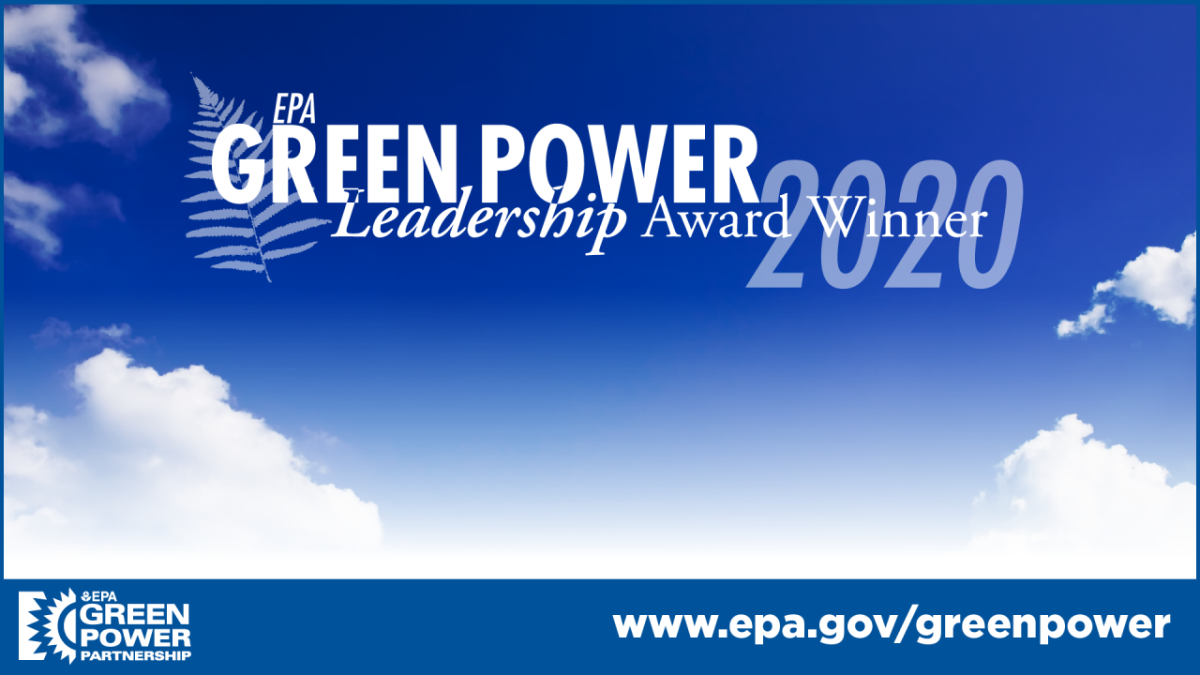 September 22, 2020 /3BL Media/ - General Motors announced today that it has received a 2020 Green Power Leadership Award from the U.S. Environmental Protection Agency (EPA). For 20 years, EPA's annual Green Power Leadership Awards have recognized America's leading green power users for their commitment and contribution to helping advance the development of the nation's voluntary green power market. EPA presented GM with an Excellence in Green Power Use award at the 2020 Renewable Energy Markets Conference taking place virtually on September 22, 2020.
GM was one of only four organizations nationwide to receive an Excellence in Green Power Use Award. The program recognizes EPA Green Power Partners who distinguish themselves by demonstrating leadership in procuring green power from a utility green power product, a power purchase agreement, or a renewable energy certificate (REC) product. GM is currently purchasing nearly 1.1 billion kilowatt-hours (kWh) of green power annually, which is enough green power to meet 31 percent of the organization's electricity use.
"We are proud to receive this prestigious recognition from the U.S. Environmental Protection Agency," said Rob Threlkeld, global manager of sustainable energy, General Motors. "It's important for our organization to lead the way on green power, showing others that it's an affordable, accessible choice that can help reduce air pollution and other emissions as we work toward our vision to help create a world with zero crashes, zero emissions and zero congestion."
In addition, GM ranks as No. 14 on EPA's National Top 100 list, No. 10 on the Fortune 500® list, and No. 9 on the Top 30 On-site list. Each list highlights EPA Green Power Partners using the most renewable electricity annually as of July 2020. EPA updates its Top Partner Rankings quarterly at www.epa.gov/greenpower/green-power-partnership-top-partner-rankings.
Green power is electricity generated from environmentally-preferable renewable resources, such as wind, solar, geothermal, biogas, eligible biomass, and low-impact hydro. Using green power helps accelerate the development of those resources in the United States and advance the American green power market.
According to the EPA, GM's current green power use of nearly 1.1 billion kWh is equivalent to the electricity use of nearly 99,000 average American homes annually.
Earlier this year, GM announced two other renewable projects to source up to 600MW of solar energy to supply most of GM's sites in Southeast Michigan and Spring Hill Manufacturing in Tennessee.
General Motors (NYSE:GM) is a global company committed to delivering safer, better and more sustainable ways for people to get around. General Motors, its subsidiaries and its joint venture entities sell vehicles under the Chevrolet, Buick, GMC, Cadillac, Holden, Baojun and Wuling brands. More information on the company and its subsidiaries, including OnStar, a global leader in vehicle safety and security services, can be found at http://www.gm.com.
About EPA's Green Power Partnership
The Green Power Partnership is a voluntary program that helps increase green power use among U.S. organizations to advance the American market for green power and development of those sources as a way to reduce air pollution and other environmental impacts associated with electricity use. The Partnership currently has more than 1,400 Partners voluntarily using more than 61 billion kilowatt-hours of green power annually. Partners include a wide variety of leading organizations such as Fortune 500® companies; small and medium sized businesses; local, state, and federal governments; and colleges and universities. For additional information, please visit http://www.epa.gov/greenpower.
About the Green Power Leadership Awards
The U.S. Environmental Protection Agency (EPA) co-sponsors the annual Green Power Leadership Awards with the Center for Resource Solutions. Now celebrating their twentieth year, the Green Power Leadership Awards allow EPA to recognize winners in the following award categories: Green Power Partner of the Year; Sustained Excellence in Green Power; Direct Project Engagement; Excellence in Green Power Use; and Green Power Community of the Year. This program recognizes the exceptional achievement among EPA Green Power Partners who distinguish themselves through green power procurement, market leadership, overall green power strategy, and overall impact on the green power market. The ceremony takes place at the Renewable Energy Markets Conference. This year's 12 recipients are using approximately 11.7 billion kWh of green power—enough to power nearly 1.1 million average American homes for a year. For additional information please visit www.epa.gov/greenpower/green-power-leadership-awards.