Consumers Energy Starts Operations of Cross Winds® Energy Park II in Michigan's Thumb
Energy Provider's Third Wind Project Adds 44 Megawatts of Renewable Energy – Enough to Serve 17,000 Residents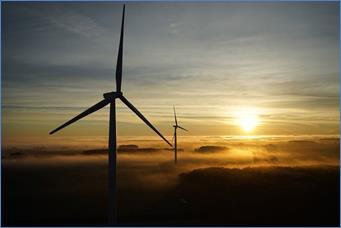 Wind turbines above the clouds at Cross Winds® Energy Park. Consumers Energy's 19 newest turbines are now producing clean, renewable energy in Tuscola County.
CARO, Mich., January 4, 2018 /3BL Media/ – Consumers Energy announced today that Cross Winds® Energy Park II in Tuscola County's Columbia Township began serving customers and contributing 44 megawatts of renewable energy in Michigan.
"With excitement and pride, we have 'flipped the switch' for Phase II of our Cross Winds Energy Park to meet more of Michigan's demand for energy with renewable wind energy, a clean source that benefits the entire state. The project also firmly supports Consumers Energy's goal of fulfilling our triple bottom line of people, planet and profits," said Dennis Dobbs, Consumers Energy's vice president of enterprise project management, engineering and services.
"I am extremely thankful to the residents and elected officials who welcomed our investment in their community, and I'm especially pleased to announce the project was completed with zero safety incidents." 
The $90 million Cross Winds Phase II employed 250 workers during construction. Its 44-megawatt capacity is enough to serve about 17,000 residents. 
The project went operational on schedule six months after its groundbreaking and three weeks after Newsweek gave Consumers Energy the top score for Michigan companies in its annual "Green Rankings."
Cross Winds Energy Park Phase II project is: 
Part of a total investment of $345 million comprised of 81 wind turbines in total – including the first phase of Cross Winds – and can produce up to 155 megawatts of renewable energy, enough to serve about 60,000 residents.
Helping Consumers Energy meet the needs of large businesses that choose to go 100 percent renewable.
Contributing to Consumers Energy's commitment to add $5 billion into the state's economy over five years through Pure Michigan Business Connect by buying goods and services from Michigan companies.
Consumers Energy worked with lead contractor White Construction to construct the 19 turbines that are 499 feet tall and make up Phase II of Cross Winds Energy Park.  
Phase III plans have been approved for Consumers Energy's Cross Winds Energy Park by Columbia and Akron townships. This final phase of the park is expected to go into commercial operation in 2020. Phase I of the energy park began operations in 2014.
Consumers Energy, Michigan's largest energy provider, is the principal subsidiary of CMS Energy (NYSE: CMS), providing natural gas and/or electricity to 6.7 million of the state's 10 million residents in all 68 Lower Peninsula counties.
Media Contacts
Brian Wheeler, 517-740-1545, or Katie Carey, 517-740-1739
For more information about Consumers Energy, go to www.ConsumersEnergy.com.
Check out Consumers Energy on social media:
Facebook: https://www.facebook.com/ConsumersEnergyMichigan/
Twitter: https://twitter.com/consumersenergy
YouTube: https://www.youtube.com/user/consumersenergy
Flickr: https://www.flickr.com/photos/consumersenergy/
This news release contains "forward-looking statements." The forward-looking statements are subject to risks and uncertainties that could cause Consumers Energy's results to differ materially. All forward-looking statements should be considered in the context of the risk and other factors detailed from time to time in Consumers Energy's Securities and Exchange Commission filings.