Connecting the Dots — For Community
Medtronic employee's professional skills make a difference for young people in probation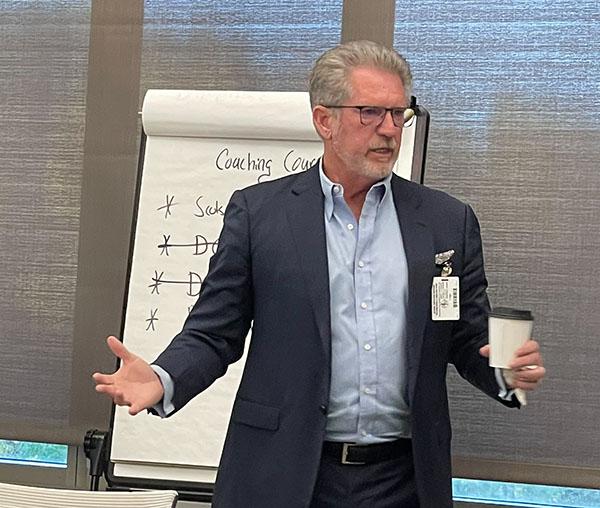 Volunteer Appreciation Month takes place every year in April and celebrates the impact volunteers have on our lives and encourages active volunteerism for generations to come. The Medtronic Foundation is committed to supporting communities where Medtronic employees live and give by providing resources that support volunteerism and giving across the globe.  
When Marcus Reid took a job developing talent at Medtronic, he didn't know that in a few years he'd be using his skills to teach young people on probation to see their strengths − and their potential.
The 30-year Medtronic employee credits his co-workers with helping him see people as people, whether they are selling medical devices or serving time. That, he said, is why he was ready for what happened next, at a fateful dinner with an old friend.
Reid's friend, a probation officer, shared his concerns that some of his young probationers were destined for a cruel and difficult life in the state penitentiary if they didn't learn to change their ways.
As a CliftonStrengths coach, Reid had one question: "Do you have something that can tell them what they do right instead of what they do wrong, something that helps them believe in themselves"? The answer was no.
If he could teach salespeople to tap into their potential, he wondered why not young people who are on probation?
That question launched a grass roots initiative that takes Reid on a six-hour drive to Gainesville, Texas to teach people on probation how to discover − and apply − their strengths.
It's been so successful the District Attorney's office has asked him to train his staff so they can help reinforce the CliftonStrengths to probationers.
"Now, many are developing a positive sense of self-esteem and starting to believe in their own potential," Reid said.
Connecting the dots for the greater good
Reid's grassroots effort has a name: Skills-based volunteering, which connects your unique skills and passions with the needs in your community.
And it's a way to think outside of the box when it comes to finding − or creating − volunteer opportunities.
"Utilizing your professional skills in this way not only creates lasting, tangible impact for the organization you partner with, but it's also an opportunity to expand your resume and your network," said Mandy Iverson, employee experience manager for the Medtronic Foundation.
We encourage employees like Reid to find ways to make a difference in their communities through a volunteer and giving hub and then maximize their impact through the Medtronic Foundation Volunteer Grant and Matched Giving programs.
And if employees find opportunities organically like Reid, their contributions still matter because tracking skills-based volunteering provides valuable insights that help the Medtronic Foundation team fine additional opportunities that fit employees' passions.
By connecting the dots between his professional experience and the community, Reid is making a difference for young men like James.*
The 20-year-old who grew up with an incarcerated father. His mom died, and he found himself living with his grandma when the pandemic hit. He got into trouble and ended up on probation − and in Reid's class.
They worked on identifying James' strengths and areas of emotional intelligence. Now he's looking into taking business classes at the local community college.
"No one's ever told me what I'm doing right," Reid recalled him saying.
He wonders what would have happened if James saw his potential sooner, so he's looking into bringing the workshop to kids who are still in high school − before they end up in the system.
He also wants to expand the current program to include career assessment tools to take what his students are learning a step further.
"They're going to have a clear idea of the direction they can go, so they're not just taking a chance," he said. "They're getting an opportunity."
*Name changed to protect identity