Congratulations to the 2017 Best Health & Wellness Program Finalists!
Congratulations to the 2017 Best Health & Wellness Program Finalists!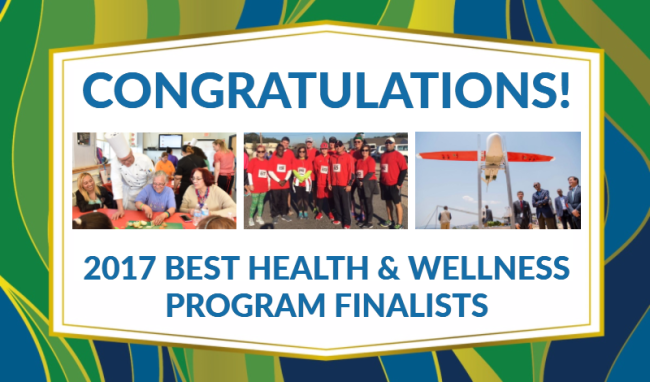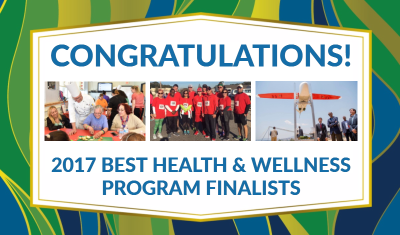 Monday, October 2, 2017 - 3:00pm
Congratulations to the Best Health & Wellness Program finalists!
The Best Health & Wellness Program Corporate Citizenship Award recognizes businesses that create programs and provide resources that increase quality health care access to communities and individuals who need it the most. Read on to learn more about the significant, positive impacts these businesses have had in communities, locally and globally.
Learn more about their programs and join us at the 2017 Corporate Citizenship Conference and Awards on November 14-15 to see who wins!
Aramark
More than 70% of adults in America have unhealthy diets, leading to serious health issues. Only 12% of Americans are consuming enough food groups to help lower the risk of cardiovascular disease. Because of this, Aramark is working with the American Heart Association (AHA) to improve the health of Americans by 20% by 2020.
 
Through an initiative called Healthy for Life 20 By 20, Aramark combines its nutrition and culinary expertise with the AHA's research and nationwide volunteer network to improve the well-being of Americans through menu innovation, consumer and employee engagement, and community education.
 
In just one year, Aramark menus saw a reduction in calories, saturated fat, and sodium by about 8%. Participants in the program report consumption increases of fruits, vegetables, and whole grains. 
 
Shell Oil Company
Shell Oil Company aspires to be the world's most competitive and innovative energy company—and it employs a workforce as diverse as the businesses it supports. To accommodate the diverse needs of its employees, Shell developed a customizable, inclusive campaign to improve employee health. 
 
The Culture of Health: Healthy High Performing People initiative is a suite of turnkey solutions addressing diet, physical activity, and healthy meetings (e.g., including standing/walking meetings and food offerings) that sites and businesses across Shell can customize to meet the needs of their employees. 
 
Shell's Culture of Health initiative shows that an inclusive approach, refreshed over time, leads to sustained participation and changed behaviors. Fifty-eight of Shell's eligible employees were enrolled in the program between 2015 and 2016. The company has also seen long-term results with increases in health and wellness activity participation, decreased absenteeism, and improved health care costs. 
 
UPS
Communities around the world suffer from the last-mile problem: an inability to deliver critical medicines to distant families in need. This problem is particularly evident in Rwanda, where 23% of maternal deaths are attributed to postpartum hemorrhaging, which requires a blood transfusion to survive. 
 
Poor roads, weather conditions, and lack of proper refrigeration make it difficult to deliver or store blood and other critical products. To combat this issue, UPS developed a partnership that combines logistics, technology, and health expertise to launch a humanitarian drone initiative for communities in the last mile.
 
To date, the national drone delivery network has successfully made more than 1,400 deliveries, meeting 100% of hospital demand of blood, medicine, and critical supplies to communities across Rwanda. On-demand transport of blood and medicine helps reduce maternal mortality rates and improves women's overall health.