Climate Action - Network Energy Performance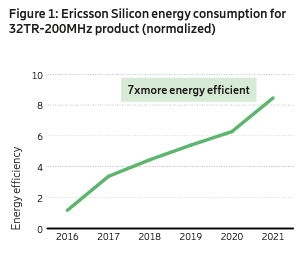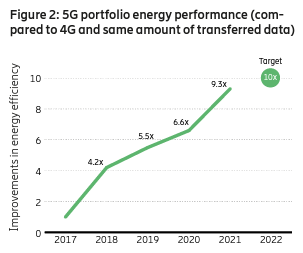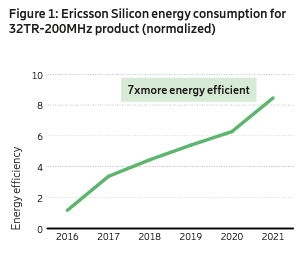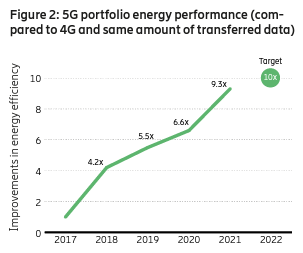 Originally published in Ericsson's 2021 Sustainability and Corporate responsibility Report
To meet the industry aspiration to achieve Net Zero greenhouse gas emissions by 2050, technological innovations that enable mobile networks to support more traffic while using less energy will be needed. To achieve this ambition, 5G must be fast tracked globally in order to provide the increased capacity and coverage necessary to deliver on sustainability commitments and reduce emissions for the ICT industry as well as other sectors.
Energy use in network operations remains a priority for Ericsson and its customers. Carbon emissions resulting from the lifetime energy usage of Ericsson's delivered portfolio correspond to approximately 94% of the Company's total carbon footprint. With this in mind, Ericsson can contribute to its customers' sustainability transformation primarily through improved energy performance across the mobile network, which also helps lower customers' Total Cost of Ownership (TCO).
Ericsson's ambition is to provide high quality, high performing 5G experiences while simultaneously aiming to reduce network energy consumption. To this end, Ericsson has developed an innovative network-wide approach called "Breaking the energy curve". It provides a holistic approach to introducing 5G while managing mobile network energy use across core, transport, radio access and site equipment. This approach gives customers insights into how to maximize energy savings through products and solutions in Ericsson's portfolio. Some examples include modernizing the installed base and rightsizing 5G equipment for new frequency bands, as well as the use of energy-saving software and intelligent remote site management of passive site equipment such as batteries, climate control units and diesel generators.
Improving energy performance
Through significant investments in R&D, Ericsson has been able to develop market leading products and solutions for more sustainable mobile networks and to achieve significant energy and performance improvements across its portfolio. These improvements also contribute positively to the business case for and viability of renewable energy as the primary energy source for future Radio Access Network (RAN) sites.
In the mobile network, the RAN is built to provide nationwide coverage and capacity for users. As a result, the RAN's energy consumption represents over 75% of total network consumption. This means that RAN energy efficiency is of the utmost importance in keeping energy consumption under control while still delivering optimal user experience.
The transition from 4G to 5G involves a significant increase in processing requirements for the RAN equipment. The Company's purpose-built Ericsson Silicon processing hardware, is designed to meet these performance demands. It also plays a key role in facilitating the creation of high-performing, energy efficient and lightweight products. The energy efficiency of Ericsson Silicon has grown by a factor of seven from 2016 to 2021, see figure 1.
Alongside other energy efficiency improvements, during 2021 the Company launched its ultra-lightweight massive MIMO family, exemplified by the AIR3268 radio that weighs only 12 kg with a volume of 23 liters. These additions to the portfolio aim to enable an easier and efficient 5G mid-band deployment.
The advancements with Ericsson Silicon also allow Ericsson to combine multiple frequency bands into a single ERS remote radio unit. In 2021, the Company launched Radio 6626, making it possible to replace six single-band radios with one, which reduces energy consumption up to 50%, among other benefits.
The above high-performing RAN products are examples of how the Company can enable energy savings in mobile networks while managing the mobile broadband traffic growth including 5G roll-outs.
Targets and performance 2021
The Company's target for its 5G product portfolio is to, by 2022, make it ten times more energy-efficient for the same transferred data than the 4G portfolio (baseline 2017) for an enhanced mobile broadband (eMBB) use case. Results from 2021 show that Ericsson's current 5G radios already are very close to achieving the targeted level and are approximately 9,3 times more energy efficient, see figure 2.
Energy savings can also be achieved by replacing less efficient equipment in the legacy network. Ericsson has set a target of 35% energy savings in Ericsson Radio System (ERS) versus the legacy portfolio by 2022 (baseline 2016). This target has been approved by the Science Based Target initiative. In 2021, the Company achieved 36% energy savings from delivered ERS radios versus the legacy port folio, surpassing the target level one year ahead of schedule. See figure 3.