CITGO Lemont Refinery Recognized for STEM Contributions in Local Schools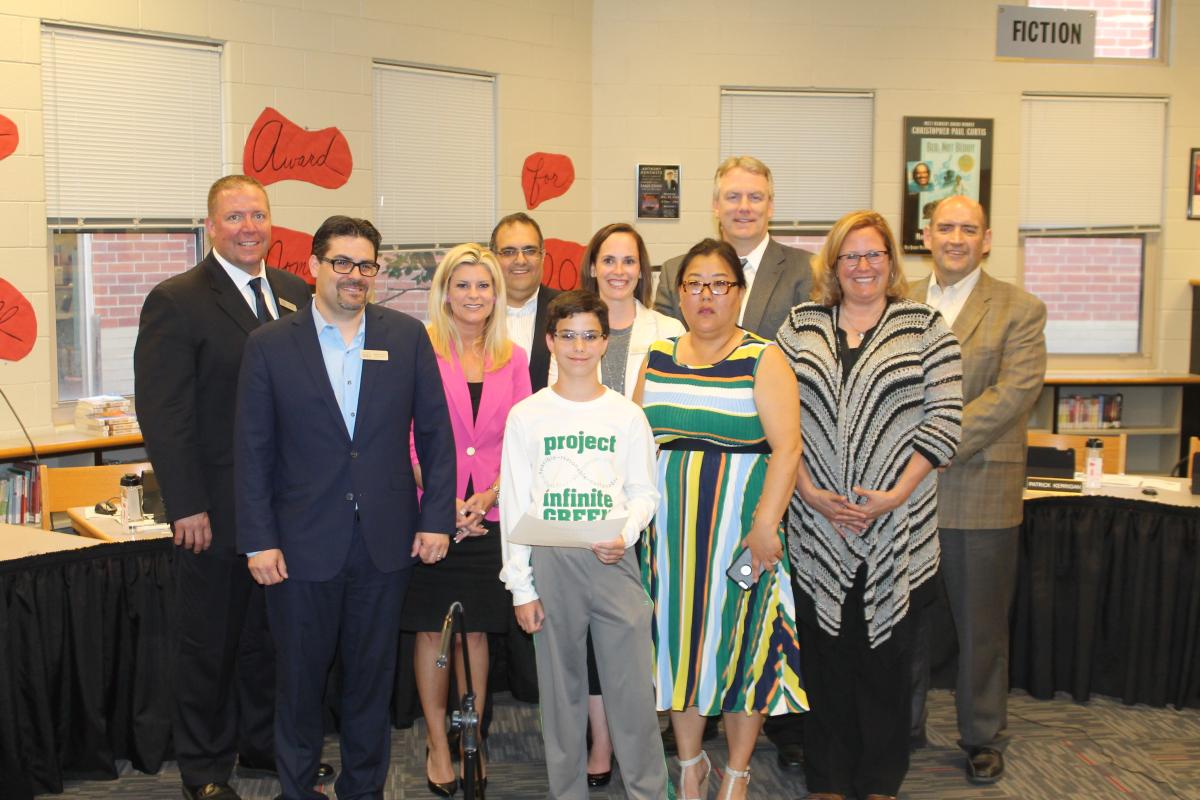 Drazen Gierman, a Project Infinite Green participant and student at Old Quarry Middle School being awarded third place in a high school essay contest conducted by North American Young Generation in Nuclear
LEMONT, Ill., September  12, 2017 /3BL Media/ - During the May board meeting, School District 113a recognized the CITGO Lemont Refinery for its support of Science, Technology, Engineering, and Mathematics (STEM) initiatives in their schools.    
Through CITGO's involvement, students like Drazen Gierman are excelling. Recently, Gierman, a Project Infinite Green participant and student at Old Quarry Middle School, was awarded third place in a high school essay contest conducted by North American Young Generation in Nuclear (NAYGN). Gierman submitted an easy based on his research of nuclear power and power production for Third World countries. 
As a part of the CITGO STEM Talent Pipeline, the Lemont Refinery has supported STEM classroom grants through the District 113a Education Foundation, and has served as a corporate partner for Project Infinite Green--- an after-school program that focuses on teaching students, sixth through twelfth grade, about the scientific and business aspects of creating clean energy solutions.
According to Catherine Greenspon, Project Infinite Green Chief Change Agent, support from the local community and area businesses is key to the success of the program. "CITGO and its employees inspire our students by helping them apply their STEM education to real world challenges," said Greenspon.
In addition to financial support, through classroom presentations on oil refining, clean energy solutions, and environmental stewardship, Lemont refinery engineers and environmental experts serve as mentors to District 113a students.
About Project Infinite Green
Project Infinite Green is an after-school program that encourages STEM exploration by taking students on a journey of U.S. energy sources. Both traditional and renewable energy are covered as well as environmental stewardship, climate change, public policy and business plan formation. As a cumulative project, sixth to twelfth grade students are challenged to create a green business plan that is feasible, reasonable and sustainable.
About the CITGO Lemont Refinery
For over 90 years, CITGO Lemont Refinery has employed more than 750 Chicago area residents on a full-time and contract basis in support of the local economy. In addition to producing high-quality fuels for a large portion of the network of nearly 5,500 locally-owned CITGO stations across the country, Lemont Refinery employees also make a major positive impact on the community. Each year, more than 2,500 volunteer hours and thousands of dollars are given in support of community programs such as Muscular Dystrophy Association, United Way and a variety of environmental and preservation programs. Operations at the Lemont Refinery began in 1925 with a major expansion, doubling the facility, in 1933. Over the years, new units were added to meet the demand for a better quality of gas for automobiles, aviation fuel for WWII, and the production of asphalt. Petróleos de Venezuela, PDVSA, acquired 100% ownership of the refinery in 1997 and began operations as CITGO Lemont Refinery. For more information, visit www.citgorefining.com/Lemont.
About CITGO
CITGO, based in Houston, is a refiner, transporter and marketer of transportation fuels, lubricants, petrochemicals and other industrial products. The company is owned by CITGO Holding, Inc., an indirect wholly owned subsidiary of Petróleos de Venezuela, S.A., the national oil company of the Bolivarian Republic of Venezuela. For more information, visit www.CITGO.com.