CITGO Celebrates National STEM Day to Inspire Students & Teachers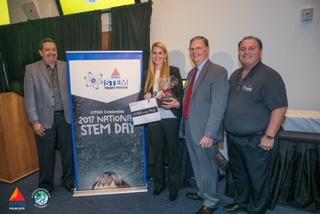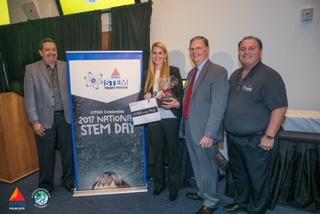 CORPUS CHRISTI, Texas, November 9, 2017 /3BL Media/ - CITGO Corpus Christi Refinery celebrated National STEM Day on Nov. 8, with an interactive event and STEM Teacher of the Year award, presented at the CITGO Skyline Venue inside the Texas State Aquarium. Students and educators who integrate Science, Technology, Engineering and Math (STEM) into classrooms at area schools joined CITGO STEM Talent Pipeline grant recipients from Del Mar College and Foy H. Moody High School at a celebration organized for their benefit. Guests were encouraged to apply their STEM skills at interactive stations set up throughout the event. Activities included molecule-building, slime-making and other science experiments. 
The U.S. Bureau of Labor Statistics' report – STEM Occupations: Past, Present and, Future – states that there were nearly 8.6 million STEM occupations in 2015, and it's the fastest growing job sector in the United States. "Encouraging STEM education in area schools is a win for CITGO because we hire locally, but it is also a win for our students who are better prepared to enter the workforce," said Alirio Zambrano, Vice President & General Manager of the CITGO Corpus Christi Refinery.
CITGO presented a STEM Teacher of the Year award to Kaitlyn Lowen of Cunningham Middle School. Schools around the Coastal submitted nominations, and a panel of judges consisting of community members and higher education professionals chose the 2017 winner. The judging panel included KRIS Meteorologist Juan Acuña; Dr. Faye Bruun of Texas A&M University Corpus Christi; Dr. Steve Tallant of Texas A&M University Kingsville; Mr. Paul Johnson, Associate Math Professor of Del Mar College; and Liza Wisner, City Ambassador and Entrepreneur. 
CITGO launched the CITGO STEM Talent Pipeline program in 2016. This initiative partners with educational organizations near the company's operational areas to increase access to educational opportunities in STEM. The program promotes the importance of STEM education to the socioeconomic development of our communities and highlights the numerous pathways to rewarding careers, including those in the energy industry. It provides grants to schools and educational organizations to support programs that increase student interest, retention and graduation rates – particularly at the high school and post-secondary levels – and those that prepare students for STEM technical and university level curriculum. The program also provides scholarships for students pursuing higher degrees in STEM fields. To date, the CITGO STEM Talent Pipeline has already benefited more than 17,000 students and educators across the CITGO operational footprint, strengthening the communities where the company has a presence.
About CITGO Corpus Christi Refinery
The CITGO Corpus Christi Refinery, which celebrated 80 years of operations in 2015, provides more than 1,000 jobs locally, while generating more than $345 million per year in support of the local economy through salaries, services and taxes. In addition to producing high-quality fuels for its network of nearly 5,500 independently owned and operated CITGO branded stations across the country, Corpus Christi Refinery employees make a major positive impact on the community. In 2016 alone, CITGO employees in Corpus Christi volunteered more than 1,800 hours of their personal time to local and national charities. Since 2013, the CITGO Corpus Christi Refinery and its employees have provided more than 11,000 volunteer hours and approximately $3.3 million in support of community organizations such as United Way, Charlie's Place, Muscular Dystrophy Association, The Miracle League, Catholic Charities, the Special Olympics and a variety of environmental and preservation initiatives, such as the revitalization of the Gateway to Corpus Christi, Hans and Pat Suter Park and Adopt-A-Beach Clean Up. For more information on the CITGO Corpus Christi Refinery, visit www.citgorefining.com/corpus-christi. 
About CITGO
CITGO, based in Houston, is a refiner, transporter and marketer of transportation fuels, lubricants, petrochemicals and other industrial products. The company is owned by CITGO Holding, Inc., an indirect wholly owned subsidiary of Petróleos de Venezuela, S.A., the national oil company of the Bolivarian Republic of Venezuela. For more information, visit www.CITGO.com.