CITGO and Discovery Education Introduce the CITGO Fueling Education™ Student Challenge
CITGO and Discovery Education Introduce the CITGO Fueling Education™ Student Challenge
Students in grades 5-8 invited to identify local issues and develop solutions created to make a world of difference in their community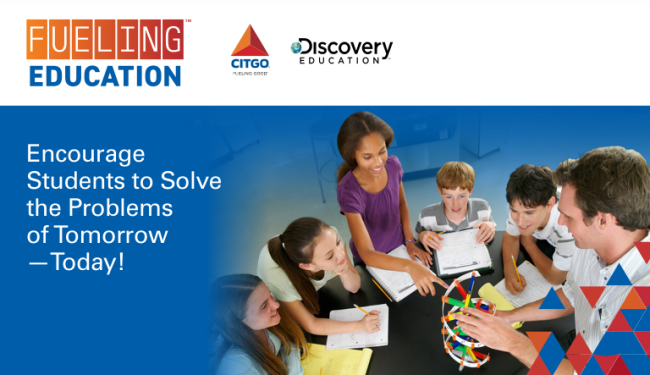 Friday, October 25, 2019 - 12:25pm
Silver Spring, Md., Oct. 25, 2019 /3BL Media/ – CITGO Petroleum Corporation and Discovery Education, the global leader in standards-aligned digital curriculum resources, engaging content, and professional learning for K-12 classrooms, announce the opening of the CITGO Fueling Education Student Challenge. The first-annual challenge invites elementary and middle school students to apply STEM skills to develop a solution for a better, more sustainable world.
Participating as individuals or groups of 2-4, students in grades 5-8 are asked to identify a community problem that aligns to one of the four topic areas, and propose a solution that follows a 4Cs (critical thinking, collaboration, communication, and creativity) framework. Challenge topic areas are created to align to four of the seventeen United Nations Sustainability Development Goals (SDGs): safety and well-being, quality education, sustainable cities and communities, and life on land.
Students will submit a 1–2-minute video that discusses their chosen problem, the topic area it aligns to and their solution to the problem. Students will use research, persuasion, organization, and communication to inform their solution to the problem. Fueling Education Classroom Resources are designed to help students brainstorm for the challenge. Entries will be accepted now through February 13, 2020.
"The CITGO Fueling Education Student Challenge will give learners the opportunity to apply the skills they are learning in the classroom to a real-world problem," said Megan Brown, Curriculum Specialist - STEAM, Anaheim Elementary School District.  "The importance of hands-on learning experiences cannot be overemphasized, especially related to reinforcement of the STEM skills that will be vital to students' future success." 
Prizes for the CITGO Fueling Education Student Challenge include:
Grand Prize: One team or individual receives a total of $20,000.
2nd Place: One team or individual receives a total of $10,000.
3rd Place: One team or individual receives a total of $5,000.
School Prizing: Schools with five or more entries will be put into a random drawing for a chance to win a $2,000 scholarship. One school will be eligible to win.
"The way we work, live and experience the world is evolving, and we must look toward our next generation of leaders to help solve tomorrow's issues. By working with Discovery Education to launch this first-ever challenge, we aim to fuel imagination so students can explore the unique challenges facing their local communities," said Kate Robbins, General Manager Corporate Communications. "We're excited to see what's possible when we provide students with the opportunity to become agents of change."
CITGO and Discovery Education launched Fueling Education with a vision to supply educators with the resources to make STEM learning not only a priority, but a necessity. CITGO aims to inspire students to make positive impacts on their communities, promote student innovation and problem-solving and pave the way for the next generation of leaders.
"The Fueling Education program will serve to empower educators with resources to help upper elementary and middle school students practice STEM skills with a range of practical classroom activities, and open up new avenues for career exploration," said Lori McFarling, President of Corporate Partnerships, Discovery Education. "As the growth of STEM occupations continues to outpace overall U.S. job growth, it is vital that we are all working to prepare students for long-term success in the workforce of the future."
Fueling Education resources are available at no-cost at www.fuelingeducation.com and within Discovery Education Experience. An award-winning comprehensive digital service supplementing instruction across all K-12 curricular areas, Discovery Education Experience helps build the important critical thinking, collaboration and communication skills needed for success beyond graduation.
For more information about the CITGO Fueling Education™ Student Challenge, please visit www.fuelingeducation.com/student-challenge/about-challenge.
About CITGO
Headquartered in Houston, Texas, CITGO Petroleum Corporation is U.S.-based petroleum company with a rich heritage of more than 100 years. CITGO operates three refineries located in Corpus Christi, Texas; Lake Charles, Louisiana; and Lemont, Illinois, and wholly and/or jointly owns 48 terminals, nine pipelines and three lubricants blending and packaging plants. With approximately 3,500 employees and a combined crude capacity of approximately 749,000 barrels-per-day (bpd), CITGO is ranked as the fifth-largest and one of the most complex independent refiners in the United States. CITGO transports and markets transportation fuels, lubricants, petrochemicals and other industrial products and supplies a network of approximately 4,900 locally owned and operated branded retail outlets in 30 states and the District of Columbia. CITGO Petroleum Corporation is owned by CITGO Holding, Inc. For more information, visit www.CITGO.com.
About Discovery Education:
Discovery Education is the global leader in standards-aligned digital curriculum resources, engaging content, and professional learning for K-12 classrooms. Through its award-winning digital textbooks, multimedia resources, and the largest professional learning network of its kind, Discovery Education is transforming teaching and learning, creating immersive STEM experiences, and improving academic achievement around the globe. Discovery Education's services are available in approximately half of U.S. classrooms and primary schools in the U.K. and reach over 5 million educators and 51 million students in more than 90 countries. Inspired by the global media company Discovery, Inc., Discovery Education partners with districts, states, and like-minded organizations to empower teachers with customized solutions that support the success of all learners. Explore the future of education at DiscoveryEducation.com.
# # #
Contacts: 
Citgo
Chad McGinnis 
Phone 202.223.0991 
Email: cmcginnis@highlanterngroup.com 
Discovery Education 
Jackie Kavege 
Email: jkavege@discoveryed.com 
Phone: (202) 304-7785