WSP I Corporate Responsibility
We have an empowering culture and hold ourselves accountable, which means acting responsibly in all areas of our business and managing it as if it were our own. Read on to find out more about our responsible practices across the globe.
Sustainability
Whether we are delivering high-speed rail systems, designing transportation infrastructure to provide access to remote communities or supporting adaptation to climate change risks, we are committed to finding sustainable solutions to the challenges the future will bring.
Health and Safety
At WSP, our people are our most valued asset. This means that good health and safety practices are woven into the fabric of our culture and day-to-day operations.
Ethics and Integrity
Maintaining our reputation means acting with honesty, integrity and transparency in our daily dealings with colleagues, clients and business partners, with working relationships that are based on trust.
Communities
We know our solutions will shape the communities of tomorrow; in nurturing sustainable societies, we strive to contribute positively to the places where we work.
Corporate Governance
WSP is determined to earn the trust of its shareholders and other stakeholders by putting into practice rigorous and effective corporate governance principles.
Videos from this campaign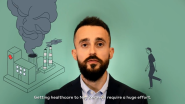 Content from this campaign