Building Stronger, More Resilient Cities
Helping create stronger, more sustainable urban areas throughout the developing world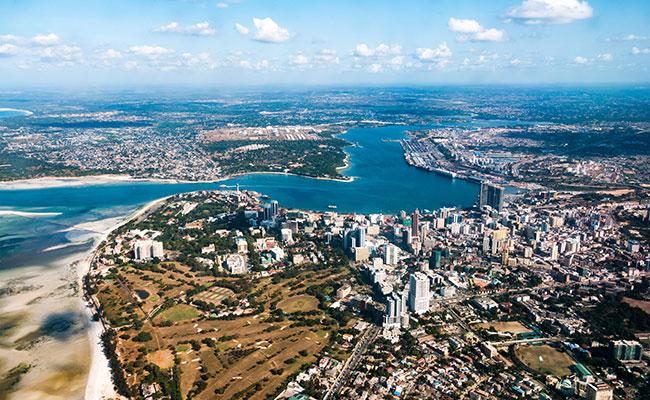 As rapidly growing cities in developing countries become key frontiers of international development, urban areas require dynamic, local solutions to build resilience and sustain inclusive economic growth.
Faced with surging populations, political and economic instability, and threats of extreme weather, cities need to be more resilient, responsive, and receptive than ever before. As one of the world's largest development and professional services firms, Tetra Tech provides a comprehensive suite of integrated services to build stronger, more resilient cities.
We offer municipal governance and leadership capacity building, integrated planning and project management, critical infrastructure design, and climate-smart investment services.
Municipal Governance and Leadership
Great cities need strong leaders to make the difficult decisions necessary to improve resiliency to various threats. Tetra Tech has proven experience building the capacity of people and local government institutions to ensure they are as prepared as possible for shocks—from strengthening the capacity of local municipalities in Bangladesh to withstand climate shocks to working with local utilities to improve water and sanitation delivery in nine African countries through the SUWASA program.
Tetra Tech uses a proven capacity building approach to strengthen local municipalities. We work with all involved stakeholders to align physical and urban and economic planning at all levels of government. We facilitate and inform learning, which enables our clients to mitigate risk and develop strategies to increase resilience.
The Tetra Tech model promotes integration of resiliency planning into local and national development priorities and assists stakeholders to access resources to achieve these goals. This stakeholder-led approach ensures that the needs of women, youth, and indigenous and marginalized populations are served and that these groups are empowered to participate in building resilient cities.
Integrated Planning and Project Management
Urban planning is often conducted in silos, with important decisions made in different institutions without adequate integration of economic, environmental, and social policies. Tetra Tech's comprehensive planning services allow urban environments to continuously adapt to changing circumstances. We conduct capacity building and stakeholder consultations to provide our clients with the resilience interventions necessary to reform, modernize, and mainstream their policies to minimize risks.
To mitigate risks, we work with city governments and stakeholders to design effective approaches to critical infrastructure systems and optimize planning and design for water supply, wastewater, stormwater management, flood control, solid waste management, and early warning systems. For example, Tetra Tech served as the U.S. Agency for International Development's (USAID) program integrator to provide technical assistance, coordination, and training for developing and implementing the Indian Ocean Tsunami Warning System. Tetra Tech played a key role in helping to create and implement an end-to-end warning system, including hazard assessment, forecasting, communications, and community preparedness.
Critical Infrastructure Design
As cities continue to grow at unprecedented rates, governments and the private sector must design and construct infrastructure to withstand extreme weather events. Tetra Tech is at the forefront of integrating climate risks into infrastructure decisions. For example, our teams are currently working across Sub-Saharan Africa on the Power Africa Transactions and Reform Program. Tetra Tech is providing technical assistance, capacity building, and transaction support services as the program works to provide power to 60 million new homes and businesses. In Kenya, Tetra Tech is helping create the Konza Technopolis—a world-class technology hub that will host data centers, technology, and life science facilities; commercial office space, hotels, convention centers; and other facilities.
Tetra Tech also is active in restoring and augmenting international water supply and energy projects. We recently completed design of a $75-million project at the Dahla Dam near Kandahar, Afghanistan, to supply up to 55 cubic meters per second of irrigation water. We currently are designing major repairs and rehabilitation measures to the Shiroro Dam in Nigeria, including repair of one of the main power intakes.
Climate-smart Investment
Both public and private financing will be needed to build the resilient cities of tomorrow. Tetra Tech's expertise includes helping cities build sustainable partnerships with donors, national governments, and the private sector. We design public financing arrangements such as green bonds, and through our specialized public-private partnerships (PPP) unit, we can facilitate investments for cities from environmental funds and other third party donors.
We have built strong partnerships with a diverse group of stakeholders including the World Bank's Global Environment Facility (GEF), the U.S. Export-Import (EXIM) Bank, the United Kingdom's Department for International Development (DFID), private equity funds and other private sector investors and USAID's Development Credit Authority (DCA). Through these partnerships and by leveraging our technical expertise, we empower public bodies to acquire the resources they need to develop more resilient and sustainable cities.