Building Resilience in the Philippines Through Microinsurance
Building Resilience in the Philippines Through Microinsurance
Cebuana Lhuillier Insurance Solutions (CLIS) joins Business Call to Action by providing vulnerable Filipinos with affordable microinsurance tailored to their needs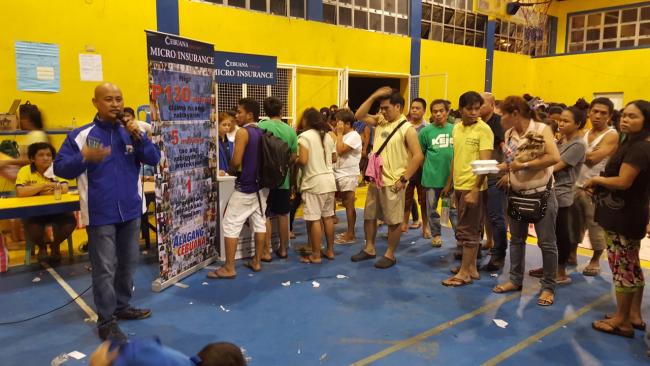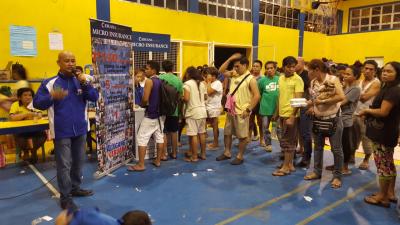 Friday, December 22, 2017 - 9:05am
Microensurer Cebuana Lhuillier Insurance Solutions (CLIS) has joined Business Call to Action (BCtA) with a commitment to increase the number of Filipinos covered by microinsurance from 6 million in 2016 to 8 million in 2020, expanding insurance coverage to 60 percent of the country's population.
Launched in 2008, BCtA aims to accelerate progress towards the Sustainable Development Goals (SDGs) by challenging companies to develop inclusive business models that engage people with less than USD 10 per day in purchasing power as consumers, producers, suppliers and distributors. It is supported by several international organizations and hosted by the United Nations Development Programme (UNDP).
Located in the Pacific 'Ring of Fire', the Philippines is vulnerable to catastrophic events such as strong earthquakes, volcanic eruptions and more than 20 typhoons each year. Flash floods, landslides and road accidents both result from and contribute to these risks. With 21.6 percent of the population living in poverty – many in remote areas – the rate of insurance penetration remains low and the risks inherent in the country make most insurance products extremely expensive.
The country's historic low level of coverage is a result of a lack of financial intermediaries in many parts of the country and a lack of insurance awareness. But as inclusive businesses such as CLIS step into this underserved market, the microinsurance sector is growing significantly along with consumers' awareness and the availability of affordable products.
 
"Through multi-stakeholder engagement, our company stays at the forefront of developing relevant products and services", said CEO Jean Henri D. Lhuillier. "We leverage our partnerships with major insurers, government and other partners to deliver affordable products that cater directly to marginalized and vulnerable people's needs."
 
With established brand recognition thanks to CLIS' nationwide network of shops, the company enables its partner insurers to avoid risk concentration – by spreading the risk nationwide CLIS cushions the impact of large-scale claims in any specific area. Its Claims RAPIDO service enables customers to receive immediate payouts – for example, in fire-stricken areas while the fire is still ongoing.
In designing its products, CLIS conducts extensive market research and focus group discussions to generate consumer insights. This enables it to craft products that meet Filipinos' unique needs while keeping prices affordable. The result is bundled products such as the customized CARE line, which includes: PamilyaCARE (personal accident, medical, burial and fire insurance for families); TODACARE (group personal accident insurance for tricycle, jeepney and motorcycle drivers); and PassengerCARE (personal accident insurance for regular bus passengers).
 
By far, the company's most successful product has been ACP Gold, a personal accident and life insurance package available to anyone between the ages of 7 and 70 that includes free tele-health consultations. Sold over the counter in CLIS' shops, policies can also be purchased via mobile hubs in remote areas, through CLIS employees located within communities and online.
As a manifestation of CLIS' commitment in achieving inclusive insurance, it has spearheaded various initiatives to address three major areas crucial in increasing the level of insurance understanding and appreciation of Filipinos: microinsurance literacy (awareness), microinsurance service enhancement and disaster resiliency through microinsurance. In 2013, CLIS launched Microinsurance on Wheels where eight roving vans were deployed nationwide to promote awareness and increase access to the company's microinsurance products. Through the Barangay Cebuana, CLIS was able to reach 681 transport associations and barangays in the country. An innovative approach to promote awareness was also adopted with the creation of Micropinoy App, an IOS and android-based interactive app showcasing various insurance products offered by the company.
 
"CLIS is one of the few daring innovators to venture into the vast insurance market at the bottom of the pyramid", stated BCtA Programme Manager Paula Pelaez. "Its unique products protect vulnerable Filipinos from the sizable risks they face in this Pacific archipelago, enabling them to invest their in their futures instead of facing financial ruin when disaster strikes."
The CLIS inclusive business model has been so successful that many insurers are prioritizing it as an agent for their services. This is quite an accomplishment in a market that insurers previously avoided. And thanks to an aggressive marketing campaign, the company has been able to scale up its microinsurance business throughout the Philippine islands.
For further information: 
BCtA: Aimee Brown at aimee.brown@undp.org
CLIS: Jonathan Batangan at jbatangan@pjlhuillier.com.
 
BctA membership does not constitute a partnership with its funding and programme partners, UNDP or any UN agency.
 
About Business Call to Action (BCtA): Launched at the United Nations in 2008, BCtA aims to accelerate progress towards the Sustainable Development Goals (SDGs) by challenging companies to develop inclusive business models that offer the potential for both commercial success and development impact. BCtA is a unique multilateral alliance between key donor governments including the Dutch Ministry of Foreign Affairs, Swedish International Development Cooperation Agency (Sida), Swiss Agency for Development and Cooperation, UK Department for International Development, US Agency for International Development, and the Ministry of Foreign Affairs of the Government of Finland, and the United Nations Development Programme — which hosts the secretariat. For more information, please visit www.businesscalltoaction.org or on Twitter at @BCtAInitiative.
 
About CLIS: Formerly known as Philippe Lhuillier Insurance Agency, Cebuana Lhuillier Insurance Solutions (CLIS) began its operations in mid-1999. It was established by a group of dynamic individuals who espoused a common goal of providing financial security and peace of mind to its clients. CLIS is one of the latest additions to the diverse portfolio of the PJ Lhuillier Group of Companies, along with pawnshop giant Cebuana Lhuillier. To date, the company has covered 6 million Filipinos and settled more than P170 Million in claims nationwide. Its affordable microinsurance products and services minimize the impacts of distress and misfortune on Filipinos' finances, helping them to access opportunities that higher-income earners take for granted. For more information about CLIS and its range of innovative products, visit www.cebuanalhuillier.com/insurance.