Building a Better Tomorrow Through Community Service and Corporate Giving
Wells Fargo named United Way Worldwide's top workplace giving campaign; contributed $286.5 million to 14,500 nonprofits in 2017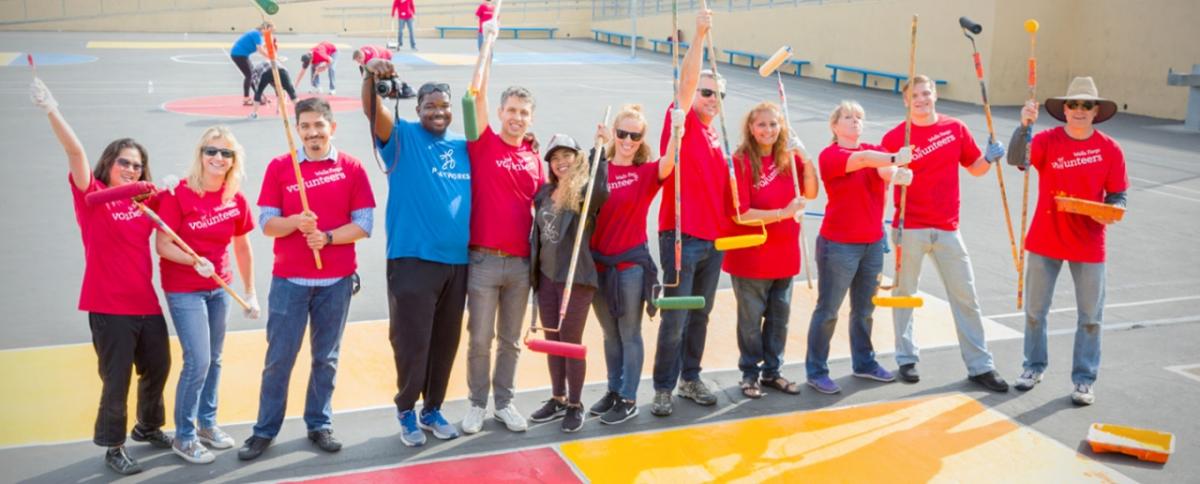 For the ninth consecutive year, Wells Fargo is United Way Worldwide's No. 1 workplace giving campaign in the U.S.
Building a Better Tomorrow Through Community Service and Corporate Giving
For the ninth consecutive year, Wells Fargo is United Way Worldwide's No. 1 workplace giving campaign in the U.S.
More than 65,000 team members demonstrated their strong commitment to community service by giving $85 million to 40,000 nonprofit organizations and volunteering a record 2 million hours — valued at $48 million — in communities nationwide during the company's employee giving campaign in 2017.
"We couldn't be more proud of our Wells Fargo team members who, year after year, exhibit selfless commitment to strengthening the communities we serve and enriching the lives of others," said CEO Tim Sloan. "We honor the volunteerism, determination, and leadership of our team members, who are the cornerstone of our efforts to build a better bank for all communities. Their generosity underscores one of our company's most important core values and inspires our investments in communities across the country."
In addition to what team members gave, Wells Fargo donated $286.5 million to more than 14,500 nonprofits to help alleviate food insecurity and support disaster relief and recovery efforts, veterans, military service members and their families, community revitalization, and environmental sustainability.
Stepping up to help those in need
In 2017, Wells Fargo provided $28.3 million in assistance to veterans, military service members, and their families through financial, education, career transition, and housing initiatives.
In collaboration with NeighborWorks® America, the company provided homebuyer education and awarded $45 million in down payment assistance grants through its NeighborhoodLIFT® program, creating 2,820 homeowners during the year.
Wells Fargo's philanthropic donations reflect the company's commitment to addressing pressing economic, social, and environmental issues — including in times of urgent need.
In a year of unrelenting natural disasters, the company donated $10.6 million to the American Red Cross and local nonprofits to assist disaster relief and recovery efforts. This included $6.9 million to the WE Care Fund for 4,714 grants to support team members impacted by hurricanes and widespread California wildfires.
During the holiday season, Wells Fargo organized and executed a Holiday Food Bank campaign. After kicking things off with a $5 million grant to the United Way, the company collected 251,095 pounds of nonperishable food in November and December. Combined with monetary donations, this provided 433,814 meals to those in need at food banks across the country.
The company also provided $2 million to eight nonprofits — generating $11.6 million in matching funds from grantees — for the Resilient Communities Program, helping cities protect natural habitats and prepare for, withstand, and recover from natural disasters associated with changing sea levels, water quantity and quality issues, and longer fire seasons.
"At Wells Fargo, we believe we have a significant role to play in supporting community stabilization, resiliency, and economic growth, especially in underserved communities," said Jon Campbell, head of Corporate Responsibility and Community Relations. "We deeply appreciate the expertise and collaboration of our nonprofit partners who work together with us to empower change for the better in our communities."
The company also made a number of long-term strategic philanthropy commitments, including increasing funding for the Wells Fargo Innovation Incubator — now a $30 million program with the Department of Energy's National Renewable Energy Laboratory that speeds the path to market for promising clean-tech startup technologies — and a five-year, $50 million commitment to American Indian/Alaska Native communities to help address their unique economic, social, and environmental needs.
A goal to give $400 million
After an exceptionally successful year of philanthropic giving in 2017, Wells Fargo announced that it is increasing annual donations to nonprofits and community organizations by 40 percent in 2018 — aiming for an unprecedented $400 million giving target — with a long-term plan of investing 2 percent of after-tax profits for corporate philanthropy beginning in 2019.
For more stories about how Wells Fargo is helping to make our communities better, please visit Wells Fargo Stories at https://stories.wf.com/?cid=intpart_wfs_3bl_1801_0.