Bringing Renewable Energy to the Grid in the Rapidly Developing World
by Chris Wellise, Sustainability Officer at HPE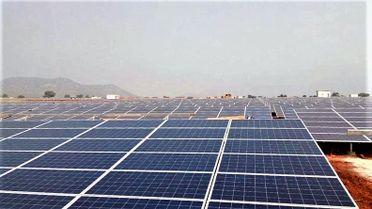 As the demand for computing power grows exponentially, there has been a push from both outside of, and within the IT sector to reduce the carbon emissions and energy consumption associated with the world's rapidly expanding IT infrastructure, which consists largely of data center facilities. The reality is that efficiency improvements won't be enough to meet the exploding demand for data, and the compute power necessary to provide it. Renewable energy sources—such as wind and solar—are continuing to play an increasingly important role in the energy sourcing plans of many large IT companies on their quest to reduce their use of carbon-intensive energy, particularly in rapidly developing countries where coal is still the predominant source of power.
Today HPE opened a 30 MW offsite solar farm in India through a 10-year Power Purchase Agreement (PPA). This will meet approximately 85% of the power demand at HPE's largest site in India (IWF) as well as 85% of the demand at a secondary site (IEC) in Bangalore.  This will result in an annual reduction in excess of 40,000 metric tons of greenhouse gas (GHG) emissions, equivalent to powering more than 35,000 households in India for one year. This is an important milestone in HPE's RE100 commitment to power 100% of our operations with renewable energy, with an interim target to source 50% by 2025.
There has been a notable shift towards sourcing of renewables due to falling costs of renewable energy technology. According to a recent Climate Group report, the majority of fellow RE100 member companies agree that renewables are either cost competitive or deliver significant savings on energy bills. For HPE, our renewable energy commitment is an important way to not only reduce our carbon footprint, but also reduce regulatory uncertainty, and strengthen our competitiveness and investor confidence by minimizing the risks associated with fluctuating energy prices.
While the majority of our environmental footprint is related to our customer's use of our products, we believe that companies must consider their entire value chain when committing to lowering their footprint. That's why HPE was the first IT company to set science-based emissions targets within both our operations and supply chain, targeting GHG reductions in line with climate science to keep global warming below the critical 2 degree Celsius threshold.
Given that the private sector accounts for nearly 50% of global energy demand, it is our collective responsibility to lead the transition towards decarbonization. HPE has long been a strong advocate for accelerating a greener grid. We partnered with WWF, the World Resources Institute (WRI) and other leading companies to issue the Renewable Energy Buyers' Principles, and cofounded BSR's Future of Internet Power, a collaborative initiative focused on powering data centers sustainably. We will continue to scan the global market for additional opportunities in renewable energy, particularly those where our influence can bring new renewable energy to the grid in rapidly developing countries like India.