Bread Financial Included on Newsweek's Most Trustworthy Companies in America 2023 List
Company ranks #20 in the financial services industry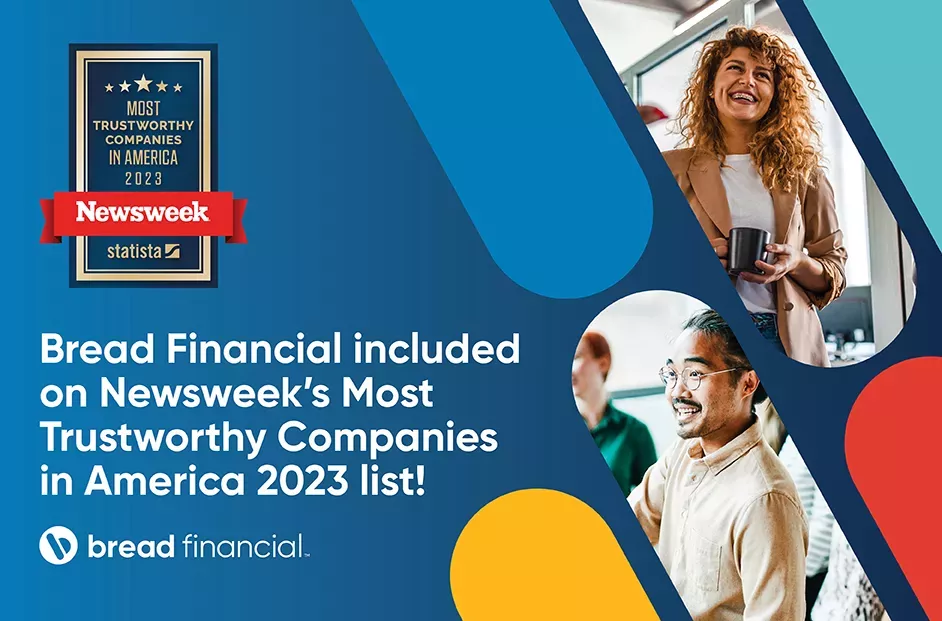 Committed to operating responsibility based on the highest standards of ethics and integrity, Bread Financial today announced that it has been included on Newsweek's Most Trustworthy Companies in America 2023 list, ranking #20 among other companies in the financial services sector.
"Building trust is one of the most important priorities for any business, but also one of the easiest things for it to lose, which is why I am so proud to receive this third-party validation that represents our culture in action," said Ralph Andretta, president and chief executive officer, Bread Financial. "We rebranded to Bread Financial just over a year ago, and our inclusion on Newsweek's list is a noteworthy acknowledgment of our commitment to deliver best-in-class, value-added experiences that build trust and confidence."
To determine the top 700 most trustworthy companies across 23 industries, Newsweek, in partnership with market research partner Statista Inc., evaluated a pool of 3,100 U.S.-headquartered companies with revenues over $500 million along with a sample of approximately 25,000 U.S. residents who rated companies on three pillars of trust: customer trust, investor trust and employee trust
"Empowering customers in a way that inspires confidence, satisfaction and trust in our brand is rooted in our responsible business practices," said Dana Beckman, head of sustainability, Bread Financial.  "As we continue to adapt and respond to evolving consumer expectations, our purpose-driven approach and unwavering dedication to operating sustainably remains essential to earning and maintaining the trust of our diverse stakeholders."
In January, Bread Financial also announced its inclusion on Newsweek's Most Responsible Companies 2023 list. For more information on Bread Financial's ESG strategy, visit its sustainability page or download the 2021 ESG Report.