Bread Financial Awards $1 Million in Grants to 21 Organizations to Improve Financial Wellness and Promote Economic Stability
The grants will help fund solutions to advance economic equality and offer financial wellness education to provide communities with stronger financial health support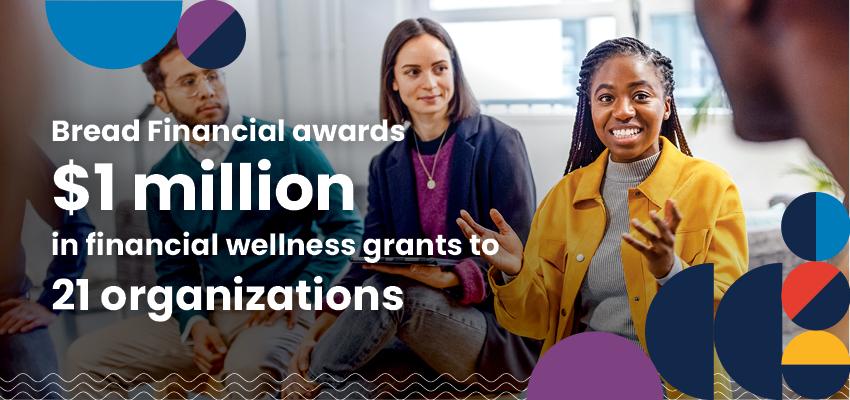 COLUMBUS, Ohio, April 20, 2023 /3BL Media/ - Bread Financial (NYSE: BFH), a tech-forward financial services company that provides simple, personalized payment, lending and saving solutions, today announced a total of $1 million in grants that have been awarded to help low to moderate income consumers across the United States improve their financial wellbeing and advance economic equality. More than 165 grant applications from non-profit organizations were received, resulting in a highly competitive process.  The individual grants range from $20,000 to $100,000 and were awarded to organizations with a demonstrated track record of performance supported by measurable impact. 
Grant recipients will deliver on a variety of high-impact outcomes that align with their respective missions to advance financial wellness, such as:
Helping consumers build their savings accounts to an average of $8,000
Employing 60% of participants in non-subsidized jobs 
Securing employment for 81% of program graduates within one year of graduation at an average hourly wage of $20.80
Assisting consumers in reducing or restructuring debt, decreasing expenses, boosting income and avoiding scams 
"These grants will continue enabling positive change within our communities to build a resilient and financially confident future for consumers at every stage of life" said Dana Beckman, head of sustainability at Bread Financial. "At Bread Financial, we strive to support deserving organizations to maximize their impact, further their mission and positively affect those in the communities they serve. We look forward to seeing and further communicating the results of these important investments."
This $1 million in funding is part of Bread Financial's broader commitment to supporting financial wellness through education, training and technology that helps consumers build a bright financial future. With the addition of this grant funding, the company raises its commitment to financial wellness initiatives to $3.5 million, an increase from the initial $1 million pledged in 2022.
Grants were awarded to programs focusing on financial education and coaching, credit building, workforce development and inventive solutions in the financial wellness space in the following locations: Chicago, Ill., Columbus, Ohio, Dallas, Texas, New York City, N.Y., Philadelphia, Pa., Salt Lake City, Utah, Wilmington, Del. These locations are representative of where a majority of the company's workforce resides. 
A full list of winners may be found below. 
Chicago, Ill. 
Breakthrough Ministries
The Community Economic Development Program provides education, work experience and supportive services so participants can become economically stable and strong community contributors.
Chicago Commons Association 
The Family Hub Financial Wellness Initiative works with parents of children enrolled in the association's early childhood education center through biweekly workshops focused on budgeting, money management, banking tools and understanding of public benefits. Participants also receive one-on-one support through the Mobility Mentoring program.
Girls, Inc. of Chicago
The Boss Up Program provides financial literacy education to girls grades 5-12 with a gender specific lens to teach girls from historically disinvested communities how to recognize and overcome gender-specific economic obstacles. Ultimately, they empower girls to build their financial competence and confidence so they can make healthy economic decisions and prepare for financially independent futures.
Local Initiatives Support Corporation 
The Financial Opportunity Center is an integrated service delivery strategy equipping individuals with tools, support and know-how to boost earnings, build credit, reduce expenses and make sound financial decisions. 
Columbus, Ohio 
Lower Lights Ministries
The Ministries' Financial Empowerment Services provide comprehensive programming to address root causes of poverty through relevant education, employability and emotional stability.
Per Scholas, Inc. 
The Columbus IT Skills Training Program advances economic equality and mobility through rigorous technical training and connection to employment opportunities.
Dallas, Texas 
Chris Howell Foundation, Inc.
The Healthy Dollars program helps participants develop knowledge of credit building and repairing, budget setting techniques and savings account set-up and maintenance.
Senior Citizens of Greater Dallas, Inc. 
The Elder Financial Safety Center's financial literacy program and financial coaching addresses older adults' poverty through workforce development, financial literacy, exploitation education, insurance counseling and providing basic needs.
Vickery Trading Company, Inc. 
Through its comprehensive programming to empower refugee women and their families, the Vickery Trading Company, Inc. supports participants in their financial health journey through ESL classes, job training, social enterprise employment and financial literacy courses.
Women in Need of Generous Support (WINGS)
The Economic Advancement Program provides women with financial education classes, benefits screening, credit building tactics and financial coaching to empower them to make wise financial decisions.
New York City, N.Y. 
Futures and Options 
Through their internship program, high school students are provided paid internships and early work experience while undergoing trainings in financial literacy, networking and career spotlights where they hear from guest career speakers.
Girls, Inc. of New York City 
The Her Future financial literacy program brings programming to the digital age by syncing with new mobile app that will teach financial capabilities through experiential learning.
Qualitas of Life Foundation 
Programming like the Financial Education and Entrepreneurship Initiative provide core financial education programming covering family finances, budgeting, saving, banking, avoiding financial fraud, credit, taxes, migration and money.
Working in Support of Education (W!SE)
The Financial Literacy Certification provides curriculum to New York public high schools to teach a course on personal finance and then administer the W!SE Financial Literacy Certification Test. Passing students become Certified Financially Literate™.
Philadelphia, Pa. 
ACHIEVEability 
TechUp is a five-month paid workforce program collaborating with industry experts to provide training to upskill and certify low-income, Black jobseekers, who have previously only obtained a high school diploma, as Salesforce Administrators.
Compass Working Capital 
The Family Self-Sufficiency Program integrates asset building into the delivery of federal housing assistance program harnessing an increase in income to establish a savings plan in escrow savings accounts.
Consumer Credit Counseling Service of Delaware Valley 
The service provides no cost, one-on-one financial and housing counseling to prepare clients to achieve lasting, generational wealth and grow the communities they live in.
Salt Lake City, Utah 
People Helping People 
The Employment Program offers education, mentoring and coaching through a comprehensive program where participants attend workshops, meet one-on-one with volunteer business professionals, and learn skills like resume writing, interviewing, and navigating the learning curves of new jobs.
Suazo Business Center 
The center provides support to underserved and low-income entrepreneurs in Utah by addressing existing disparities and providing courses, training, mentorships and one-on-one advising, and connecting entrepreneurs to financial resources otherwise unavailable to them.
Wilmington, Del. 
Latin American Community Center 
The Life Empowerment Program helps Latinos achieve or regain self-sufficiency through education resources and services. Programming includes financial literacy, workforce development, adult digital literacy, ESL, immigration and crisis alleviation, all provided in a bilingual and culturally aware environment.
Wilmington Alliance 
Workforce development programming is a collective impact model that convenes partners around workforce initiatives for marginalized residents with a focus on addressing barriers to employment and providing stipends for individuals in training, as well as additional support through funding for fines/fees that impede employment.
About Bread Financial™   
Bread FinancialTM (NYSE: BFH) is a tech-forward financial services company providing simple, personalized payment, lending and saving solutions. The company creates opportunities for its customers and partners through digitally enabled choices that offer ease, empowerment, financial flexibility and exceptional customer experiences. Driven by a digital-first approach, data insights and white-label technology, Bread Financial delivers growth for its partners through a comprehensive product suite, including private label and co-brand credit cards, installment lending, and buy now, pay later (BNPL). Bread Financial also offers direct-to-consumer solutions that give customers more access, choice and freedom through its branded Bread CashbackTM American Express® Credit Card and Bread SavingsTM products.
Headquartered in Columbus, Ohio, Bread Financial is powered by its 7,500+ global associates and is committed to sustainable business practices. To learn more about Bread Financial, visit BreadFinancial.com or follow us on Facebook, LinkedIn, Twitter and Instagram.