Barclays and NYU Launch Veterans Future Lab in New York City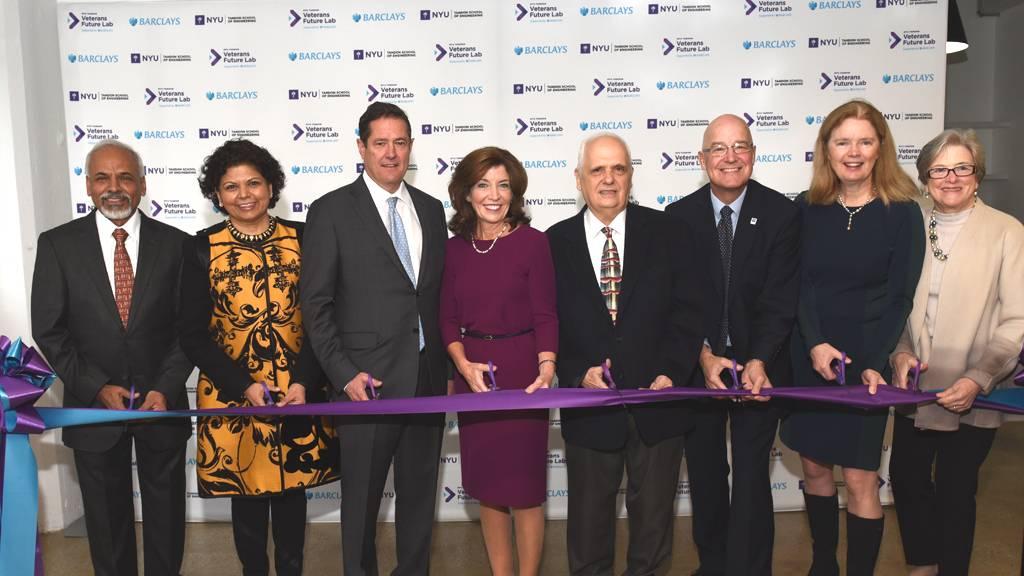 Leaders from Barclays, NYU, and Partnership for New York City joined together at the Veterans Future Lab ribbon cutting. L to R: Katepalli Sreenivasan (Dean of NYU Tandon School of Engineering), Chandrika Tandon (Vice Chair of NYU Board of Trustees and Chair of NYU Tandon Board of Overseers), Jes Staley (CEO of Barclays), New York State Lt. Governor Kathy Hochul, New York State Assembly Member Joseph Lentol, Dr. Andrew Hamilton (President of NYU), Barbara Byrne (Vice Chairman, Barclays Investment Bank), Kathryn Wylde (President and CEO, Partnership for New York City)
Originally published on Barclays
Recognizing the importance of providing mentoring and support to early-stage start-ups founded by United States military veterans, and with a commitment to veteran-owned enterprises, Barclays and NYU Tandon School of Engineering launched the Veterans Future Lab.
The innovative business incubator, supported by the New York State Regional Economic Development Councils (REDC), offers the critical resources that help facilitate veterans' success in the New York business ecosystem. The program also provides access to NYU Tandon's bootcamp, "A Bridge to Tandon," and the opportunity to work toward a Master of Science degree in one of three fields at no cost.
In addition to receiving financial support, veterans in the program can leverage the skills and expertise of Barclays' senior leaders. Barclays will play a crucial role for veteran cohorts, both with mentorship and by serving as guest lecturers who will share their business and financial experience as it relates to scaling new businesses.
"Barclays is honored to be partnering with NYU Tandon in making a deeper impact in the community by leveraging our capital, skills, expertise and mentorship to help enable veteran entrepreneurs to launch and grow their ventures at the Veterans Future Lab." -- Jes Staley, Group Chief Executive Officer, Barclays
Bureau of Labor Statistics surveys show that more than one-third of all returning military veterans possess entrepreneurial ambitions, but just under five percent actually start their own companies. The Veterans Future Lab bridges the divide between ambition and reality, providing access to NYU Tandon faculty, Barclays' experts, co-working and prototyping space, as well as entrepreneur-focused legal, marketing, and design services.
"We are enormously proud of the many veterans we have in our community – students, faculty, staff, and alumni – and we've made a strong commitment to support them in the pursuit of their academic, professional, and personal goals." -- Dr. Andrew Hamilton, President of New York University
The opening of the Veterans Future Lab is part of NYU Tandon's larger entrepreneurial initiative, NYU Tandon Future Labs. Launched in 2009, the program is altering New York City's technology landscape.
"Historically, veterans have shown an immense entrepreneurial spirit, founding a wide range of successful start-ups," Dean Katepalli R. Sreenivasan said. "The Veterans Future Lab was conceived as a way to foster that spirit and encourage veterans to combine technology with skills learned while serving to develop companies to change the world. I look forward to seeing what these exceptional men and women will create."
"Thanks to the support of New York State and partnership and funding from Barclays, we are able to move into a new location in Industry City where our members can be inspired daily by the significant innovation happening throughout the complex and all along the Brooklyn Innovation Coastline." -- Kurt Becker, NYU Tandon Vice Dean for Research, Innovation and Entrepreneurship
Located in Industry City, situated on the waterfront in Sunset Park, Brooklyn, Veterans Future Lab represents the first time NYU Tandon will be occupying space at the interdisciplinary business and entertainment complex. Barclays is excited to support veterans through this incubator, which will spur economic growth in the area.