Attend: Business of Kindness Regional Forum in Washington, DC
Attend: Business of Kindness Regional Forum in Washington, DC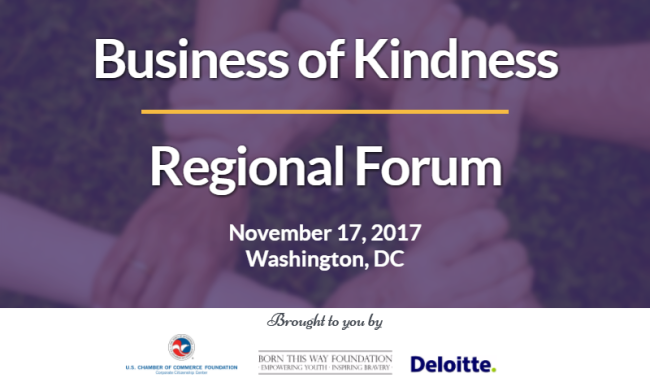 Wednesday, November 8, 2017 - 9:30am
Join the U.S. Chamber of Commerce Foundation, Born This Way Foundation, and Deloitte on November 17, for the Business of Kindness Regional Forum. Learn from business leaders, academics, and community partners on why they are championing kindness in the workplace and how you can foster it in yours.
Topics to be discussed include:
How do we create a cultural shift towards kindness?
How do we engage employees at every level to empower kindness inside their companies?
What is inclusivity and what are the best practices to achieving it?
How can you make the business case for kindness in your workplace?
How do you create an environment for safe, honest, and meaningful discussions?
Kindness is priceless and it makes a powerful impact—together, we can work to put kindness front and center. Check out the full agenda and list of speakers here.
Space is filling up, so click here to register today!