AT&T Pledges an Additional $1.4 Million to Hurricane Relief With New Matching Donation
Support for rescue and recovery efforts in communities hit by recent hurricanes in the U.S. and Caribbean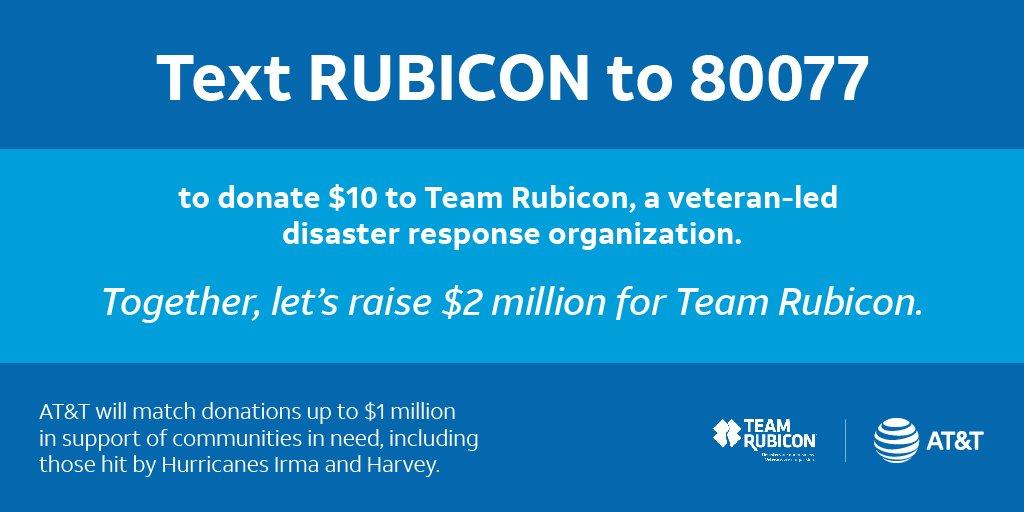 AT&T* is donating another $1.4 million to hurricane relief, which includes a $1 million matching donation to Team Rubicon, $150,000 to Telecoms Sans Frontieres, a group that is working to reestablish connectivity for emergency responders and communities in the Caribbean, and $250,000 to local charities in states impacted by Irma. We will work with state officials to direct the $250,000 donations where they can be most beneficial.
"During disasters, our communities need rapid response, and they also need sustained recovery," said Charlene Lake, AT&T chief sustainability officer. "The devastation wrought by disasters like Hurricanes Irma and Harvey require a long-term effort to rebuild. Team Rubicon and its cadre of high-skilled, mostly veteran volunteers are the best-of-the-best. We're proud to stand with them."
AT&T will match each dollar donated to Team Rubicon through the text-to-donate program, no matter which wireless carrier you use, up to $1 million. By texting RUBICON to 80077, $10 will be donated by the customer to Team Rubicon (TR), a veteran-led disaster response organization, and then matched by AT&T.*
These contributions will fund immediate and ongoing support in communities impacted by Hurricanes Harvey and Irma and other cities to be announced in the future. TR's crisis units consist of skilled volunteers, many of whom are veterans, ready to deploy when disaster strikes and in the ongoing recovery of communities.
"Disasters are not one-day events. We're grateful AT&T is joining us in our goal to be ready to serve our communities at any moment, anywhere," said Jake Wood, Team Rubicon co-founder and CEO. "AT&T's support will not only help the communities suffering now, but will also help us deploy in more locations with even more efficiency in the years to come."
To learn more about AT&T's response to Hurricane Irma, click here.
In response to Hurricane Harvey, AT&T previously contributed $100,000 to the Greater Houston Community Fund, $100,000 to the American Red Cross Hurricane Harvey Fund and $50,000 to the Coastal Bend Community Foundation in South Texas.  To learn more about AT&T's response to Hurricane Harvey, click here.
*Charges will appear on your wireless bill, or be deducted from your prepaid balance. All purchases must be authorized by account holder. Must be 18 years of age or have parental permission to participate. Message and data rates may apply. Text STOP to 90999 to STOP. Text HELP to 90999 for HELP. Full Terms and privacy policy: https://mgive.org/terms-of-service.aspx.