Announcing TWITTER® CHAT: "Defending the Harvest: Reducing Food Loss" With the Rockefeller Foundation, Feed the Future and ADM Institute for the Prevention of Postharvest Loss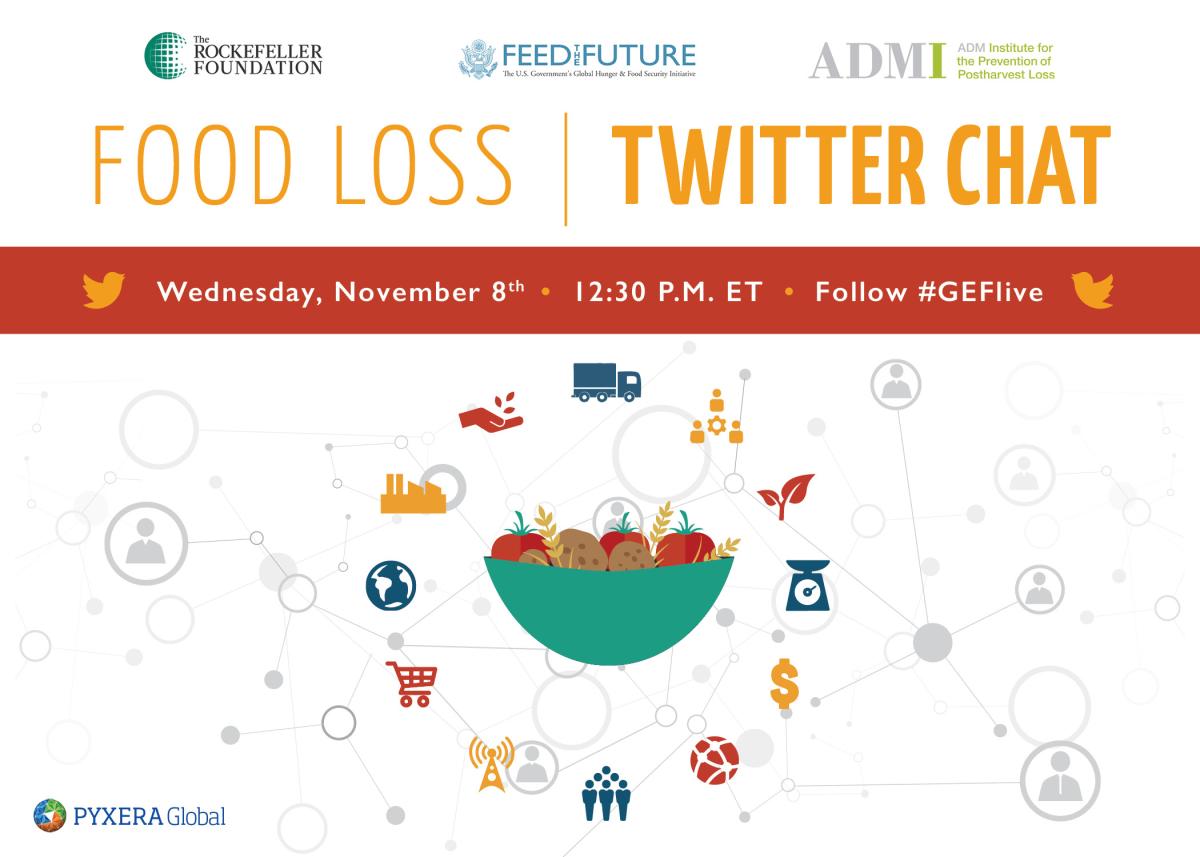 WASHINGTON, November 6, 2017 /3BL Media/ - More than 1.2 billion people go to bed hungry or under-nourished every day, while the food that could feed them is wasted, lost along the food-chain. Such waste also rocks the security of livelihoods for the most vulnerable in the agricultural value chain and negatively impacts the environment. Eliminating food loss—using the harvest wisely—is one of the most solvable problems of our time.
Join the TWITTER CHAT: Defending the Harvest – Reducing Food Loss #GEFlive
Wednesday, November 8, 2017 12:30 PM ET, hosted by @PYXERAglobal and featuring The Rockefeller Foundation, Feed the Future, and ADM Institute for Reducing Post Harvest Loss.
While solvable, the challenge is daunting. The goal is to develop an efficient, productive food system which minimizes—or eliminates--loss. This is attainable by focusing on the value chain, monitoring how farmers are experiencing the most loss when they plant, harvest, and store their crops, and even further to consider transportation, handling, processing, packaging, and marketing. This Twitter® chat will draw on the experience of leading organizations who are actively reducing food loss around the globe.
 In this conversation, you will hear:
How organizations collaborate to address post-harvest loss, including the newest ideas to meet the biggest challenges.
Key findings newly published, "Celebrating the Grim Future of Post-Harvest Loss" by the Savannah College of Art and Design (SCAD) and PYXERA Global
How you can get involved in reducing post-harvest loss.
This chat continues the collaborative efforts emanating from the Global Engagement Forum: Live (GEF: Live) in April 2017, summarized in the publication of "Celebrating the Grim Future of Post-Harvest Loss" report. The report highlights the big ideas that emerged during that convening: "While the food security debate to date has largely focused on how to boost productivity using fewer resources on the same area of land, solving the problem of food loss on the front end of the supply chain is just as vital. It's also easier to accomplish." – "Celebrating the Grim Future of Harvest Loss," page 4.
The "Defending the Harvest: Reducing Food Loss" Twitter® chat will be fueled by the findings from this paper, as well as "Collaborating for Solvable Problems: What's Next?", published in partnership with the School of Visual Arts and Babson College's Social Innovation Lab, which includes core principles to guide collaborative action.
About #GEFlive featured voices:
The PYXERA Global team is passionate and dedicated to navigating challenges and pinpointing purposeful global engagement opportunities for its clients and partners. Initiatives include a wide range of services from local content development to global pro bono programs and integrated community development efforts that transform lives and livelihoods. 
For questions please contact:
Contact: Katie Levey
Senior Communications Director, PYXERA Global
klevey@pyxeraglobal.org
917.593.1989