Announcing Reimagining Green(er) Solutions to Hunger Challenge
A partnership between PIMCO, Global FoodBanking Network, and PYXERA Global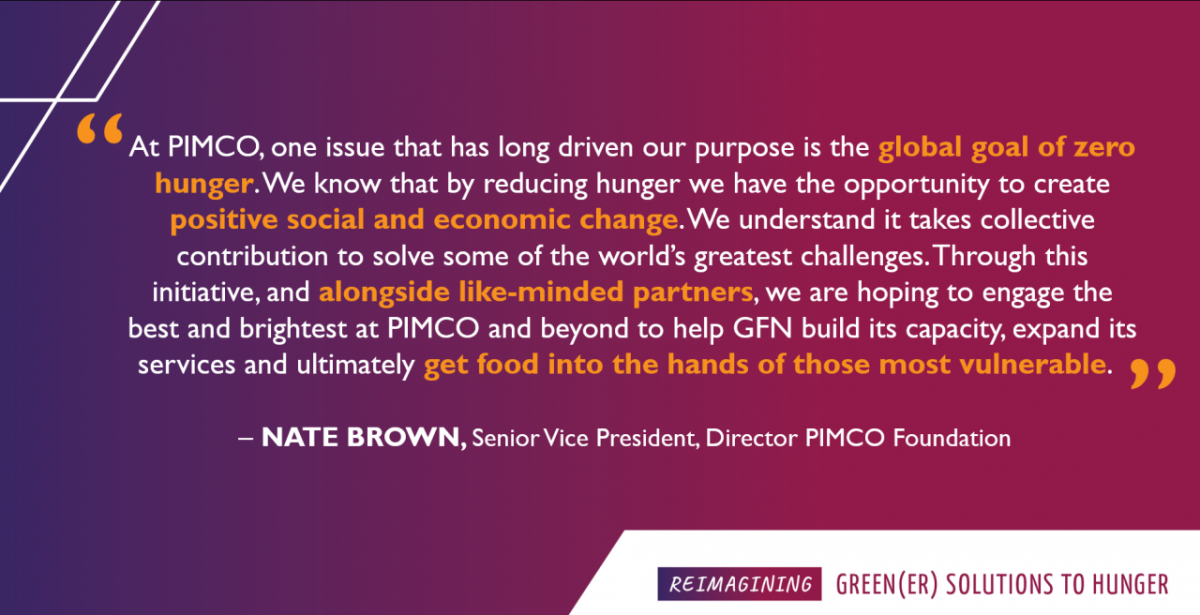 Announcing Reimagining Green(er) Solutions to Hunger Challenge
July 28, 2021 /3BL Media/ - The COVID-19 pandemic has been driving an unprecedented increase in demand for food, pushing us closer towards a global hunger crisis. Nearly one in three people worldwide faces food insecurity, with upwards of 811 million people facing chronic hunger. Current models estimate that of the 660 million people estimated to still be facing chronic hunger in 2030, at least 30 million would not still face hunger had the pandemic not occurred.
Solving this hunger crisis does not require increasing food production. It is a food distribution issue. One third of all food globally is lost or wasted, costing our global economy nearly $1 trillion each year and generating eight percent of global greenhouse gas emissions.
In response, PYXERA Global announces a new partnership with PIMCO and The Global FoodBanking Network (GFN) to launch the Reimagining Green(er) Solutions to Hunger Challenge. Sponsored by PIMCO, the Challenge will bring together its employees, as well as talent from other participating companies to reimagine how food banks can operate more efficiently—examining all elements of the supply chain, including energy use, transportation, and food storage. Employees will be tasked with applying their business and operational skills to support GFN in creating efficient models for operation that can be scaled across food banks and foodbanking networks globally.
 "We understand it takes collective contribution to solve some of the world's greatest challenges. Through this initiative, and alongside like-minded partners, we are hoping to engage the best and brightest at PIMCO and beyond to help GFN build its capacity, expand its services and ultimately get food into the hands of those most vulnerable."
— Nate Brown, Senior Vice President, Director PIMCO Foundation 
Why are food banks critical in the fight against hunger?
Food banks play a unique role in food systems worldwide and are critical to continuing the fight against global hunger and reducing food waste. The Global FoodBanking Network (GFN) works to unite and advance food banks, serving over 40 million people experiencing food insecurity in 44 countries. As the global hunger crisis has worsened during the pandemic, GFN's role has become even more vital, with their capacity growing by over 130 percent the past year.
As GFN continues to scale its operations to meet the rising needs, there are significant opportunities to divert perishable food that would otherwise be wasted at each stage of the supply chain. However, despite the positive environmental impact that diverting food waste generates, food banks are also highly dependent on energy-heavy networks of trucks, refrigeration, and distribution mechanisms to ensure the diverted perishable food reaches those in need.
With global food insecurity on the rise and inflated chronic hunger due to the COVID-19 pandemic, it is critical for food banks to position themselves to address these challenges, while also improving the efficiency and carbon footprint of their operations.
"Food banks offer a green solution to food waste and hunger as they recover surplus food that might have otherwise ended up in landfill and distribute it to people in need. It is critical that food bank operations—from product sourcing, to transportation, to storage, to delivery—continue to adopt the most environmentally friendly practices to conserve our planet's resources for years to come."
— Karen Hanner, Director of Product Sourcing and Strategic Partnerships
With global food insecurity on the rise and inflated chronic hunger due to the COVID-19 pandemic, it is critical for food banks to position themselves to address these challenges, while also improving the efficiency and carbon footprint of their operations.
Join the Challenge
During the month-long challenge, employees will be divided into cross-corporate teams and will compete to develop innovative and adaptable solutions to the Challenge posed by GFN. The teams' final solutions, informed by conversations with GFN and key global foodbanking stakeholders, will be judged by a panel of experts, and the winning solution will be implemented across the GFN network.
Corporations are invited to this multi-company challenge, alongside PIMCO, Global FoodBanking Network, and PYXERA Global. Employees will gain first hand insight into social issues such as hunger and food waste, and gain the chance to develop into the purpose-driven leaders of tomorrow.
To learn more about the challenge, click here. 
Contact:
Mackenzie Knowling, Key Client Manager, Global Pro Bono — mknowling@pyxeraglobal.org 
About Reimagining Green(er) Solutions to Hunger Challenge
This Challenge is part of the larger Reimagine Series launched by PYXERA Global last year. The Reimagine Series is a series of social impact challenges designed to find innovative solutions to longstanding societal concerns that have been made worse by the COVID-19 pandemic. Each challenge in the series brings together multiple corporate partners and at least one anchor partner to solve social, economic, and environmental problems in their fields, including systemic issues in major cities throughout the United States. 
About PYXERA Global 
For 30 years, PYXERA Global has facilitated mutually beneficial partnerships between the public, private, and social sectors worldwide to drive social impact that enriches lives and livelihoods, inclusively and sustainably.
About PIMCO
PIMCO is one of the world's premier fixed income investment managers. With our launch in 1971 in Newport Beach, California, PIMCO introduced investors to a total return approach to fixed income investing. In the 50 years since, we have continued to bring innovation and expertise to our partnership with clients seeking the best investment solutions. Today we have offices across the globe and professionals united by a single purpose: creating opportunities for investors in every environment. PIMCO is owned by Allianz S.E., a leading global diversified financial services provider.
About Global FoodBanking Network
The Global FoodBanking Network supports community-driven solutions to alleviate hunger in more than 40 countries. While millions struggle to access enough safe and nutritious food, nearly a third of all food produced is lost or wasted. We're changing that. We believe food banks directed by local leaders are key to achieving Zero Hunger and building resilient food systems.