Alliance Data Donates $1 Million to Nationwide Children's Hospital
Donation builds on company's 18-year support of Nationwide Children's; Sibling Clubhouse to be renamed 'Alliance Data Sibling Clubhouse'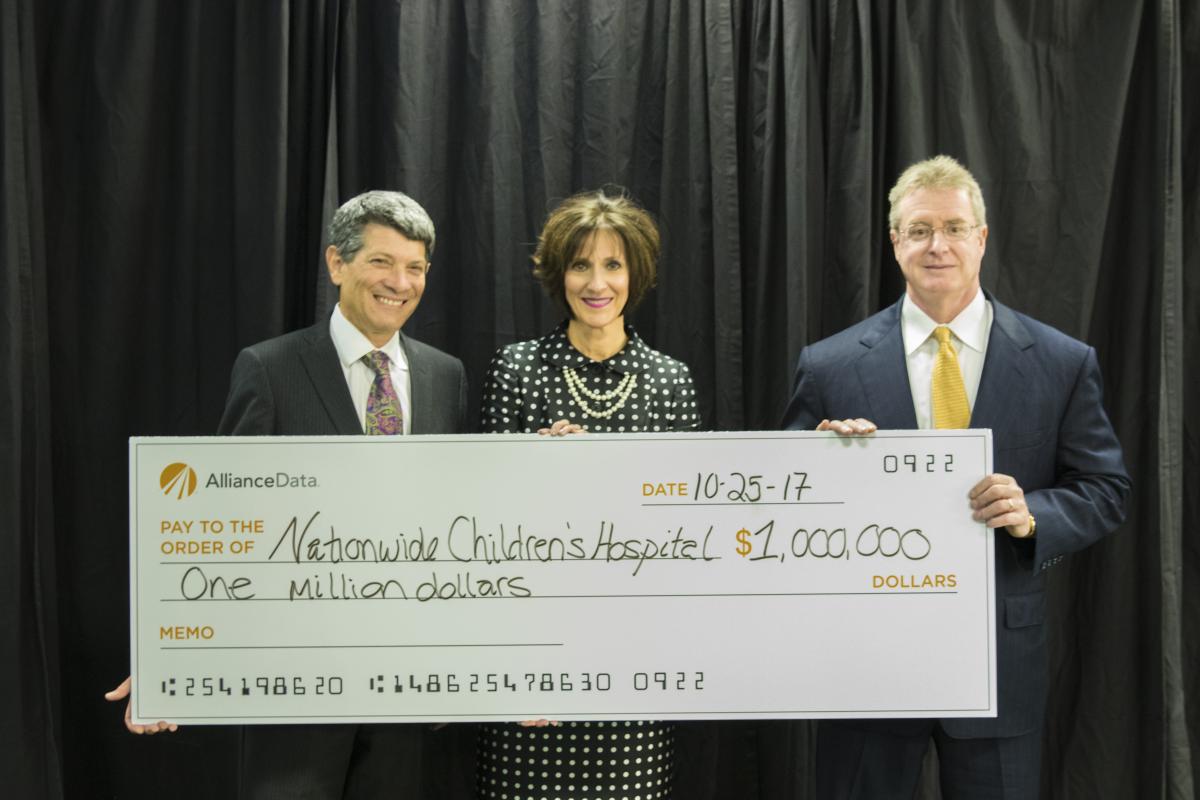 Steve Allen, MD, Chief Executive Officer, Nationwide Children's Hospital accepts $1 million gift from Alliance Data's Melisa Miller and Ed Heffernan
COLUMBUS, Ohio, October 26, 2017 /3BL Media/ – Alliance Data Systems Corporation (NYSE: ADS) today announced its Columbus, Ohio-based card services business, a premier provider of branded private label, co-brand and business credit programs, presented a $1 million gift to Nationwide Children's Hospital, building on the company's nearly two decades of support for the healthcare institution. The gift, made possible in part by a grant from the Alliance Data Corporate Giving Fund, will support Nationwide Children's transformational approach to treating behavioral health conditions, focusing on early interventions, crisis management, and community collaboration to effectively treat and prevent behavioral issues before they result in tragedy.
Alliance Data's donation, pledged to the hospital's comprehensive campaign, Be The Reason, will further Nationwide Children's commitment to breaking the stigma related to mental and behavioral health and addressing the healthcare needs of children and adolescents with these particular challenges. The gift will be allocated equally to four areas of the hospital's Behavioral Health programming, including Cancer Survivors and Social Interaction Research, Center for Suicide Prevention and Research, the Medication Assisted Treatment for Addiction (MATA) Program, and Family and Volunteer Services and Sibling Clubhouse.
"On behalf of the patients and staff at Nationwide Children's Hospital, I want to thank Alliance Data for this generous gift," said Steve Allen, MD, Chief Executive Officer, Nationwide Children's Hospital. "This pledge will help fund critical research and important programs that benefit not only the children and adolescents we treat, but the entire family as well."
Dr. Allen explained the Cancer Survivors and Social Interaction Research at Nationwide Children's aims to identify early predictors of behavioral health challenges in cancer survivors to develop interventions that will optimize care and well-being for the prevention of morbidity for children and families affected by childhood cancer. The Center for Suicide Prevention and Research, established in 2015 to address the alarming upward trend of suicide in youth, is a central resource where youth, parents, schools, clinicians and community partners can access information related to care for individuals at-risk for suicide.   
In addition, Dr. Allen  noted the Medication Assisted Treatment for Addiction (MATA) outpatient program, designed to help patients between the ages of 14 and 21 overcome addiction to prescription opiates or heroin, combines addiction-treatment medication with behavioral therapy, which has been the best way to ensure success for most patients.
The hospital's Family and Volunteer Services, including the newly renamed Alliance Data Sibling Clubhouse, supports the unique needs of children whose siblings are receiving short or long-term healthcare. While visiting, pre-school and school-aged children can learn and play while their siblings are receiving treatment, which has a direct impact on patient experiences and demonstrates that it takes more than medicine to help patients and families heal.
"We are honored to help Nationwide Children's Hospital make a difference in the lives of children and their families—both through financial support and volunteer efforts," said Melisa Miller, president of Alliance Data's card services business who also serves on the Nationwide Children's Hospital Foundation Board. "Giving back is one of our core values at Alliance Data, and Nationwide Children's Hospital has been an ideal community partner. They are a beacon of hope for so many families across the nation and are unwavering in their quest to make meaningful progress for children."
A supporter of Nationwide Children's since 1999 as part of its commitment to making a difference in the communities where its associates live and work, Alliance Data's donation of $400,000 in 2015 helped Nationwide Children's build, and make accessible, the first big data cluster for a pediatric system in Ohio, linking all pediatric and research data sources. In honor of the donation, the former Hadoop Cluster was renamed the Alliance Cluster, which today provides the ability to integrate large amounts of data, bolstering the hospital's ability to deliver more effective patient care, improve research outcomes and create data-sharing collaboration opportunities with other community partners and programs.
Additionally, Alliance Data has been a mile sponsor at the Nationwide Children's Hospital Marathon and Half Marathon for the past three years, and company associates have routinely volunteered their time at the annual event, assembling family care kits. Alliance Data associates also have consistently supported the Reach Out and Read program at the hospital.  
The Alliance Data Corporate Giving Fund is an advised fund of Silicon Valley Community Foundation.
About Alliance Data's card services business
Alliance Data's card services business is a leading provider of tailored marketing and loyalty solutions, delivered through branded credit programs that drive more profitable relationships between our brand partners and their cardmembers. We offer private label, co-brand, and business card products to many of the world's most recognizable brands across a multitude of channels.
We uphold our Know more. Sell more.® promise by leveraging unmatched customer insights, advanced analytics, and broad-reaching innovative capabilities. It's how we deliver increased sales to our partners, build enduring loyalty to their brands, and provide more value to our cardmembers. Alliance Data's card services business is a proud part of the Alliance Data enterprise. To learn more, visit www.knowmoresellmore.com or follow us on Twitter @Know_SellMore.
About Nationwide Children's Hospital
Named to the Top 10 Honor Roll on U.S. News & World Report's 2017-18 list of "America's Best Children's Hospitals," Nationwide Children's Hospital is one of America's largest not-for-profit freestanding pediatric healthcare systems providing wellness, preventive, diagnostic, treatment and rehabilitative care for infants, children and adolescents, as well as adult patients with congenital disease. Nationwide Children's has a staff of nearly 13,000 providing state-of-the-art pediatric care during more than 1.4 million patient visits annually. As home to the Department of Pediatrics of The Ohio State University College of Medicine, Nationwide Children's physicians train the next generation of pediatricians and pediatric specialists. The Research Institute at Nationwide Children's Hospital is one of the Top 10 National Institutes of Health-funded freestanding pediatric research facilities. More information is available at NationwideChildrens.org.