Alexion Launches Formal IT Donation Program
Author: Meredith Tierney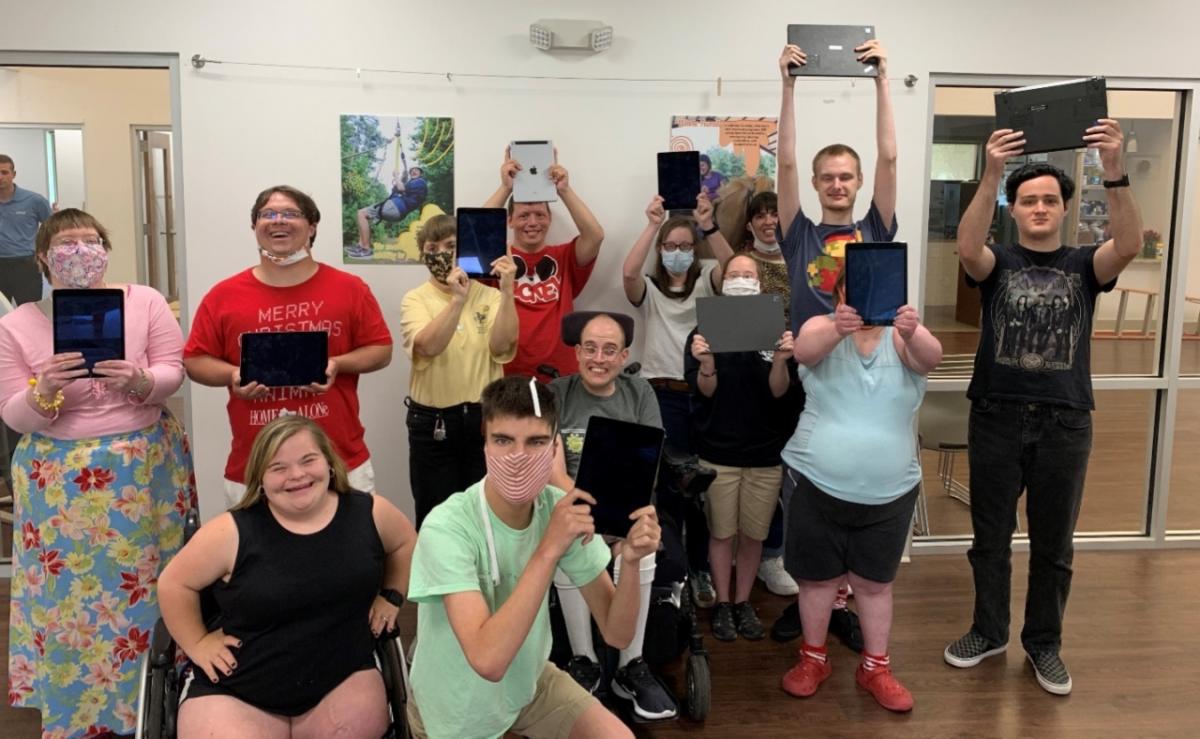 Extra Special People (ESP) Camp Hooray participants receiving equipment donation. Photo credit: Extra Special People
As Alexion continues to Serve Our Communities, the company is proud to announce that it has recently expanded its local corporate giving efforts to include the donation of IT equipment to non-profit organizations whose missions align with Alexion's philanthropic areas of focus. The Alexion in-kind IT equipment donation program launched this spring and continues to grow in scope as we begin to facilitate donations around the world.
As the pandemic has forced communities to develop virtual environments for schooling, healthcare, and work (among others), it has also further magnified inequities of access. Now, more than ever, closing the digital divide is essential.  Together, Alexion's CSR and IT teams have already distributed nearly 350 laptops and iPads to four organizations across the U.S. to help increase digital accessibility.
David Dill, Alexion Vice President and Chief Technology Officer said of the program, "It is extremely gratifying that Alexion can help close the digital divide that exists in many communities with equipment that would have otherwise been recycled.  Today, easy and reliable access to the internet is even more critical as many interactions have moved to being remote, and this donation has helped many families with that transition."
For 30 years, Especially for You (ESP) in Watkinsville, Georgia has helped children with disabilities to thrive. The organization's Camp Hooray programming provides a unique, accessible overnight camping experience for campers of all abilities. ESP Director of Development Ashley Stewart outlined, "these devices will be used for our annual summer camp and afterschool programs in which individuals of all abilities engage in classes such as filmmaking, creative arts, music, dance, and much more. The laptops and iPads will give our participants access to new programs and technology, while also serving as assistive devices to ensure individuals of varying abilities can engage and participate in every activity. ESP is incredibly grateful to partner with Alexion and receive the donation."
The Home for Little Wanderers in Boston, Massachusetts serves at-risk children and young adults, helping to ensure their emotional, social, educational and physical through a dedicated team of professionals and a wide range of critical services. As a result, disadvantaged kids have safe surroundings, loving relationships and a secure path toward tomorrow. The Home's Senior Manager of Corporate Relations, Rick Houpt, helped coordinate the delivery of equipment and shared, "a laptop may seem like a simple thing but for our young adults it is hard to get by in this world without one. From school and higher education pursuits to job searching and online interviews these laptops are a basic infrastructure which allows them to build their goals. Alexion has not only provided them with tangible assistance, you've also given them with something that they have often lacked in their lives: hope."
The National Alliance on Mental Illness (NAMI) is the nation's largest grassroots organization dedicated to improving the lives of persons living with serious mental illness and their families, and NAMI San Francisco assists individuals and families across the Bay Area through mental wellbeing support, education, and advocacy programs. "The pandemic has really highlighted the digital exclusion among mental health service users," explained NAMI San Francisco Executive Director, Anne Fischer. "This past year, NAMI SF transitioned all of our support groups and classes online. For most people, this shift has made mental health services more accessible.  It quickly became clear to us that many of our most vulnerable members were being left behind.  This generous donation of equipment will allow us to connect these individuals to NAMI SF groups, classes and other community supports.  As we move forward with a hybrid of remote and in person services, we will now be able to give our more marginalized participants the tools and training they need to access the mental health care they deserve. Thank you, Alexion!"
The Veteran Affairs Department in New Haven Connecticut is committed to caring for United States' veterans and their families across the state. When the pandemic hit, the organization was faced with the challenge of converting its health care system to a telehealth model. Internally, the updates were seamlessly installed, but for many of the veterans they serve, accessing the virtual appointments can be a challenge or impossible. The VA has distributed the donated Alexion devices to veterans across the New Haven area to ensure digital access to physician appointments, consultations, and resources.
Following the successful launch of Alexion's in-kind IT equipment donation program, the company has established a goal of ongoing support – at least 100 devices per quarter distributed to non-profit organizations in communities across the globe where Alexion has a presence
_____
For more information about Alexion's commitment to Corporate Social Responsibility, please visit csr.alexion.com.