Alexion Interns Get Career Advice From Senior Leaders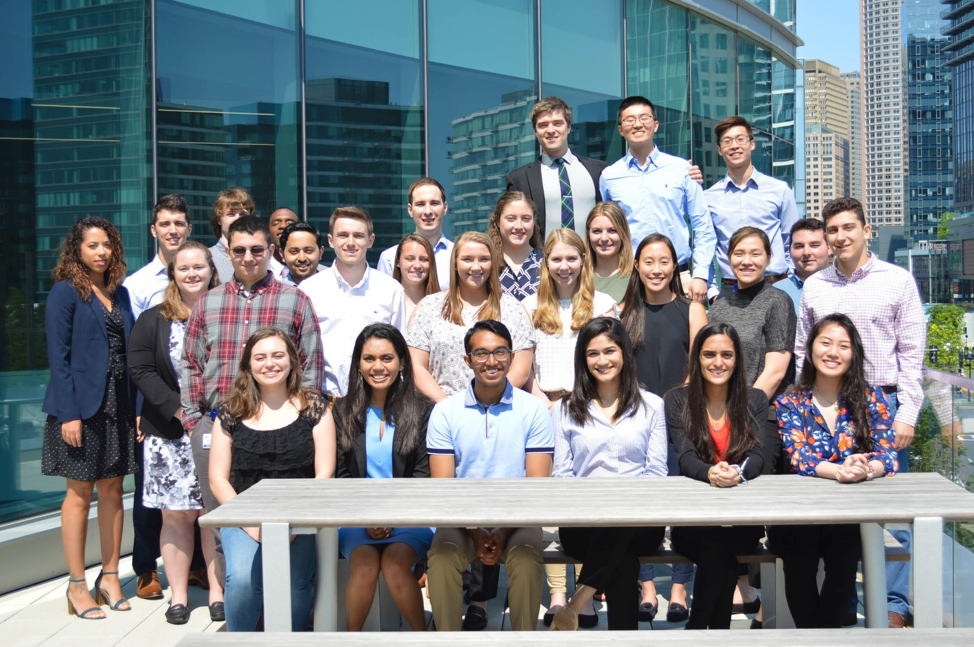 Each summer, Alexion hosts interns at its headquarters in Boston and its R&D Center of Excellence in New Haven, Connecticut. One of the highlights of the program is Intern Day, a full-day workshop dedicated to advancing the interns' knowledge of Alexion, providing career coaching and sharing advice from senior leaders. This year, nearly 30 interns participated in the workshop and enjoyed having the opportunity to: 
1. Take a tour of the labs in New Haven, where new therapies are discovered and developed; 
2. Receive resume coaching and professional networking advice; and,
3. Hear from and ask questions to Senior Leaders from across functions about how they navigated their early careers. 
Throughout the day, a few key themes emerged, which leaders advised to keep top of mind as Alexion interns pursue their individual career aspirations.
Follow Your Interests
Chief Information Officer George Llado discovered his interest in technology at a young age. He encourages anyone entering their career to follow their interests because it will inevitably lead them to work they find captivating. 
Follow the Opportunities
Emily Stropp is Senior Director of Clinical Manufacturing within Global Clinical Supply. Her advice for young, career-focused people is to be flexible with where you are willing to work. There are a lot of great opportunities outside of major metropolitan areas that can offer you tremendous experience.
Follow Your Conscience
Sharon Barr, Vice President of Research, began her education with the intent of becoming a marine biologist. However, she realized a career in science could have an impact on humanity in other ways, and she turned her focus toward helping to discover and develop medicines for people living with rare diseases. Purposeful work is fulfilling work.  
Yet perhaps the greatest piece of advice each of these leaders offered is that that no matter where you apply yourself, if you take the initiative and keep an open mind, success will find you. 
These messages resonated with the interns in attendance. "This whole day was incredible, but my favorite part by far was learning everyone's story", said Daniel Keating, a summer intern on Alexion's CSR Team. "I don't know that I would have gotten an opportunity like this at another company."
Alexion is proud of this and past years' interns, and looks forward to watching their successes in the years to come. To learn more about a career at Alexion, visit the Alexion Careers page.