"AIDS Won't Stop for COVID-19": Meet 3 Inspiring Women Who Are as Committed as Ever to Making HIV History
"AIDS Won't Stop for COVID-19": Meet 3 Inspiring Women Who Are as Committed as Ever to Making HIV History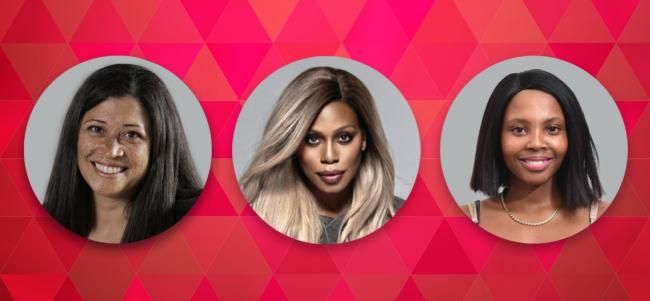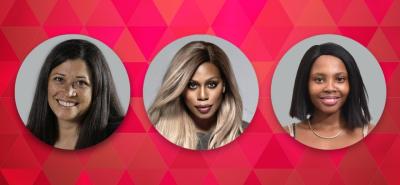 Summary
As the International Aids Society Conference kicks off virtually this year, we sat down with three attendees, including activist and actress Laverne Cox, to talk about their groundbreaking work with HIV/AIDS in the midst of a global pandemic.
Thursday, July 9, 2020 - 11:00am
When COVID-19 reached pandemic status, life as most of the world knew it came to a grinding halt. Yet for the scientists, activists and advocates working on HIV/AIDS research, education and awareness, their critical work marched forward.
After all, "HIV doesn't care that COVID-19 is circulating," says Macaya Douoguih, M.D., M.P.H., Head of Clinical Development & Medical Affairs, Janssen Vaccines, a Janssen Pharmaceutical Company of Johnson & Johnson. Which is why Dr. Douoguih and her team have continued their crucial research on a potential HIV vaccine—along with countless others who are working tirelessly to help end the HIV/AIDS epidemic.
It's also the reason why the International AIDS Society (IAS) continued with their plans for its 23rd annual conference this year, transforming it into a virtual event. AIDS 2020 will give participants access to breaking science and data on HIV/AIDS, as well as a special one-day meeting on how COVID-19 is impacting the HIV/AIDS epidemic around the world.
To kick off this year's conference—where Johnson & Johnson will be presenting the first episode of Season 2 of "The Road to a Vaccine," a live video series about efforts to create a potential COVID-19 vaccine—we sat down with three attendees who are more emboldened than ever on their mission to defeat the disease, even as the world continues to battle COVID-19.
The HIV Vaccine Researcher: Macaya Douoguih, M.D., M.P.H.
Head of Clinical Development & Medical Affairs, Janssen Vaccines
You've been working on an investigational HIV vaccine regimen. How has COVID-19 impacted this work?
My group is responsible for devising strategy and oversight of the clinical development of our investigational HIV vaccine regimen. Right now, we have critical studies taking place, which is why it's crucial that we maintain the momentum of our studies.
We have two efficacy studies well underway—one in southern African countries with about 2,600 at-risk women enrolled, and the other across three continents with 3,800 men who have sex with men and transgender individuals. We are making every attempt to adapt to the current pandemic situation because we are extremely committed to keeping these trials going.
While the novel coronavirus is unpredictable, the team working on the investigational HIV vaccine is continuously coming up with creative solutions to keep our studies going safely. In South Africa, for example, about 400 participants were waiting for their fourth dose of the investigational vaccine when the country had a big uptick in COVID-19 cases. Luckily, we were able to work out how to administer those vaccines safely, with proper PPE and social distancing practices. Our collaborators and partners are incredibly dedicated to the work, so they made it happen.
We're also doing as many virtual visits with study participants as we can. Unless it is necessary to administer a vaccine or draw blood, we can connect with people remotely.
There may even be a silver lining: If we can do this remote work now, what does this mean for clinical trial efficiencies later, when we're not in the middle of a global pandemic?
Why is the AIDS 2020 conference so crucial when it comes to highlighting the continued fight to end HIV?
It's important to let people know that we're not going to let COVID-19 sidetrack us. We're still working on solutions, and we're closer than ever.
Every year that we come to the conference we're closer to having results of our HIV vaccine trials. And I believe it's essential to share the progress we've made and to reassure the world that we're not losing sight of our goal: to develop a global HIV vaccine that can be offered to women and men around the globe.
Why is continuing the research so crucial—even during a global pandemic—when it comes to progressing the science and the push for a vaccine?
HIV doesn't care that COVID-19 is circulating. The longer it takes to get studies done, the longer it takes to get the answers we need—and the longer it'll take to get a vaccine that could help millions of people around the world. Not losing track of our ultimate objective is essential.
We're learning how to adapt because we are committed to delivering a vaccine.
The HIV/AIDS Activist: Laverne Cox
Orange Is the New Black star, transgender activist and spokeswoman for the (BAND-AID®)RED campaign
What inspired you to become an HIV/AIDS activist?
HIV/AIDS has always affected my community and people I know. And throughout my life, there's been so much stigma around it.
As I grew up and began to think about sex, I remember thinking that I was going to get AIDS and die. I associated being a member of the LGBTQ+ community and being sexual with death. Those things were connected in my mind for a long time.
I also thought: If I feel this way, I must not be the only one who feels this way. The way to deal with the shame and trauma, in part, is to talk about it and find ways to heal.
What are you most excited about when it comes to the progress that's been made with HIV/AIDS research?
As scientists work to find a preventive HIV vaccine, it's hugely important to ensure the inclusion of everyone who is at risk—especially those who have historically been underrepresented in medical research and may encounter barriers accessing quality healthcare.
This is why I'm so glad that leading HIV researchers are including transgender individuals and men who have sex with men in HIV vaccine studies, as these groups experience an increased burden of HIV transmission.
I look forward to seeing the progress to come, and I'll continue to use my voice to advocate for this kind of inclusive approach in HIV research that reflects the world in which we live. Because only by working together can we help end HIV.
Why is a continued push for advocacy and research so important—even now, when the world is focused on COVID-19?
As we stare into the face of the COVID-19 pandemic, there are certain aspects of this time that feel all too familiar—and I feel compelled to look back through the history of HIV right now, as the world finds itself confronting a new pandemic.
HIV/AIDS was a death sentence back in the 1980s, and it devastated the LGBTQ+ community. If you were diagnosed, you were most likely going to die.
Thankfully, since then, we have made huge advances in science and healthcare and have succeeded in developing transformational medicines for HIV. Today, for many people, HIV is a manageable condition. But too many people still don't fully understand that, so we need to continue this work to help end the misconceptions and help everyone get the information they need.
I think this awareness work is also crucial right now because it's a chance to let others know they can make a difference. We can work to end HIV/AIDS in our lifetime.
​The Advocate and Educator: Matshediso (Tshedi) Sibande
Monitoring and Evaluation Lead, DREAMS Thina Abantu Abasha Program, a youth-led initiative supported by Johnson & Johnson
How has your work as an HIV/AIDS activist and educator changed since the COVID-19 pandemic?
My role in the DREAMS Thina Abantu Abasha Program ("Nothing for Us, Without Us") is to work face-to-face with adolescent girls and young women in South Africa to help educate them about their sexual and reproductive health, as well as provide leadership and employability skills. It's all part of an effort to reduce HIV infection rates in this population. If we can help women stand their ground within their relationships, we can help make them less vulnerable to HIV.
Since COVID-19, we've had to adapt—which has meant deploying our program virtually. We have launched WhatsApp groups to try and reach adolescent girls and young women and boosted our social media presence. I've often thought during this time: Even if we reach just one young girl a day, that's something.
What have been some of the biggest challenges you've faced in your outreach work in the last few months?
As COVID-19 cases started to rise, the women we reached out to were mostly focused on how they could prevent getting the novel coronavirus. But as time went by—and as we started implementing new, virtual ways of sharing our information—I could tell what we were offering was so desperately needed. After all, this lockdown has meant many young girls and women are even more vulnerable to acquiring HIV and AIDS, since they don't have safe places, like schools, to go to.
What do you think the future will look like when it comes to HIV/AIDS?
Even if we don't completely wipe out the virus, we are raising a generation of young girls who will be better able to make informed decisions so they are less vulnerable to getting the virus. I know we're making progress when a woman tells me, "I now understand my worth and the power of my no."
When I was growing up, I learned about HIV/AIDS, but the information presented to me and my peers wasn't taught in a way that made it easy to apply to real life. What we try to do in our program is the opposite. Not only do we educate our girls about the virus, but we also give them real-life scenarios and steps they can take to help them implement what they're learning into their own lives. That gives them the best shot at actually preventing the disease.
I believe one silver lining of this time is that we may actually be able to reach more people than before. In the last few months, our program has managed to extend our reach to other districts within South Africa. Even in areas where women struggle with things like internet connectivity and data costs, they are doing everything they can to get into our WhatsApp groups to receive the information we're providing. That says a lot about the need—and how a little creativity on our part can help us be even more effective in achieving our ultimate goal of reducing HIV infection rates.
You can hear more from Laverne Cox and Macaya Douoguih, M.D., M.P.H., on the Season 2 premiere of "The Road to a Vaccine," a live video series hosted by journalist and author Lisa Ling about the quest for a COVID-19 vaccine. The July 7 episode, which is streaming live from AIDS 2020, will delve into the similarities between the HIV epidemic and the current pandemic, the importance of HIV advocacy in underrepresented communities, and the impact the novel coronavirus is having on HIV research and activism.