Aflac Holiday Duck Wears His Heart on His Chest This Holiday Season
Annual Holiday Plush Duck Goes on Sale at Macy's, With Net Proceeds Going Toward Childhood Cancer Treatment and Research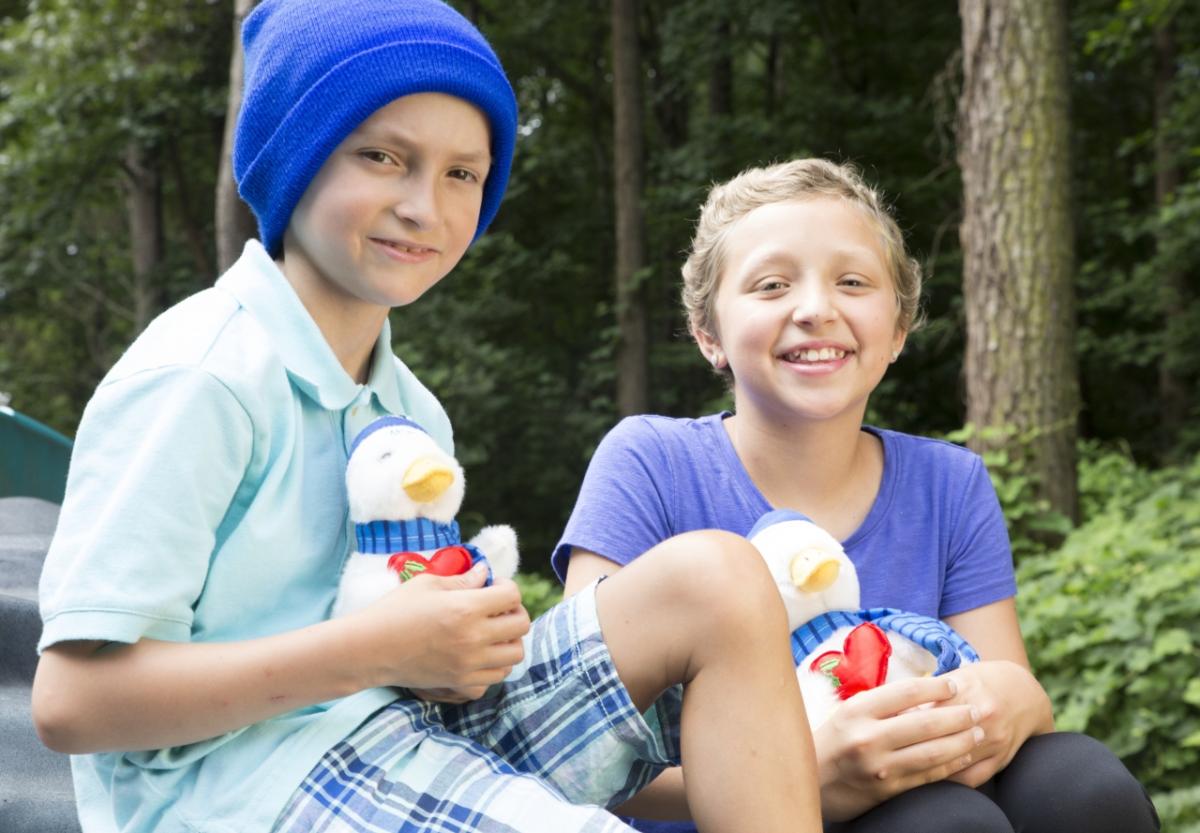 Patients at the Aflac Cancer Center with the Aflac Holiday Duck.
COLUMBUS, Ga., November 14, 2017 /3BL Media/ — Aflac, the leader in voluntary insurance sales at the worksite in the United States and a committed corporate ally in raising funds and awareness for childhood cancer, today introduced its 2017 Aflac Holiday Duck. Along with Macy's, which will once again provide space in its stores to sell the collectors' item, Aflac will donate all net proceeds from sales of the Aflac Holiday Duck to The Aflac Foundation Inc. to help children with cancer across the county. The popular gift is available at participating Macy's stores across the nation and online at Aflac.com/HolidayDuck.
This year's edition of holiday cheer has the famous Aflac Duck in a warm blue hat and scarf holding his big and caring heart on his chest, demonstrating his passion for helping children and families. The plush duck is a replica of the new balloonicle that will ride down Sixth Avenue in New York City during the 2017 Macy's Thanksgiving Day Parade. As always, when you give the cozy plush duck a gentle squeeze, he will quack his famous "Aflaaac!" – generating smiles for a great cause.
"The impact and popularity of the Aflac Holiday Duck program with Macy's has continued to grow over the last 17 years of our partnership," Aflac Foundation President Kathelen Amos said. "An ambassador of holiday joy, the Aflac Duck also symbolizes the deep commitment of the Aflac family to the fight against pediatric cancer. Over the last 23 years, Aflac has provided more than $119 million for support of pediatric cancer.  We are excited to be joined in this fight by all the purchasers of the Aflac Holiday Duck, and are grateful for their generosity, and for Macy's support in raising awareness of this important cause."
"The Aflac Holiday Duck is one of our most cherished annual keepsakes, and we are excited to create the latest edition of the famed Aflac plush duck based on our brand-new balloonicle in this year's Macy's Thanksgiving Day Parade," said Jordan Dabby, vice president of Partnership Marketing at Macy's. "For almost two decades, Macy's and Aflac have helped to raise awareness and funds for the fight against childhood cancer. We hope the sale of this adorable plush continues that great legacy and adds much needed support for a great cause this holiday season."
The Aflac Holiday Duck comes in two sizes: a 6-inch version priced at $10 and a 10-inch version listed at $15. Since 2001, more than $3 million has been raised from the sale of these fuzzy keepsakes of Aflac's cherished feathery mascot.
Aflac's Holiday Duck sales are a part of the company's comprehensive program called the Aflac Childhood Cancer Campaign™, which also includes the company's annual commitment to donate $2 to The Aflac Foundation Inc. – up to $1.5 million – for every social activity posted on Facebook, Twitter and Instagram using the hashtag #Duckprints.  
For 22 years, childhood cancer has been Aflac's primary philanthropic cause, and the company has raised more than $119 million, including monthly donations of more than $500,000 from the company's independent sales agents. For more information about the Aflac Holiday Duck and Aflac's longtime commitment to childhood cancer, please go to AflacChildhoodCancer.org.
About Aflac
When a policyholder gets sick or hurt, Aflac pays cash benefits fast. For more than six decades, Aflac insurance policies have given policyholders the opportunity to focus on recovery, not financial stress. In the United States, Aflac is the leader in voluntary insurance sales at the worksite. Through its trailblazing One Day PaySM initiative, Aflac U.S. can receive, process, approve and disburse payment for eligible claims in one business day. In Japan, Aflac is the leading provider of medical and cancer insurance and insures 1 in 4 households. Aflac insurance products help provide protection to more than 50 million people worldwide. For 11 consecutive years, Ethisphere has recognized Aflac as one of the World's Most Ethical Companies. In 2017, Fortune magazine recognized Aflac as one of the 100 Best Companies to Work for in America for the 19th consecutive year and in 2017 included Aflac on its list of Most Admired Companies for the 16th time. Aflac Incorporated is a Fortune 500 company listed on the New York Stock Exchange under the symbol AFL. To find out more about Aflac and One Day PaySM, visit aflac.com or aflac.com/espanol.
Aflac herein means American Family Life Assurance Company of Columbus and American Family Life Assurance Company of New York.
Media contact 
Jon Sullivan
706.763.4813
jsullivan@aflac.com
Analyst and investor contact
David A. Young
706.596.3264 or
800.235.2667
FAX 706.324.6330
dyoung@aflac.com