Action for Impact: The World Business Council Releases Its 2017 Report on the Low Carbon Technology Partnerships Initiative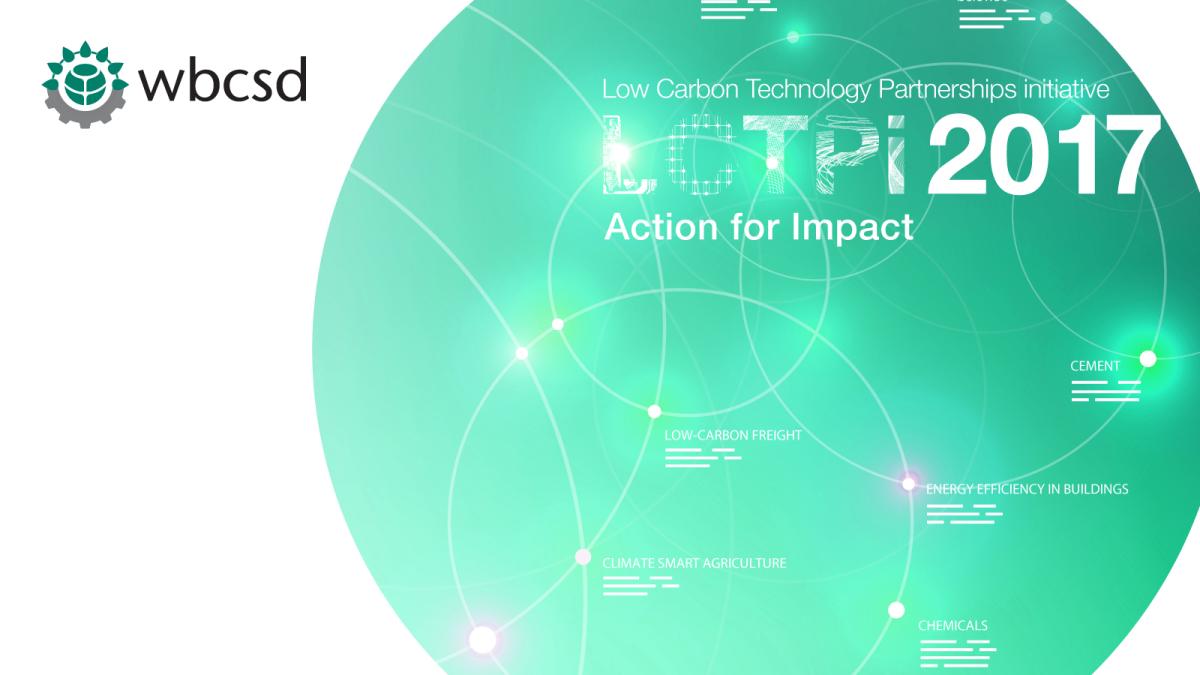 BONN, Germany, November 12, 2017 /3BL Media/ – Today at COP23, the World Business Council for Sustainable Development (WBCSD) released its 2017 progress report on the Low Carbon Technology Partnerships initiative (LCTPi). This report marks the next step in business' continued drive to scale up climate action and impact.
LCTPi is a unique, action-oriented program that brings companies together to accelerate low-carbon technology solutions to stay below the 2°C limit as outlined in the Paris Agreement.
Since launching at COP21 in Paris, 185 companies have been part of LCTPi – working across eight working groups in renewables (REscale), low-carbon freight, low-carbon transport fuels (below50), forests, climate smart agriculture, cement and chemicals.
Taken together, LCTPi working group ambitions target 65% of the emissions reductions necessary for remaining under 2°C ceiling, while channeling USD $5-10 trillion into the low-carbon economy and supporting millions of jobs worldwide.
Since 2016, LCTPi companies have been implementing their action plans, making good on Paris promises. In 2017, LCTPi companies sharpened their efforts, focusing on actions in specific regions to overcome market barriers to scaling low-carbon solutions.
Key highlights from the report include:
Over 20 new companies joined LCTPi in 2017, 185 in total
85% of companies acknowledge that LCTPi has supported their company's action on climate change. 42% of these companies believe that LCTPi has strengthened their climate actions.
REscale shared best practices on renewables with 144 different companies and NGOs from 25 different countries
below50 doubled its membership, laying the groundwork for regional hubs in North America, South America and Australia
The low-carbon freight group demonstrated 48% emissions reductions potential in the sector
The Cement Sustainability Initiative (CSI) released 52 technical papers on existing and breakthrough technologies for emissions reductions in the cement sector.
Climate smart agriculture targeted 150,000 farmers for support in ASEAN
Throughout 2017, LCTPi companies also took a more structured approach to working with policymakers, starting with the seventh global LCTPi roundtable, held at the European Economic and Social Committee (EESC) in Brussels at the heart of the European Union.
This expanded work on engagement with policymakers further reflects the decisive role that business to government dialogue will play in unlocking low-carbon solutions across regional and global markets.
 "LCTPi has become the platform for companies to shape industry best practice on climate action," said Peter Bakker, President and CEO for WBCSD. "We must continue the collaboration that brought the Paris Agreement into being. We can only fulfil its ambitions and achieve the scale of transformation needed if we work together."
Contact:
Felicity Glennie-Holmes, WBCSD Communications
Phone: +41 22 839 3110
Email: glennie-holmes@wbcsd.org
About the World Business Council for Sustainable Development (WBCSD)
WBCSD is a global, CEO-led organization of over 200 leading businesses working together to accelerate the transition to a sustainable world. We help make our member companies more successful and sustainable by focusing on the maximum positive impact for shareholders, the environment and societies.
Our member companies come from all business sectors and all major economies, representing a combined revenue of more than $8.5 trillion and 19 million employees. Our global network of almost 70 national business councils gives our members unparalleled reach across the globe. WBCSD is uniquely positioned to work with member companies along and across value chains to deliver impactful business solutions to the most challenging sustainability issues.
Together, we are the leading voice of business for sustainability: united by our vision of a world where more than 9 billion people are all living well and within the boundaries of our planet, by 2050. http://www.wbcsd.org