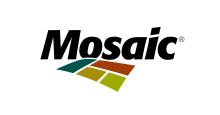 Helping the World Grow the Food it Needs
For Mosaic, helping the world grow the food it needs is more than our mission. It's a call to action that inspires us to do our work sustainably. We're committed to making smart choices about our stewardship of the environment, how we engage our people and the way we manage resources.
The United Nations estimates that world population will climb from 7 billion to 9 billion by 2050, and increasing global prosperity means more demand for meat—and for the grain to feed cattle, pigs and chickens raised for food. For that many human beings to thrive on our planet, the world's farmers must produce more food, fuel and fiber. And they will need fertilizers to do it.
By striving to produce and deliver the highest quality, most innovative crop nutrition products, we help farmers rise to the challenge.
We conduct our critical work with abiding integrity and excellence, for the benefit of all our stakeholders. It starts with an intense focus on achieving an injury- and incident-free workplace, and extends to agronomic insight and value for our customers, financial reward for our shareholders, good stewardship of natural resources, and a deep understanding of our obligations to our communities