1stGig.com
Corporate Social Responsibility (CSR), Sustainability and Cause News & Media
1stGig.com
Campaigns
These articles will focus on tips to help recent graduates make important career connections to help them find their first jobs.
1stGig.com was created in 2009 by Executive Search professionals to meet the needs of early career professionals and employers who value their skills and abilities. Human Resource management and recruiting is our core expertise and foundation for this innovative service.We know and understand...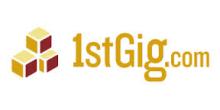 1stGig.com is a unique recruitment service that matches early career talent with employer requirements. 1stGig.com is not a job board but a talent/career collaboration, it is the only two-way employment matching system, with 100% matching results (see www.1stgig.com).