What Can We Learn From Early Corporate Responses to COVID-19?
What Can We Learn From Early Corporate Responses to COVID-19?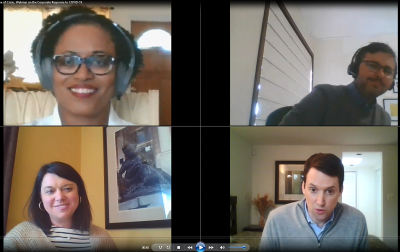 tweet me:
What can we learn from early #corporate responses to #COVID19? 5 key takeaways from our recent webinar with @WalmartOrg, @TruistNews & @3M. Read the blog by @FSGtweets Lakshmi Iyer ow.ly/ILOh50z4lvL #CSR #SocialImpact
Friday, April 3, 2020 - 10:55am
On March 30,  business leaders from 3M, Truist Foundation, and Walmart shared with FSG co-CEO Greg Hills what they are learning as they lead their organizations in response to the COVID-19 crisis.
Our latest blog, by associate director Lakshmi Iyer, shares five practical lessons gained during the webinar.
Respond to immediate needs first
Dig into your core expertise
Be creative in your partnerships
Proactively address the impact on the most marginalized
Stay real, be nimble, and keep learning
About FSG
FSG is a mission-driven consulting firm supporting leaders in creating large-scale, lasting social change. Through customized consulting services, innovative thought leadership, and support for learning communities, we help foundations, businesses, nonprofits, and governments around the world accelerate progress by reimagining social change. Learn more at www.fsg.org.
More From FSG
Tuesday, October 13, 2020 - 8:00am
Tuesday, September 8, 2020 - 6:00am
Thursday, August 20, 2020 - 11:00am