Webinar: Tackling Technology Projects with Pro Bono
Webinar: Tackling Technology Projects with Pro Bono
Taproot Foundation and VMware Foundation dig into how tech pro bono can transform the way nonprofits serve their communities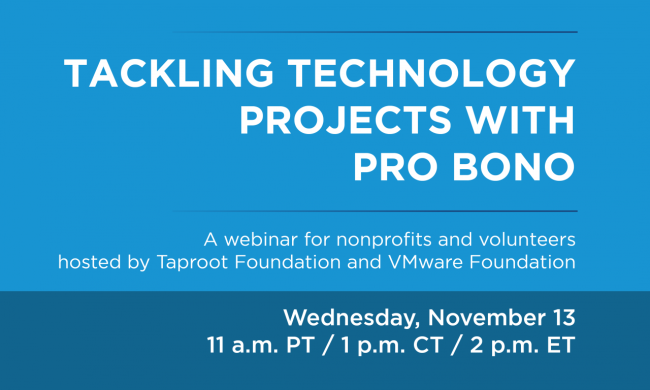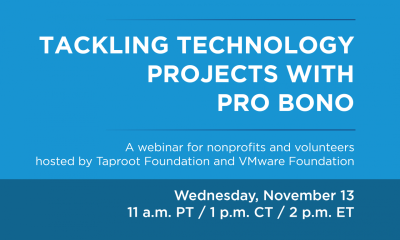 tweet me:
Register now for @taprootfound & @vmware Foundation's Wed 11/13 webinar that breaks down how #nonprofits & #tech pros can team up for transformational #tech pro bono http://bit.ly/30K4MVy
Thursday, October 31, 2019 - 9:15am
Technology is a valuable tool for nonprofits. It can fundamentally transform the way they serve their community. But when organizations are short on time, budget, staff, and resources, figuring out how to tackle a tech-related project can feel impossible. Pro bono can help.
In this webinar, Taproot Foundation and the tech experts at VMware dig into the all-important Discover and Design phases of a technology project, as outlined in their free guide Transforming Technology Pro Bono.  Through case studies, project examples, and interactive brainstorming, nonprofit professionals and skilled volunteers will walk away with the tools, tips, and inspiration they need to take on successful pro bono tech projects together.
Webinar: Tackling Technology Projects with Pro Bono
Wednesday, November 13
2 p.m. ET / 1 p.m. CT / 11 a.m. PT
More From Taproot Foundation
Wednesday, July 8, 2020 - 3:30pm
Thursday, June 25, 2020 - 11:00am
Tuesday, June 23, 2020 - 11:00am