WELL Tip: Key Strategies for Making the Business Case for WELL
WELL Tip: Key Strategies for Making the Business Case for WELL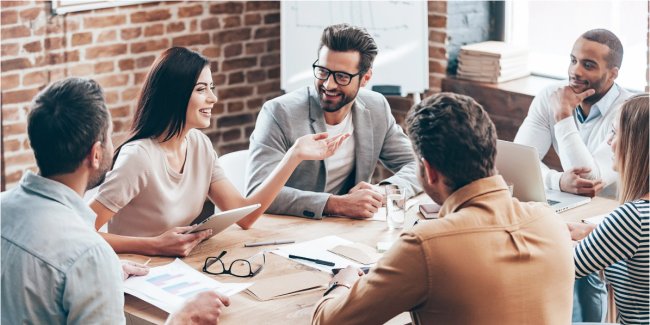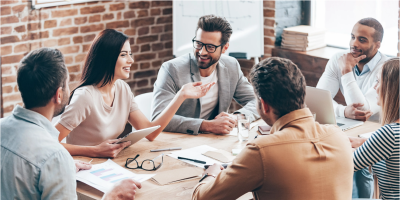 tweet me:
#IWBI offers tips for making the #businesscase for #WELLBuildingStandard http://bit.ly/2y9SMDN @WELLcertified #greenbuilding #builtenvironment #ESG
Friday, June 15, 2018 - 8:15am
There are many ways to advocate for WELL Certification and no one-size-fits-all recipe for success. Formulating the right messaging and pitching different audience groups requires a great deal of research, creativity and customization. Wondering where to begin? We've put together a getting started guide with our top strategies, tools and resources to make it easier for you. 
Understand WELL's adoption by audience
The first step to creating a compelling narrative is gaining an understanding of your audience and customizing your messaging. Pitching an employer, owner or residential project owner? Learn about the key motivators for each these unique audience groups: 
EMPLOYERS
Employers tell us they are seeking WELL Certification to attract & retain high-quality employees, maximize employee performanceand productivity, reduce impacts of presenteeism and absenteeism and promote improved health for employees. They also enjoy the brand equity they earn from being leaders in their industry and the associated marketing value of the media exposure.
"'We compete like everyone else for employees from many other industries, and embracing wellness gives us a leg up and allows us to attract higher quality employees because we're creating an environment that's attractive,' says Michael Huaco, SVP, Corporate RE, McKesson, 'The reaction so far has been overwhelmingly positive.' McKesson has already seen more people choosing to come into the office rather than work from home.  - This Is the Future: Workplaces that Make You Healthier, Fortune Magazine
Suggested reading
Doing Right by Planet and People: The Business Case for Health and Wellbeing in Green Building
Building the Business Case: Health, Wellbeing and Productivity in Green Offices 2016; Health, Wellbeing and Productivity in Offices: The Next Chapter for Green Building 2014
The Future of Wellness at Work 2016
Designing the Workplace Experience – CBRE
How to create a workplace that's fit for the future – Moving from wellness to wellbeing – JLL
Create a workplace that makes people healthier – Colliers
​OWNERS
Building owners tell us they are seeking WELL Certification to attract & retain high-quality tenants, maximize financial performanceof rental rates and resale value, minimize risk of incidents and obsolescence and improve shareholder relations by increasing their GRESB scores for health and well-being. They also place great value on the competitive differentiation and marketing narrative that WELL provides them.
"Having just signed up The Porter Building's first tenant – a tech company, which will rent the entire first floor – [Landid's director Chris] Hiatt has also noted its popularity. 'To do a deal ahead of practical completion is pretty rare,' he says. 'We think that speaks volumes about the quality of the building and what we're offering.'" - Workspace Wellbeing and How It Affects Our Happiness, On Office Magazine
Suggested reading
The Drive Toward Healthier Buildings 2016, The Drive Toward Healthier Buildings 2014
Making the Case for Health: Insight from the First WELL Projects
The Rise of Health Metrics in ESG Investing
Is WELL Certification Worth It for Developers?
Well-being and Work-life Balance are Key To Success in Real Estate Sector
Wellness of a Building is Key Plus for Landlords and Tenants – Sydney Morning Herald 
Toronto-Dominion Centre on top of its game at 50
RESIDENTIAL
Multifamily project owners tell us they are seeking WELL Certification to attract & retain residents, maximize rent potential and building resale value, differentiate their properties and promote optimal health + well-being for residents. They place great value on being able to provide residents with authentic messages that can help to improve their lives, a marketing narrative that deepens relationships and trust.
"'The fact that we can actually have an impact on people's lives and help give them healthier outcomes, is really intriguing — as I read about the building standard I became an early believer,' says NAVA Real Estate Development President Brian Levitt. 'It's a new level of rigor that you have to put your engineering and design team through to get there, and I can tell you that figuring out how to make this building perform, just right, two and a half years from now, requires a lot of thought.'"  - WELL Building Standard: A Peek Through Lakehouse's Glass Façade, Mile High
Suggested reading
Build Well to Live Well: Wellness Lifestyle Real Estate and Communities 
Building for Wellness: The Business Case 
Final Penthouse Remains at Flatiron Condo 21W20 as Building Achieves New WELL Sustainability Certification
Montreal megaproject pursues WELL Multi-family Residential Certification
Share WELL project profiles
In this early phase of adoption project stories and profiles that are similar to your project type are your most valuable sales tools. It is important to align project stories and narratives with your clients' goals and motivators for pursuing WELL Certification. Browse examples of how we've matched common client goals with project narratives:  
GOAL: ATTRACT & RETAIN EMPLOYEES
If employee attraction and retention is a core goal for your project, you could look to the experience of other WELL CertifiedTMprojects for how they've perceived or measured the impact on employee retention levels. Some even quantify the savings from this observed reduction, which helps to demonstrate to business leaders that there may be a meaningful ROI opportunity. Examples from projects may differ from your own project experience, but can help to illustrate the potential. 
Cundall reported experiencing a 27% reduction in employee turnover compared to the previous year, totaling £122,000 (€132.500) in savings. - Creating Positive Spaces: Using the WELL Building Standard, Interface 2018
"Findings from the 3C Design study confirm that perceived environmental quality has a significant effect on turnover intention, especially when controlling for job demands and control. Further investigation on this relationship uncovered environmental quality having a positive effect on employee retention, whereas job demands have negative effects. ASID has yet to translate this into an actual number, but the consensus from other studies suggest the cost savings from retaining an employee are remarkable. Office design, especially when job demands or the office culture support the messages communicated through the design, intensifies the power to make cost savings." -ASID Releases Comprehensive Research Study on the Impact of Design in the Workplace
GOAL: IMPROVE EMPLOYEE PERFORMANCE
Measuring improvements to employee performance is incredibly difficult, given the wide disparity in what metrics are used and what tasks an employee performs. In some industries, increasing creativity and collaboration levels could have significant impacts on employee output, whereas in others a higher level of engagement drives employee performance metrics. Companies often capture this in a survey format where an employee shares their perception of productivity, or sometimes they are able to more objectively measure the output or performance of different teams, offices, routes, etc. Examples from projects will differ from your own experience, but can help demonstrate the possibility of improvements to employee performance, such as:
CBRE Madrid reported that 80% of employees believed their new office enabled them to be more productive – Los beneficios de una oficina WELL​, CBRE Spain 
Symantec reported that 77% of employees feel the space fosters more collaboration & socialization, a 28% increase over their views toward the previous space -Symantec Project Profile
GOAL: PROMOTE EMPLOYEE HEALTH + WELL-BEING
A primary element of the healthy building movement involves enhancing our physical environments to promote occupant health and well-being. WELL's features are founded on research that demonstrates these strategies can have a positive impact on humans and, fortunately, a project's success at achieving these features can be verified through on-site measurements. Occupant satisfaction with these indoor environmental quality (IEQ) criteria is often increased after meeting the performance levels outlined in WELL.  
At Arup Boston, 43% of staff said they feel more healthy in the office compared to not in the office, compared to 2% in their previous office. -Creating Positive Spaces: Using the WELL Building Standard, Interface 2018
Landsec reported 40% increased satisfaction with air quality and 25% increased satisfaction with lighting in their WELL Certified Silver office renovation. -Doing Right by Planet and People: The Business Case for Health and Wellbeing in Green Building, World Green Building Council 2018
GOAL: BUILD BRAND EQUITY
Another driver of WELL adoption is the ability to promote the achievement to current and future employees, shareholders and customers. Industry events and conferences also offer an opportunity to promote the achievement, which companies find an effective recruitment tool because of the targeted audience demographics at those events. Many companies also utilize WELL to inspire their clients, which can help to drive deeper engagement and revenue. The commitment to human health and well-being throughout the people chain is unique and organizations are often recognized in the media for their leadership. Some companies may choose to quantify the advertising value equivalents (AVE) of this type of media exposure. 
"'When we ultimately discovered WELL Certification, we were thrilled to learn how it aligned, elevated and expanded the reach of these goals. It allowed us to validate, through the application of science and reasoning, many of the components of our 'Transforming the way we work' initiative and anchor it to a larger purpose: our future depends on each of us acting sustainably and thinking about how we impact and interact with our environment and communities.'" - Mirvac Sydney 
"For Structure Tone, WELL was an opportunity to showcase what their construction management strategies could do in support of a healthy building and provide a healthy workplace for their employees. A firm focused on efficiency and sustainability, Structure Tone plans to train over 100 WELL APs within their workforce. 'We are seeing our employees bring in more clients for meetings, tours, and events,' [Rob Leon, Senior Vice President at Structure Tone,] says. 'Once they experience the space, clients love it.'" - Making the Case for Health: Insights from the First WELL Projects
Suggested reading
ASID Headquarters Becomes World's First Space to Earn LEED and WELL Platinum Certification
TD Bank Groups Renovated Toronto Office Achieves WELL Gold Certification
Cundall office achieves first WELL Certification in Europe
IWBI Project profile series: Arup Boston, Mirvac Sydney, Haworth Shanghai, Sceneo Paris, JLL Shanghai, Symantec Mountain View
Demonstrate WELL's impact
Once you have crafted customized messaging and selected key project stories, it is essential to support your business case with the right data points. Check out our tips for finding, interpreting and presenting research that demonstrate the impact of WELL:
CONSIDER THE METHODOLOGY
When reviewing the research or post-occupancy experience of WELL Certified projects, consider how the data was collected and what methodology was used to make the claim. Research in buildings often utilizes quantitative methods, qualitative methods or a combination of both.  
Quantitative methods involve objective measurement of observable conditions like IEQ parameters (sound and light levels, air and water contaminants, etc.) and/or biometric measurements (cortisol levels, heart rate, etc.). If representative sampling is used, researchers can also make broader generalizations about the data.
Qualitative methods involve subjective measurement of perceived conditions. Tools include interviews, observation, behavior mapping, focus groups, etc. This methodology can tell us "why" something may be happening is an important component of understanding occupants' experience of buildings. 
Triangulation involves using multiple methods (or mixed methods) to ask similar questions to the same population and then comparing them, such as survey and interview results. Projects using triangulation are considered to have a stronger evidence base, or 'strength of evidence', than those using one method.  
REVIEW COMMON CAVEATS AND CHALLENGES 
When presenting research prepared by a WELL Certified project, it's important to emphasize that the data helps to draw conclusions through correlation, not causation. Every project condition will be different and while WELL may be a key driver of occupant experience, buildings are not labs – there are multiple factors influencing outcomes. Be careful about making claims that a specific intervention will automatically yield a particular result and always enquire about the size of the sample or number of respondents that contributed to the study, and if the study mentions limitations or caveats (generally a sign of careful analysis).
BUILD THE BUSINESS CASE
We encourage projects to set clear health and well-being goals that WELL can contribute to; goals that can be measured and tracked over time. One area where we hope projects can take the initiative is applied research within their space, pre- and post-occupancy. As a required part of WELL Certification, we know many will commit to annual surveys. There is a leadership opportunity to go beyond this and conduct research on a more comprehensive set of parameters. For those looking to learn some basic metrics and how to measure them the WGBC report provides a helpful introduction. For those looking for ways to connect health and well-being metrics to a company's key performance indicators (KPIs), the Sustainability Roundtable report can provide guidance. 
Suggested reading
The Dollars and Sense of Well-being 
Embracing a Broader Definition of Well-Being – Fidelity Investments and National Business Group on Health
Capturing the Value of Health and Productivity Programs
LEARN MORE: View our webcast, Measuring the impact of WELL, to earn CE hours
More From International WELL Building Institute
Thursday, January 21, 2021 - 8:50am
Thursday, January 14, 2021 - 4:45pm
Thursday, January 14, 2021 - 11:00am
Videos from International WELL Building Institute