WBCSD's Panorama Podcast | How to Feed 9 Billion People Within Planetary Boundaries
WBCSD's Panorama Podcast | How to Feed 9 Billion People Within Planetary Boundaries
tweet me:
Listen to the latest Panorama #Podcast from @WBCSD: How to feed 9 billion people within planetary boundaries http://apple.co/2A3tgNz #SDGs #ZeroHunger @ICRISAT
Multimedia from this Release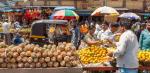 Tuesday, March 27, 2018 - 2:45pm
To mark our 10th Panorama podcast, we take a closer look at the global food system: what are the challenges and what do we need to change to be able to feed 9 billion people by 2050? Joining us in our studio to discuss these issues is  Joanna Kane-Potaka, Director, Strategic Marketing and Communication at the International Crops Research Institute for the Semi-Arid Tropics (ICRISAT).
Listen to this podcast on our Panorama iTunes channel.
More From World Business Council for Sustainable Development (WBCSD)
Wednesday, March 6, 2019 - 3:30pm
Friday, May 11, 2018 - 8:50am
Tuesday, May 8, 2018 - 8:55am
Videos from World Business Council for Sustainable Development (WBCSD)