VIDEO: Timberland Contributes to Kids in Need Through NBC/Universal's Supporting Our Schools Campaign
VIDEO: Timberland Contributes to Kids in Need Through NBC/Universal's Supporting Our Schools Campaign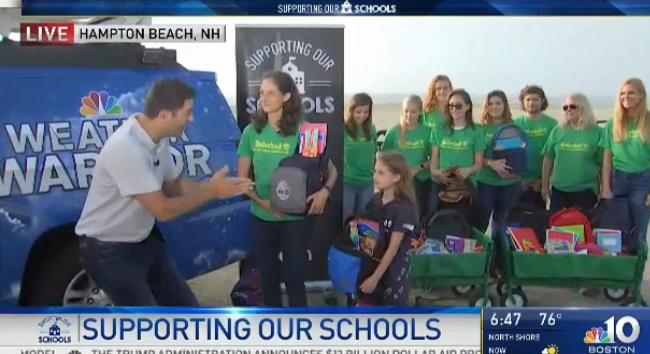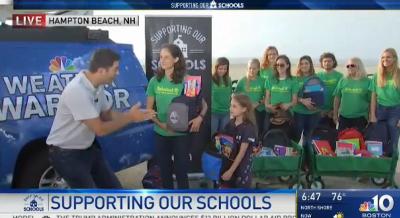 tweet me:
Watch @Timberland share its ethic of service and contribute to NBC/Universal's Supporting Our Schools campaign http://bit.ly/2LQhL1y
Thursday, July 26, 2018 - 12:45pm
A team of Timberland employees joined NBC10 Boston's Matt Noyes at Hampton Beach to contribute to NBC/Universal's Supporting Our Schools Campaign.  The global outdoor lifestyle brand provided 50 Timberland backpacks filled with over 1,500 school supplies, mostly contributed by employees.  In the interview, Atlanta McIlwraith, senior manager of community engagement and communication, shared Timberland's commitment to service and to schools.  She announced that for the brand's upcoming Serv-a-palooza event on September 20, 100 Timberland volunteers will provide the 480 students at a high need school in Manchester with new Timberland footwear, new backpacks and new books.  The volunteers will also build an outdoor classroom and makeover the teachers room. Click here to watch the video.
To learn more about Timberland's commitment to create responsible products, protect the outdoors, and serve communities worldwide visit https://www.timberland.com/responsibility.html.
More From Timberland
Friday, January 15, 2021 - 2:40pm
Tuesday, December 29, 2020 - 2:20pm
Tuesday, December 22, 2020 - 3:05pm