VIDEO: Subaru of America Celebrates New Headquarters in Camden, NJ
VIDEO: Subaru of America Celebrates New Headquarters in Camden, NJ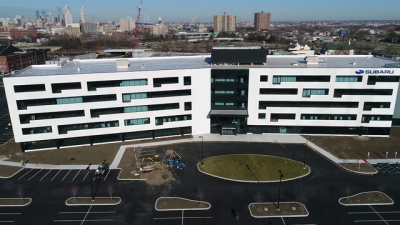 tweet me:
VIDEO: .@Subaru_USA celebrates new headquarters in #CamdenNJ http://bit.ly/2r32bGL #SubaruLovePromise #CityInvincible #SubaruLovestheEarth
Wednesday, May 2, 2018 - 8:00am
Subaru of America, Inc. (SOA) recently conducted a grand opening of its new home in Camden, NJ. Following several years of sustained business growth, Subaru of America announced plans in 2014 for a new headquarters campus to be located in Camden. Next month, more than 550 employees will begin to occupy the new building at a time when the company is celebrating nine consecutive years of record sales and 10 years of consecutive growth. The new facility, at 250,000 square feet, plus an adjacent new training center will more than double the size of the automaker's previous headquarters and bring employees from four sites onto one campus.
About Subaru of America, Inc. 
Subaru of America, Inc. (SOA) is a wholly owned subsidiary of Subaru Corporation of Japan. Headquartered at a zero-landfill office in Cherry Hill, N.J., the company markets and distributes Subaru vehicles, parts and accessories through a network of more than 620 retailers across the United States. All Subaru products are manufactured in zero-landfill production plants and Subaru of Indiana Automotive, Inc. is the only U.S. automobile production plant to be designated a backyard wildlife habitat by the National Wildlife Federation. SOA is guided by the Subaru Love Promise, which is the company's vision to show love and respect to everyone, and to support its communities and customers nationwide. Over the past 20 years, SOA has donated more than $120 million to causes the Subaru family cares about, and its employees have logged more than 40,000 volunteer hours. As a company, Subaru believes it is important to do its part in making a positive impact in the world because it is the right thing to do.
For additional information visit media.subaru.com. Follow us on Facebook, Twitter, and Instagram.