Trending Up: Medtronic Makes Management Top 250 List
Trending Up: Medtronic Makes Management Top 250 List
Drucker Institute puts Medtronic at #43 overall and among top ten for social responsibility.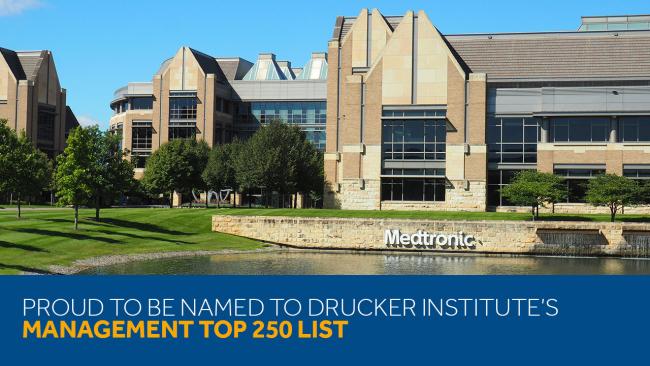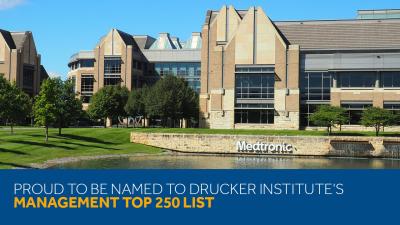 tweet me:
See where @Medtronic ranked on Drucker Institute's "2020 Management Top 250" list. https://bit.ly/3rh0ZxJ
Tuesday, December 22, 2020 - 2:00pm
At Medtronic, superior management means engaging employees, adding value to society, and doing our part to be an active, competitive and innovative force within our industry. That commitment was recently recognized by the Drucker Institute, where the company was ranked #43 on its 2020 Management Top 250 list.
The annual list, featured this month in the Wall Street Journal, measures corporate effectiveness in five key areas: customer satisfaction, employee engagement and development, innovation, social responsibility, and financial strength. In 2020, Medtronic moved up 11 spots on the list, and received five-star rankings in both innovation and social responsibility.
"Our Mission calls us to be innovators, community members, philanthropists, and corporate and global citizens who work together to transform the lives of patients around the world," said Medtronic chairman and CEO Geoff Martha. "We are proud to be recognized for the hard work and commitment of our extended leadership team and employees."
The Management Top 250 is comprised of the top companies in the U.S. and is chosen from a list of 886 publicly traded companies from a Drucker Institute study. In order to be included in the study, companies must be part of the Dow Jones U.S. Total Stock Market Index or the S&P Composite 1500 Index and must meet at least one of the following criteria: had stock that was a component of the S&P Composite 1500 Index, had a stock-market capitalization of $10 billion when the Drucker study was performed, or had at least $3 billion in annual revenue as of March 31, 2020.
More From Medtronic
Thursday, February 18, 2021 - 2:15pm
Wednesday, February 17, 2021 - 2:15pm
Wednesday, February 17, 2021 - 2:00pm