Sustainable Fitness Trend Leads Xylem Watermark to Log Over 1,000 Volunteer Hours
Sustainable Fitness Trend Leads Xylem Watermark to Log Over 1,000 Volunteer Hours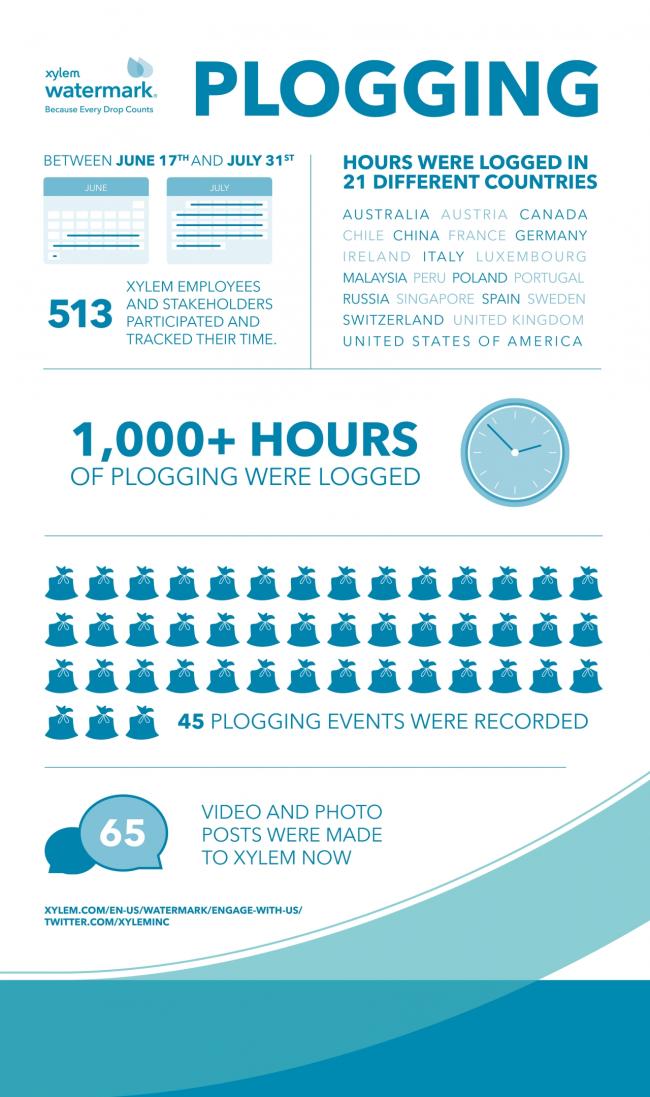 tweet me:
This summer, @XylemWatermark invited colleagues to participate in #plogging – and volunteers stepped up to log more than 1,000 volunteer hours in 21 different countries http://bit.ly/2MC9wdr #MakeYourWatermark
Wednesday, August 28, 2019 - 12:35pm
This summer, Xylem invited colleagues to participate in plogging – a new signature Watermark activity that embodies Xylem's commitment to safeguarding the environment and contributing to our local communities.
Plogging is a global fitness trend that combines jogging (or walking) and picking up trash. While plogging, volunteers spend time outdoors, exercise, and pick up litter that often flows untreated into waterways, contaminating water sources, and threatening the health of animals and plants. 
Between June 17 and July 31, members of the Xylem Watermark network participated in plogging and various educational activities offered by the Watermark team. Volunteers that participated were entered to win a $1,000 donation to any water-related charity of their choice in their name. The following charities were selected by the winners:
Italy: Cooperativa Ecotopia
China: China Women's Development Foundation
USA: Doctors Without Borders
Over the six weeks, Xylem Watermark volunteers logged more than 1,000 volunteer hours in 21 different countries. See more information on the Xylem Watermark plogging campaign in the infographic above and learn how to participate in Watermark plogging or Signature events here.
About Xylem Watermark
Xylem Watermark, the company's corporate citizenship program, was initiated in 2008, with a focus on protecting and providing safe water resources around the world and also educating people on water-related issues. The global initiative, which encompasses employee and stakeholder engagement, provides access to clean drinking water and sanitation, and humanitarian emergency response to help communities become more water-secure and sustainable through WASH and Value of Water Education programs. Last year, the program exceeded its three-year goal to log 100,000 employee volunteer hours and engaged ~45 percent of the company's global employee base.
More From Xylem Inc.
Monday, March 22, 2021 - 6:00am
Monday, February 22, 2021 - 9:00am
Tuesday, February 9, 2021 - 1:30pm