Sustainability Across the Economy: Bain & Company Joins WBCSD
Sustainability Across the Economy: Bain & Company Joins WBCSD
Global management consultancy Bain & Company has today joined nearly 200 forward-thinking companies as the newest member of the World Business Council for Sustainable Development (WBCSD).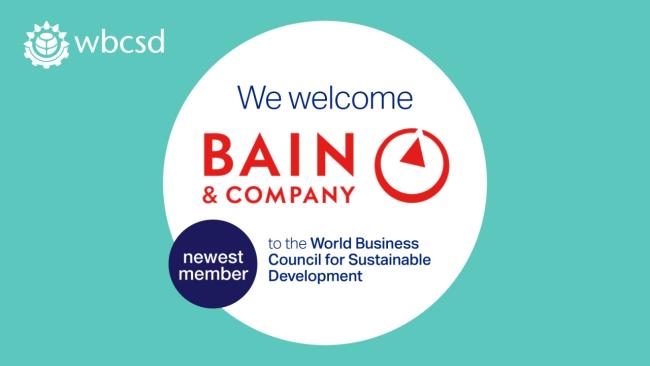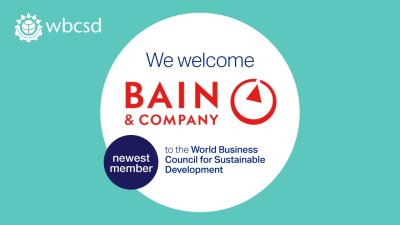 tweet me:
Committed to making a real impact in global corporate #sustainability, Bain & Company becomes the newest member of @WBCSD http://bit.ly/2nom8Xd
Wednesday, January 31, 2018 - 9:50am
GENEVA, January 31, 2018 /3BL Media/ - Bain & Company offers management consultancy services to many of the world's leading business leaders. Bain advises clients on strategy, operations, information technology, organization, private equity, digital transformation and strategy, and mergers and acquisitions, developing practical insights that clients act on and transferring skills that make change stick. Founded in 1973, Bain has 55 offices in 36 countries, and its deep expertise and client roster cross every industry and economic sector.  
By connecting with WBCSD's network of forward-thinking businesses, across a variety of sectors, Bain can make a real impact in global corporate sustainability. 
Jenny Davis-Peccoud, partner at Bain and head of the firm's global Sustainability & Corporate Responsibility practice stated: "At Bain, we are deeply committed to working hand-in-hand with our clients on their most crucial business issues, and sustainability is one of the most important. Our research has found that progress in this area is challenging with only 2 percent of companies managing to achieve their goals in sustainability. We are proud that our work has delivered real sustainability results and are excited to collaborate with WBCSD members to reach even greater heights."
WBCSD President and CEO Peter Bakker said, "I am delighted to see Bain & Company making sustainability a key corporate priority. Bain & Company has an outstanding reputation for delivering value and increasing efficiency, and I look forward to working with them to deliver additional value and efficiency through their sustainability goals. By joining WBCSD, Bain & Company can use the benefits of their membership to further assist clients across their extensive global network, and in doing so, help accelerate the transition to a sustainable world."
In addition to advising leading companies on corporate sustainability, Bain is proud to be a certified 100 percent CarbonNeutral® company for more than six years running. The firm has also committed to investing $1 billion in pro bono consulting support in partnership with the world's most innovative and effective nonprofit organizations aimed at improving the futures of underserved children and youth as well as fostering inclusive and sustainable economic growth.
Bain & Company becomes WBCSD's 14th global consultancy member-company and its 40thwith headquarters in north America.
More From World Business Council for Sustainable Development (WBCSD)
Wednesday, March 6, 2019 - 3:30pm
Friday, May 11, 2018 - 8:50am
Tuesday, May 8, 2018 - 8:55am
Videos from World Business Council for Sustainable Development (WBCSD)