The Right to Wind in Your Hair
The Right to Wind in Your Hair
Celebrating Symantec's Volunteer of the Quarter Xiaowei Chan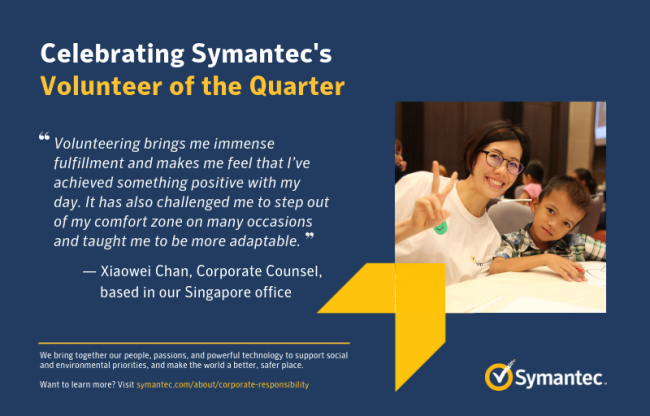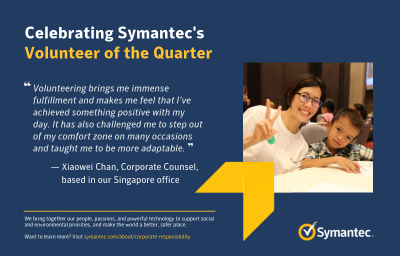 tweet me:
.@Symantec supports employee volunteer efforts. Learn how Symantec's #Volunteer of the Quarter Xiaowei Chan gives back to her community https://symc.ly/2FLAVVS
Summary
Symantec's Volunteer of the Quarter initiative highlights and rewards those employees who dedicate their time and talents to those in need. We have a long and proud history of encouraging our employees to volunteer. While the driving force of our efforts is largely altruistic, volunteering makes our company a better place to work, and employees are helping both Symantec and the organizations they give back to.
Today we highlight our Volunteer of the Quarter Xiaowei Chan, Corporate Counsel, based in our Singapore office.
Wednesday, April 3, 2019 - 4:00pm
By Xiaowei Chan, Symantec Corporate Counsel, based in Singapore
I began volunteering as a student in high school. Helping the elderly age more independently and gracefully is something I care deeply about. Today, I volunteer four to six hours on average each month. Some of the activities I participate in include helping to prepare and deliver meals with Willing Hearts and taking the elderly on trishaw rides with Cycling Without Age.
Willing Hearts operates a soup kitchen that prepares, cooks, and distributes 5,000 daily meals to more than 40 locations island wide, 365 days a year. The charity, run entirely by volunteers, serves the elderly, the disabled, low-income families, and migrant workers in Singapore.
With Cycling Without Age, I'm able to give seniors the chance to feel a part of society. We give them the right to wind in their hair, the right to experience the city and nature close up from the bicycles, and the opportunity to tell their stories in the environment where they have lived their lives.
At Symantec, my job in the legal department requires that I always think many steps ahead to figure out any potential legal obstacles and pitfalls. I find myself applying these skills when I take the elderly on trishaw rides – except that I look out for potholes and cycling hazards instead.
Volunteering brings me immense fulfillment and makes me feel that I've achieved something positive with my day. It has also challenged me to step out of me comfort zone on many occasions and taught me to be more adaptable.
I love working at a company that supports employee volunteer efforts. Through our Dollars for Doers grants, Symantec financially supports the organizations employees volunteer with. Employees then get to see firsthand how these donations are being applied, which motivates our employees to volunteer more. Symantec also encourages employees all over the world to come together and take part in our annual Global Service Week, a full week dedicated to service.
More From NortonLifeLock
Friday, January 15, 2021 - 11:00am
Thursday, January 14, 2021 - 2:00pm
Thursday, December 10, 2020 - 12:00pm