PANDORA | Crafting our Products with Integrity
PANDORA | Crafting our Products with Integrity
Audits, dialogue and close cooperation with our suppliers make a world of difference when it comes to ethical standards.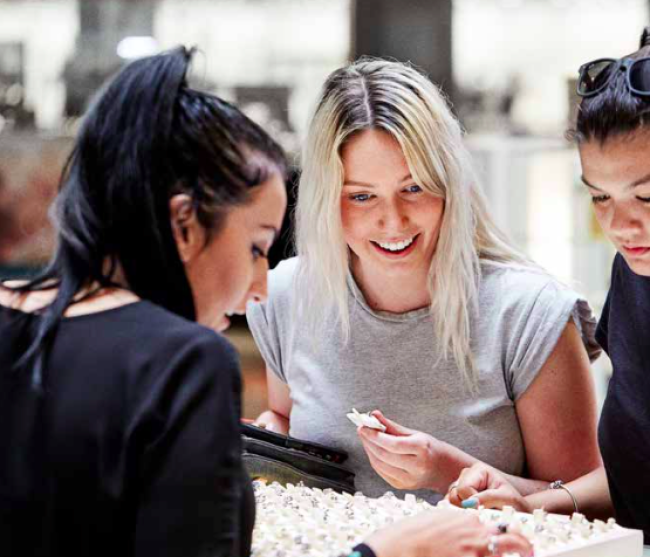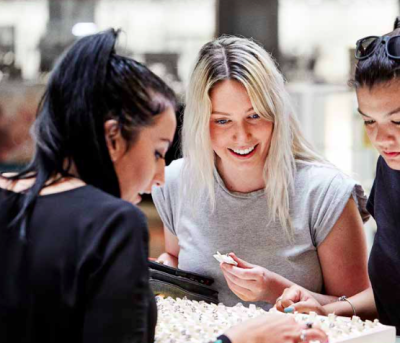 tweet me:
Dialogue & close cooperation with PANDORA suppliers make a world of difference when it comes to ethical standards http://bit.ly/2w6p1lP
Tuesday, September 5, 2017 - 8:00am
DESIGN
Any PANDORA product starts its journey with our in-house Design team. As a new piece evolves, our designers will make choices on which materials to use. Whenever new materials or suppliers are introduced, our Ethics teams are consulted in order to discuss potential environmental or social impacts. Such early interaction helps to ensure that PANDORA refrains from using potentially problematic materials – and it provides Group Ethics and other departments with valuable knowledge, enabling them to act in due time.
Our designers constantly interact with our Thai crafting facilities to ensure that our designs and crafting techniques are a match. At our cutting-edge Innovation Centre in Bangkok, Thailand, we develop innovative processing techniques and continuously improve our ability to introduce new products. The Innovation Centre offers our Thai colleagues the opportunity to work and invent on the frontline of technical developments within the jewellery industry, and each colleague acquires top-notch skills within advanced jewellery manufacturing. It is our firm belief that the development projects at PANDORA's Innovation Centre make an important contribution to maintaining Thailand's position as a global hub in the jewellery industry.
RESPONSIBLE SUPPLIER PROGRAMME
All of our suppliers (subcontractors, original equipment manufacturers, original design manufacturers and material suppliers) for our Thai crafting facilities, as well as the suppliers providing all store materials, are enrolled in our Responsible Supplier Programme. Suppliers are required to sign and comply with our Suppliers' Code of Conduct, which is downloadable from www.pandoragroup.com/csr.
To support our suppliers in complying with our code of conduct, we have developed a comprehensive supplier programme. Our Ethics teams, based in Bangkok, Hong Kong and Copenhagen, work extensively with our suppliers all over the world to enable them to fully understand our requirements, and to inspire them to implement sustainable solutions. To this end, we offer our suppliers ongoing dialogue and training in issues such as safety, health and environmental management, national/international worker rights and human rights, and we take pride in showcasing our own best-practice solutions. 
SUPPLIER AUDITS
In 2016, we reached our target, stipulating that 85% of our total sourcing value must come from suppliers who have been audited by either our external auditing company or are certified members of the RJC. This means that they have been audited against the broadest and strictest standards within the jewellery supply chain. The majority of non- compliance cases identified during the independent supplier audits involve either health and safety standards or working conditions. PANDORA's crafting facilities in Thailand has worked diligently to achieve high standards as well as expertise within both areas. Thus, we seek to transfer our knowledge and expertise to our suppliers helping them to raise safety levels, job satisfaction and commitment – and thereby also attraction, retention, productivity and profitability. Further, in 2016, 199 participants from our key suppliers attended a one day conference at our new facility in Lamphun. Here we showcased our state-of-art green solutions. 
CORE MATERIALS
The vast majority of PANDORA's products are made of silver and/or gold, often decorated with man-made cubic zirconia stones and less often with gemstones or diamonds. At PANDORA, we are fully aware that the mining and processing of precious metals, gemstones and semi- precious stones can be associated with adverse social and environmental impacts. As a major player within the jewellery industry, we recognise our ability as well as our responsibility to help develop a more responsible supply chain for core jewellery materials.
In 2016, all gold grains entering PANDORA's crafting facilities were sourced from reputable refining companies, certified according to the RJC Code of Practices. Furthermore, all gold must be certified conflict free according to the London Bullion Market Association (LBMA) "Good Delivery List" or the RJC Chain-of-Custody Standard for gold. Notably, 86% of gold grains originated from recycling and the remaining 14% from certified responsible sources – including mining. In 2016, 91% of the silver grains entering PANDORA's crafting facilities originated from recycling. Moreover, our silver grain suppliers are certified members of the RJC.
Additionally, PANDORA cooperates with a number of highly specialised manufacturers of semi-finished gold and silver parts. In 2016, these partners produced approximately 16 million pieces of jewellery. All such partners must deliver auditable proof that the gold used in their products is sourced from RJC-/LBMA-certified suppliers. Today, there are no similar certification schemes for silver, but promising initiatives are expected within 2017/18. PANDORA supports these initiatives and is actively participating in the development of these standards.
Stones
Man-made stones, natural gemstones and diamonds are all included in our assortment. While we have made no decision to remove diamonds and gemstones from our assortment, man-made stones are taking on an increasingly important role in our collections. In 2016, we used approximately 2,7 billion stones, the vast majority being man-made cubic zirconia. Man-made stones can be identical to their natural gemstone counterparts in almost every way, and will often exhibit the same basic crystal structure as natural stones. However, the risk of contributing to adverse human rights impacts are minimal and the environmental cost is significantly lower (see PLANET).
Man-made stones are also fully traceable and can be supplied in quantities suitable for large-scale jewellery crafting. Finally, they exhibit fewer variations in colour and quality, which considerably reduces material waste.
From 2012 to 2016, diamonds were only included as a feature on special-edition PANDORA Club charms. The diamonds on these charms were all natural diamonds recycled from discontinued PANDORA jewellery. In the sourcing of natural diamonds, which we continue to do to support customer demand for existing collections, we only accept suppliers who are members of the RJC and who can certify compliance with the System of Warranties, established by the World Diamond Council for diamond sourcing. 
Continue reading the complete PANDORA Ethics Report 2016 here 
More From PANDORA
Wednesday, March 21, 2018 - 9:30am
Tuesday, February 27, 2018 - 10:10am
Monday, November 20, 2017 - 9:45am
Videos from PANDORA