"Old Dogs" And New Tablets: Verizon Changes How Teachers Approach Tech
"Old Dogs" And New Tablets: Verizon Changes How Teachers Approach Tech
By Victoria Glazar, Verizon Corporate Social Responsibility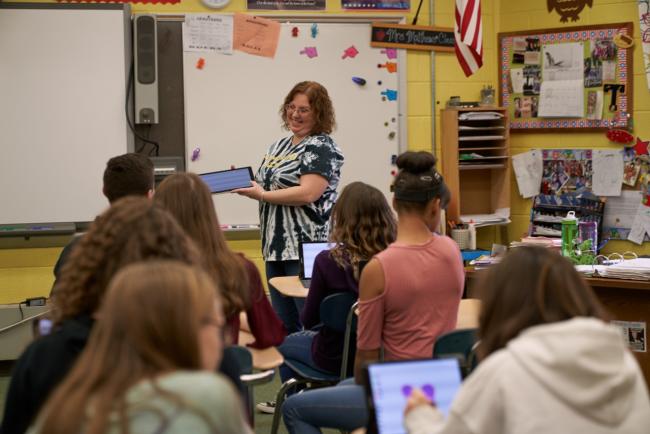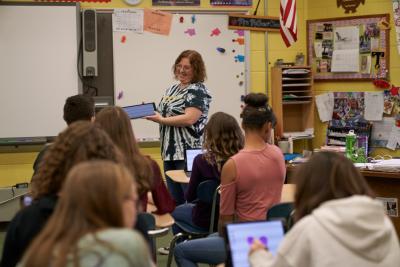 tweet me:
This summer, teachers in 26 schools in eight states are in training with #VerizonInnovativeLearning, a program that harnesses the power of technology to transform learning. http://bit.ly/2v57W9E #STEM
Tuesday, July 31, 2018 - 2:00pm
This summer, as every summer, middle school teachers everywhere are preparing for the next school year. They're fine-tuning lesson plans, lining up field trips, and hunting for resources. But some teachers are preparing for a school year like none before. 
Teachers in 26 schools in eight states are in training with Verizon Innovative Learning, a program that harnesses the power of technology to transform learning. They'll join 74 schools in 12 states already participating in the initiative, which gives free technology, free internet access and an innovative tech-based curriculum to under-resourced schools.
For some, the transition to a tech-based classroom will be easy. For others, not so much.
No one says it better than Nina Hagan, Social Studies and Special Education teacher at Austin Middle School in Irving, Texas, whose school joined Verizon Innovative Learning last year.
"I'm an old dog…  What's the saying?  'You can't teach an old dog new tricks?'  Well, in some cases that's true, but I stand here today, feeling like a Labrador who plunged into the water at full force to retrieve the prized duck," she says.
In short, she started as a skeptic. "When we were told we would be incorporating technology into our curriculum this year, I shut down.  I literally had zero interest. 'Kids DO NOT need more technology; they need less.'  That was me," she recalls.
Gradually, with steady support from a fellow teacher who served as the program's digital learning coach, she became more comfortable. Eventually, she opened herself up to the possibilities of technology in education. "When I mastered one app, I let another in," she explains. "Then something unexpected happened: I 'got it.'  I not only knew how to work the apps, but I understood how they could actually be used in my classes."
By the end of the school year, Hagan's point of view about technology had changed completely. "I am continuing to learn that little rectangular device, and to apply what I have already learned. To do better. To be better. I have broadened my knowledge of what is possible this school year, and have gained a bit more confidence in the process."
Hagan's story is not uncommon. In Houston's Spring Woods Middle school, "about 75 percent of the teachers were reluctant to introduce technology" to their teaching as they began last school year, says Kendra Mathis, the school's digital learning coach. "They preferred to have all student electronic devices locked away all day if they could, they saw them as only a distraction."
Regina Cooper, a sixth-grade language arts teacher at Spring Woods, sums up the feelings many teachers expressed. "I was so afraid of trying to integrate more technology in my classroom.  In my past experience, technology has been fickle. When it didn't work, it could ruin an otherwise great lesson."
However, over the course of the year, Cooper and her colleagues began to witness the benefits of technology effectively integrated into the curriculum. "I had students teaching me how to use certain websites to animate, and in turn, I was able to have students teach each other. It was amazing seeing the creative products my students came up with, and I only had to establish guidelines for them to follow," she says.
In another middle school, this one in the Cartwright Elementary School District in Phoenix, Arizona, a 40-year teacher has surpassed her younger peers in integrating technology at high levels and acquiring new technology skills. Digital learning coach Stefanie Daley says the teacher, who previously referred to herself as "Queen of Paper and Pencil" now leads a model classroom for the effective use of technology in learning. And in Strawberry Plains, Tennessee, science teacher Traci Spoon began the school year not knowing how to turn on her tablet. By year's end, her enthusiastic adoption of technology had engaged her students so thoroughly they're not only outperforming their peers, but their grades are on par with students in the honors class.
Like Hagan, the self-described old dog who learned new tricks, these teachers were willing to take the plunge into unfamiliar waters to transform the way they teach by integrating technology. And both they and their students are reaping the rewards.
Verizon Innovative Learning
Millions of American students lack the tech access and skills they need to succeed in the digital world.*   Verizon has been working to help solve this problem holistically through a transformative program called Verizon Innovative Learning. Verizon Innovative Learning provides free technology, free internet access, and hands-on learning experiences to help give under-resourced students the education they deserve. Powered by a next-gen, technology-infused curriculum that fundamentally changes the way teachers teach and students learn, Verizon Innovative Learning is giving kids the ability to do more in this world. Students are showing improvement in math and reading, and they're more engaged in school. For more information, visit verizoninnovativelearning.com.
*Pew Research Center Analysis of 2013 American Community Survey (IPUMS).
More From Verizon
Monday, November 30, 2020 - 6:25pm
Wednesday, November 18, 2020 - 1:15pm
Tuesday, November 10, 2020 - 10:10am