Ohio's Clean Energy Standards Are Key to Thriving Economy
Ohio's Clean Energy Standards Are Key to Thriving Economy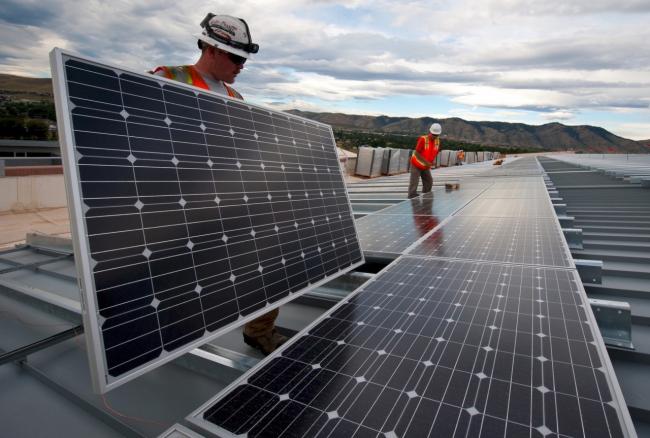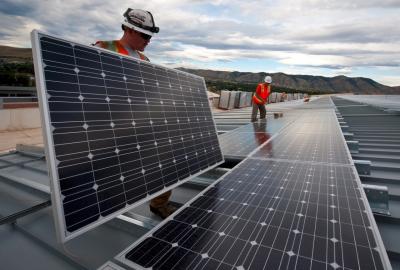 tweet me:
Investor and corporate leaders are calling on #Ohio lawmakers to protect the state's #cleanenergy standards. Read @CeresNews full statement on today's proposed legislation. #ohpol #ohleg http://bit.ly/2IqHb6Y
Friday, April 12, 2019 - 4:20pm
April 12, 2019 /3BL Media/ — Major investors and companies in Ohio oppose provisions in legislation introduced today in the Ohio Legislature that would weaken the state's renewable portfolio and energy efficiency resource standard. 
The provisions, included in part of a larger package to support a bail out of the state's aging nuclear plants, would require all classes of customers to meet a lengthy list of requirements in order to "opt in" for participation in both the state's Renewable Portfolio and Energy Efficiency Resource Standards. 
Since 2015, dozens of major investors, companies, institutions and employers representing more than 200,000 employees—including the Cleveland Clinic, Mercy Health, Gap, Nestle and many others—have shared their support for maintaining strong clean energy standards in the Buckeye State. Despite the unwavering support of the business community, Ohio lawmakers have introduced numerous bills in the last four years aimed at weakening or dismantling the standards. This back and forth has led to significant uncertainty for investors and companies looking to invest in renewable and energy efficiency technologies in Ohio.
 
"As a company of people who love the outdoors, we know that clean, renewable energy is crucial to protecting the Ohio's air and water, and to supporting the health of its citizens. Investing in clean energy like wind and solar also provides bottom-line benefits to our business and the overall economy," said Elysa Hammond, vice president of environmental stewardship at Clif Bar & Co. "We have long supported Ohio's renewable energy and energy efficiency standards as a way to spur innovation and investment in the Buckeye State. We urge lawmakers to keep the standards strong."
"We urge Ohio lawmakers to heed the call of the business community to protect the state's clean energy standards." said Jeff Perkins, executive director at Friends Fiduciary Corporation. "Forward-thinking clean energy policies are essential for growing the state's economy and creating jobs. Ohio must maintain their current standards if they are to capture the benefits of clean energy and position the Buckeye State for future economic success."
"As a real estate management firm, JLL understands firsthand the value of clean energy as a way to reduce costs and improve energy price predictability, both in our own operations and for the clients we serve," says Cynthia Curtis, senior vice president of sustainability at JLL. "Encouraging renewable energy investment and energy efficiency programs and projects will benefit Ohio businesses and residents alike. That is why we support Ohio's renewable energy and energy efficiency standards."
"Nestle is committed to procuring 100 percent of its resources from competitively procured clean energy resources. We rely on clean energy resources, such as wind, solar, and efficiency to help us reduce energy costs, avoid volatility of fossil fuel prices, and stay competitive," said Megan Villarreal, policy and public affairs at Nestle. "In order for Nestle to maintain and enhance our commitment to these goals, we encourage Ohio's lawmakers to maintain renewable and efficiency standards, which allow us to rely on the power of markets to meet our needs more efficiently and cost-effectively. Nestle believes that all these clean energy resources are key to ensure a thriving economy and healthier future for all Ohioans."
"As a firm that manages more than $2 billion in assets, we see renewable energy and energy efficiency as essential to Ohio's long-term economic success," said Brianna Murphy, vice president of shareholder advocacy at Trillium Asset Management. "The current standards help to spur private investments, save businesses and consumers money, and create jobs in the state's growing clean energy economy. We firmly oppose efforts to weaken the state's clean energy standards."
A number of businesses in Ohio and around the country are seeking opportunities to invest in clean energy as a way to cut energy costs, avoid the volatility of fossil fuel prices and stay competitive. Ohio's renewable energy and energy efficiency standards are key to attracting investments and bringing jobs to the state. 
While the original standards were in place from 2008 to 2013, investments in Ohio's clean energy sector created thousands of new jobs and stimulated over $160 million in annual GDP growth. During that time businesses and consumers also saved hundreds of millions of dollars each year on their bills, and were on track to save over $5 billion by 2020. 
"We are pleased to see that the Ohio Legislature is bringing energy to the forefront of their policy agenda this year," said Anne Kelly, vice president of government relations at Ceres, a nonprofit organization working with investors and companies in Ohio. "Ceres looks forward to working with the governor and with lawmakers on both sides of the aisle as we continue to make the economic and business case for clean energy in Ohio. Given the business community's long history of strong support for clean energy, we hope that Ohio lawmakers will look for ways to encourage investment in this growing sector of the economy."
About Ceres
Ceres is nonprofit organization working with the most influential investors and companies to create a just and sustainable global economy. For more information, visit www.ceres.org and follow @CeresNews.
More From Ceres
Tuesday, July 21, 2020 - 1:20pm
Friday, July 17, 2020 - 12:15pm
Tuesday, July 14, 2020 - 10:10am