Offshore Wind: More Power to You
Offshore Wind: More Power to You
Unlimited supply. Unlimited possibilities.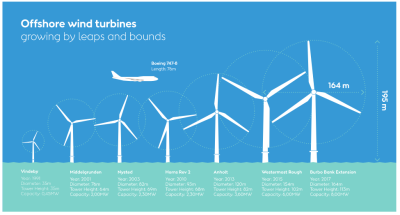 tweet me:
Since @Orsted built its first offshore wind farm in 1991, the company has maintained its position as a leader in #offshore wind energy production, installing more than a quarter of the world's offshore wind capacity. https://bit.ly/2DlHMpX
Monday, August 3, 2020 - 8:55am
NEWSROOM: Ørsted
CONTENT: Blog
Since we built our first offshore wind farm in 1991, we have maintained our position as a leader in offshore wind energy production. We have built more offshore wind farms than any other company in the world and now have the equivalent of more than 25% capacity in the market.
By 2020, we expect to have more than doubled our total production capacity to equal 16 million Europeans' annual energy consumption. We are convinced of the enormous potential of wind energy as a renewable energy source.
As a global leader in renewable energy, we play an important role in the green transition.
That is why we are actively seeking new local partnerships that support our vision of creating a world that runs exclusively on green energy.
The next generation of wind technology
Innovative design of wind turbine components such as aerodynamic, intelligent wings and sensors remains crucial to achieving renewable energy goals. 
Offshore wind farms
We are the world leader in the development and construction of offshore wind farms. Read more about each offshore wind farm, how many wind turbines it consists of and how much energy they produce.
Read more about our offshore wind farms
More From Ørsted
Friday, February 5, 2021 - 10:00am
Monday, January 25, 2021 - 10:00am
Thursday, January 21, 2021 - 10:10am