Ørsted Applauds Major Investment in Maryland's Offshore Wind Workforce Training
Offshore Wind Leader Commits $735 Million in Maryland Investments to Create Landmark Workforce Opportunity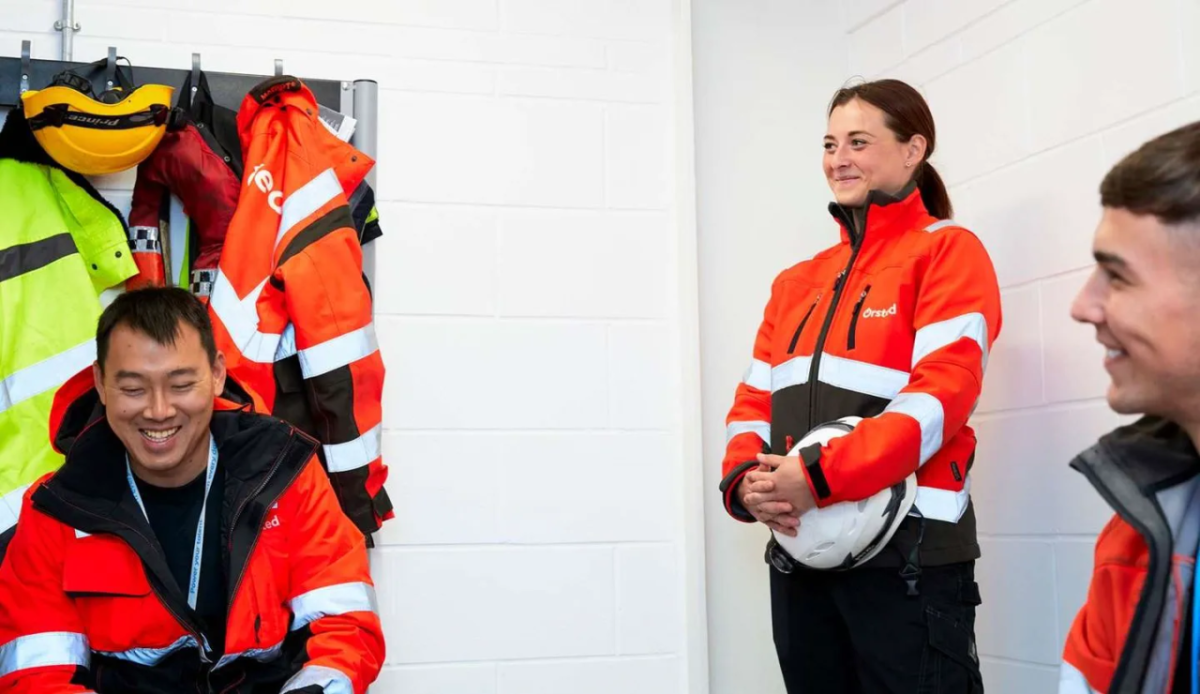 ANNAPOLIS, Md., August 29, 2022 /3BL Media/ – Ørsted, the U.S. leader in offshore wind and developer of Skipjack Wind in Maryland, today commended the U.S. Department of Commerce and State of Maryland for a $22.9 million federal investment in the state's offshore wind workforce training and pledged to work closely with State leaders to prepare Maryland residents for its offshore wind workforce. The State of Maryland, through the Maryland Department of Labor, will utilize the funds to create Maryland Works for Wind, a regional consortium to establish the state as a key hub for offshore wind training, fabrication, and employment.
Ørsted will invest nearly $735 million in Maryland and create thousands of local jobs during Skipjack Wind's development and operation. As part of this effort, Ørsted is committing $10 million to STEM education and workforce development programs in Maryland. These programs will convene Maryland colleges, universities, community colleges, school systems, registered apprenticeship programs, pre-apprenticeship programs and community organizations to ensure the industry's immense opportunities are available equitably and sustainably.
"Ørsted is proud to be making significant commitments to develop supply chain, manufacturing, and operations capabilities across Maryland as we develop Skipjack Wind," said David Hardy, CEO of Ørsted Offshore North America. "The Maryland Works for Wind initiative positions the state to build a pipeline of skilled talent to support Skipjack Wind's development and other projects in the U.S. and globally. Ørsted is excited to work with the Maryland Department of Labor and its partners to ensure all Marylanders have access to the skills needed to secure good-paying jobs in offshore wind."
Building on Ørsted's landmark agreement with the North American Building Trades Union, and the Baltimore - D.C. Metro Building and Construction Trades Council, Ørsted is committed to working in partnership with organized labor to build Skipjack Wind's onshore and offshore construction, and ensure those who are building this clean energy infrastructure are paid decent wages, work in a safe environment, and have a voice on the job. Ørsted's labor agreements have set the bar for working conditions and equity in the offshore wind industry, and will inject new dollars in middle-class wages into the American economy, create apprenticeship and career opportunities for communities most impacted by environmental injustice, and ensure projects will be built with the safest and best-trained workers in America. The Maryland Works for Wind initiative will be critical in helping to reach these goals.
Ørsted is also partnering with Tradepoint Atlantic to build Maryland's first offshore wind staging center. Ørsted invested $13.2 million in port infrastructure upgrades for handling offshore wind components such as nacelles, blades, and towers, and will develop 50 additional acres for the laydown, storage, and assembly of components. Ørsted will also enable the development of a subsea array cable and turbine tower manufacturing facilities in Maryland to serve offshore wind projects in the U.S. and globally, generating hundreds of millions of dollars in local investment and creating hundreds of local jobs.
On Maryland's Eastern Shore, Ørsted entered into a $70 million supply agreement to establish Maryland's first offshore wind steel fabrication center at Crystal Steel Fabricators and will construct Maryland's first zero-emissions operations and maintenance facility in west Ocean City.
About Skipjack Wind
Skipjack Wind is a 966-megawatt offshore wind project under development off the Maryland-Delaware coast. The project will create nearly 1,400 jobs in the Delmarva region, power approximately 300,000 homes in the region with clean energy, and enable more than $500 million in economic investment. Learn more at www.skipjackwind.com.
About Ørsted Offshore North America
The Ørsted vision is a world that runs entirely on green energy. Four years in a row, Ørsted earned recognition as the world's most sustainable energy company by Corporate Knights, including for 2022. The company is a global clean energy leader and has the largest portfolio of offshore wind energy in the world.
In the United States, Ørsted operates the Block Island Wind Farm, America's first offshore wind farm, and constructed the two-turbine Coastal Virginia Offshore Wind pilot project – the first turbines to be installed in federal waters. Ørsted has approximately 5,000 megawatts of offshore wind energy in development in five states and across seven projects. Ørsted Offshore's North American business is jointly headquartered in Boston, Massachusetts and Providence, Rhode Island and employs approximately 250 people. To learn more visit us.orsted.com or follow us on Facebook, Instagram and Twitter (@OrstedUS).