New Sponsorship Pairs Aflac and Children's Miracle Network Hospitals 
to Help Defeat Childhood Cancer
New Sponsorship Pairs Aflac and Children's Miracle Network Hospitals 
to Help Defeat Childhood Cancer
Sponsorship focuses on #ChildrensHospitalsWeek and popular Dance Marathon events across the country as Aflac introduces My Special Aflac DuckTM to the Children's Miracle Network Hospitals community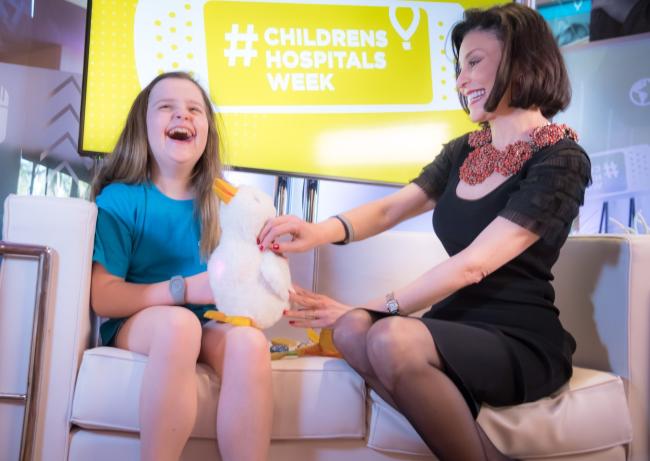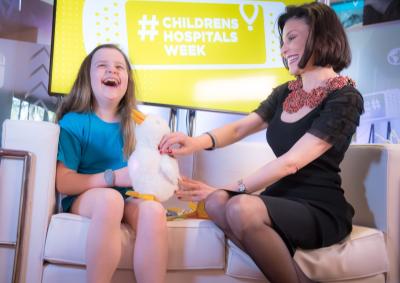 tweet me:
New Sponsorship Pairs @Aflac and #ChildrenMiracleNetwork Hospitals 
to Help Defeat #ChildhoodCancer http://bit.ly/2FnlWTu @CMNHospitals #ChildrensHospitalsWeek
Thursday, March 8, 2018 - 11:00am
COLUMBUS, Ga. – March 8, 2018 /3BL Media/– Aflac, the leader in voluntary insurance sales at the worksite in the United States and a committed corporate ally for families facing childhood cancer, today announced an agreement with Children's Miracle Network Hospitals® (CMN Hospitals) to sponsor several key CMN Hospitals events throughout the year, including the second annual #ChildrensHospitalsWeek, which is this week. Aflac will also sponsor the CMN Dance Marathon Leadership Conference in July and five select Miracle Network Dance Marathon events held at universities across the country. The Georgia-based insurance company, with its Aflac Childhood Cancer Campaign, has a long-standing commitment to children and families facing childhood cancer, including its ongoing 22-year relationship with the Aflac Cancer and Blood Disorders Center of Children's Healthcare of Atlanta, a nationally recognized hospital that treats an average of 400 new child patients every year. 
"For more than two decades, Aflac, our employees, and independent sales agents have supported children and families facing pediatric cancer, contributing more than $122 million for the treatment and research of childhood cancer," Aflac Senior Vice President, Chief Brand and Communications Officer Catherine Hernandez-Blades said. "CMN Hospitals is closely aligned with Aflac's goal to help eradicate childhood cancer once and for all. This partnership will go a long way toward presenting a united front against childhood cancer as Aflac and CMN Hospitals combine resources on behalf of children and their families." 
#ChildrensHospitalsWeek, held March 5-11, 2018, provides an opportunity to spotlight the importance of local children's hospitals across the country and for hospital leaders, families, corporate partners, and key supporters to strengthen and coordinate efforts to help kids get the best possible care in their time of need. During this year's event, Aflac will introduce to CMN Hospitals its award-winning My Special Aflac Duck, a robotic caring companion designed to help children cope with cancer. 
The robotic duck, created on behalf of Aflac by Sproutel, a patient-centered research and development company headquartered in Rhode Island, is designed to help children and parents cope with the treatments often associated with cancer. The duck uses sensors and special emoji cards to interact with children, sharing their emotions, providing comfort through empathy and serving as a special friend to combat the feeling of loneliness that children with cancer often experience. Aflac intends to provide My Special Aflac Duck, winner of three major awards at the 2018 Consumer Electronics Show, including Best of Show, to all children newly diagnosed with cancer in the United States, free of charge.
Everyone is encouraged to show support for children's hospitals during the weeklong initiative March 5-11 through the following activities: 
Wear a bandage: Show your support for children's hospitals by wearing a bandage of your choice, taking a photo and sharing it on social media with the #ChildrensHospitalsWeek hashtag. 
Join a gathering of charity gamers at Extra Life United from Wednesday, March 7, to Saturday, March 10: Charity gamers from all over the world join together at Extra Life United to learn how to make a big impact on children's hospitals through gaming. Participants attend panels and workshops and game in a tournament to unlock donations for local CMN Hospitals. The event will be broadcast live on Twitch. The Extra Life program has raised more than $40 million for CMN Hospitals since 2008.
"We are grateful for Aflac's sponsorship of #ChildrensHospitalsWeek and their efforts to raise awareness that children's hospitals need donations," said John Lauck, president and CEO of CMN Hospitals. "Aflac's efforts to provide comfort to the thousands of kids newly diagnosed with pediatric cancer each year truly makes a difference at our local hospitals."
CMN has created a national movement with one young generation helping an even younger generation of kids through Miracle Network Dance Marathon programs with more than 300 participating schools across the country. The program is run entirely by students, with all proceeds donated to the CMN Hospital in their community. Each event features an eight- to 40-hour fundraising marathon. This year, Aflac will sponsor five select Miracle Network Dance Marathon events, which will feature an Aflac Power Hour, with funds raised during that hour earmarked specifically for childhood cancer care and treatment at local CMN Hospitals. 
Additionally, Aflac will sponsor the Dance Marathon Leadership Conference, an annual event attended by hundreds of college and university students who are leaders in their schools' Dance Marathon programs. 
To learn how you can support your local children's hospital and help make miracles happen for children facing cancer, visit aflac.com/cmn.
About Aflac
When a policyholder gets sick or hurt, Aflac pays cash benefits fast. For more than six decades, Aflac insurance policies have given policyholders the opportunity to focus on recovery, not financial stress. In the United States, Aflac is the leader in voluntary insurance sales at the worksite. Through its trailblazing One Day PaySM initiative, Aflac U.S. can receive, process, approve and disburse payment for eligible claims in one business day. In Japan, Aflac is the leading provider of medical and cancer insurance and insures 1 in 4 households. Aflac insurance products help provide protection to more than 50 million people worldwide. For 12 consecutive years, Ethisphere has recognized Aflac as one of the World's Most Ethical Companies. In 2018, Fortune magazine recognized Aflac as one of the 100 Best Companies to Work for in America for the 20th consecutive year and included Aflac on its list of Most Admired Companies for the 17th time. Aflac Incorporated is a Fortune 500 company listed on the New York Stock Exchange under the symbol AFL. To find out more about Aflac and One Day PaySM, visit aflac.com or aflac.com/espanol.
About Children's Miracle Network Hospitals
Children's Miracle Network Hospitals® raises funds and awareness for 170 member hospitals that provide 32 million treatments each year to kids across the U.S. and Canada. Donations stay local to fund critical treatments and health care services, pediatric medical equipment and charitable care. Since 1983, Children's Miracle Network Hospitals has raised more than $5 billion, most of it $1 at a time through the charity's Miracle Balloon icon. Its various fundraising partners and programs support the nonprofit's mission to save and improve the lives of as many children as possible. Find out why children's hospitals need community support, identify your member hospital and learn how you can Put Your Money Where the Miracles Are at CMNHospitals.org and facebook.com/CMNHospitals. 
Aflac herein means American Family Life Assurance Company of Columbus and American Family Life Assurance Company of New York.
Media contact: Jon Sullivan, 706.763.4813 or jsullivan@aflac.com 
Aflac analyst and investor contact: David A. Young, 706.596.3264 or 800.235.2667, FAX 706.324.6330, or dyoung@aflac.com
More From Aflac Incorporated
Friday, May 22, 2020 - 12:50pm
Monday, May 18, 2020 - 4:15pm
Monday, May 11, 2020 - 4:55pm